3408 30th Street,
San Diego
TROY'S PICKS
Burrata Salad
Asparagus Risotto
Griddled Banana Bread
The passway between the bar and the dining room looks like someone took a sledgehammer to it. Mostly because someone did take a sledgehammer to it. You can tell by the imperfect, "my friend did this" edges. Leaving it raw and unfinished is not only on par with the current trend of exposed design materials. It's also got to be a source of pride for Smoking Goat.
In 2010, the bar area was the entire restaurant. It was New York-small, enough room for a couple of plates of duck fat truffle fries, a couple of glasses of wine, and a couple of humans. They staked out just enough space to open a restaurant and not totally run out of money.
For the first four years, Smoking Goat was perched in a relatively unloved no-man's land between North Park and South Park. Although North Park has been the star of San Diego's dining scene over the last decade, most visitors parked a half-mile up the street at 30th and University. The Goat was frequented mostly by residents near Morley Field. It was a place for solid bistro food from chef-owner Fred Piehl, a former sous chef at one of the city's most well-respected restaurants, Nine-Ten.
But people loved the Goat and loved it hard. So, three years ago, when the fish restaurant next door closed, Piehl and his wife, Tammy, gambled. They hammered the wall, more than doubled in space and, whether religious or not, probably prayed a little bit.
It's worked. The Smoking Goat has become one of the city's most adored restaurants—the kind of dark, warm, familial, creative joint that serves as the anchor of development for a block, a neighborhood, a whole part of town.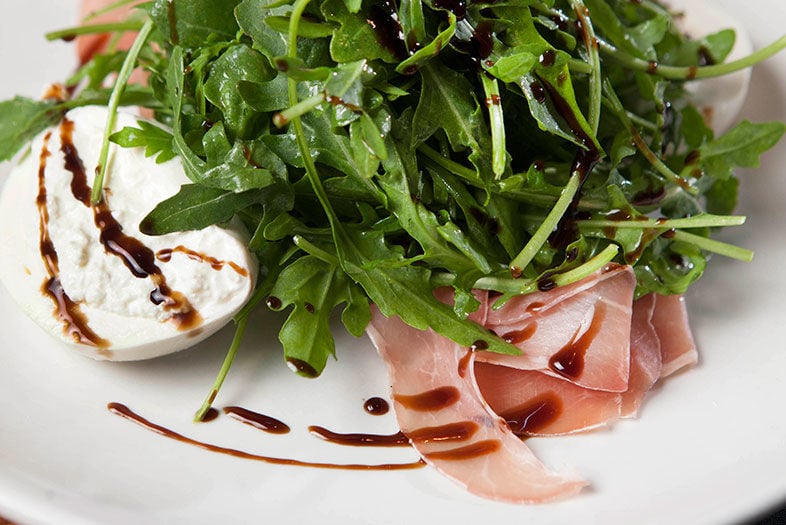 Creamy greens: Burrata salad with arugula and prosciutto
Creamy greens: Burrata salad with arugula and prosciutto
Now the mixed-use building The North Parker has opened across the street with UnderBelly (a hip ramen joint), Modern Times Brewing (a hip brewery), Tacos Perla (a hip taco shop), and Influx (a hip coffee shop). That's made this corner its own destination, yet none of those new food and drink attractions compete with the romantic, French-American bistro fare of the Smoking Goat.
How does a restaurant like the Smoking Goat catch lightning in the bottle? What makes it, or Café Chloe, or Jaynes Gastropub into such a charming little hit?
The first reason is that the biggest magic often comes in the smallest packages. We prefer intimacy to the herd. The smallness of the original restaurant (and, really, even the expanded version) nails the "reduce supply, increase demand" model of business. People want to get a seat in there. They often couldn't, which made them want a seat even more. That pent-up desire makes anything taste a little better, feel a little more special. Anticipation acts as an airbrush for the reward.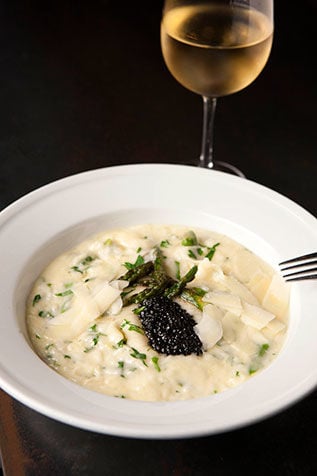 Pearls of flavor: Roasted asparagus risotto with Parmigiano-Reggiano and black truffle perlage
The second reason is the name is cool. Exotic meat on fire! If that sounds trite, ask any branding expert the importance of a good name. Short, creative, memorable, edgy.
The third is the trailblazer effect. Café Chloe was one of the first bistros in East Village. It gave nearby residents a sense of pride, a place to feel like their immediate surroundings were getting cooler. During Kensington Grill's heyday, it was the same—the only game in a small, but affluent, part of town. When Craft & Commerce opened in Little Italy, it brought new, creative life to a neighborhood that had long been held back by its own rich history. Smoking Goat was here before here was here.
The fourth reason we can see when we sit in the restaurant for two nights. Tammy is on the floor acting as ambassador/GM/hostess. Fred is in the kitchen, cooking. He hasn't yet passed off the chef role while he focuses on empire-building. He may someday. They're currently looking at a second location for the Goat. But for now, a local resident goes into this creatively designed and moodily lit bistro, is greeted by the owner, sees her husband-chef cooking, and feels part of a small family or startup. It's the easiest kind of restaurant to root for and pledge allegiance to.
On two recent visits, we had some excellent food and some good save for a few minor flaws. We ordered the swordfish special, which was served simply as skewered cuts of meat lightly seared. Swordfish satay, really. It looks wholly uninspired, but oh, lord, it's delicious. Our server explains that they got the entire fish in earlier in the day. This cut must be from the belly, since it's fatty, luscious, tender, and seasoned with little more than salt and pepper. A good chef knows when not to fuss with a fine ingredient. The burrata salad, too, is excellent—a tussle of peppery arugula with the burrata (buffalo mozzarella, one of life's greatest, creamiest cheeses) and a drizzle of top quality olive oil with balsamic vinegar. The beet salad doesn't fare so well, with walnuts that aren't candied and too little flavor added to the beets themselves (they seem merely roasted and tossed in a faint goat cheese and vinaigrette).
From the small plates, we order the goat meatballs in marinara sauce. They're so tender and juicy that we're sure there's beef and pork in there even though the menu doesn't mention it (goat is too lean a protein to be this moist). We ask the server. He confirms there's beef, pork, and lamb. That could be a problem for any Muslim or Jewish diners. Minutes later, Tammy comes over and says "You're right, and we've taken that off your bill." We explain that's not necessary, since no one at the table is pork-averse. We were merely curious. She insists out of courtesy. Service issues will arise no matter what restaurant you're at. Good restaurants identify them quickly and solve them immediately.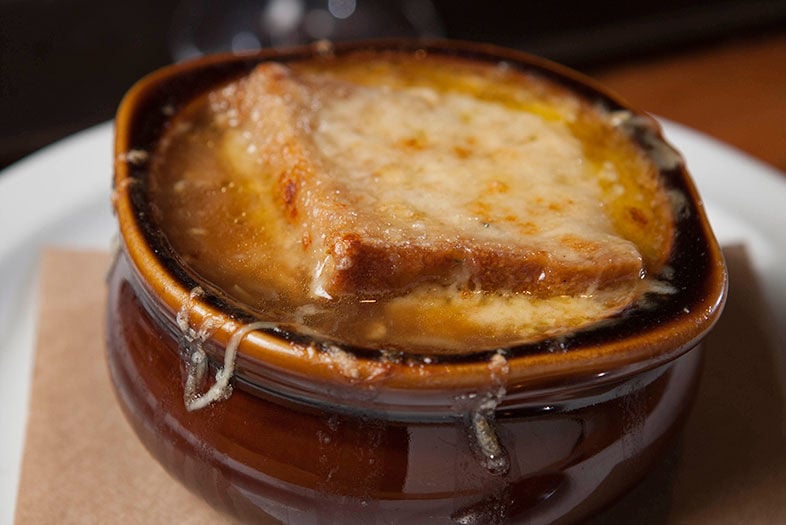 The taste of comfort: French onion soup
The taste of comfort: French onion soup
The French onion soup is perfectly executed, with a thick flotilla of crusty Gruyère cheese and bread covering a deeply rich broth. The pitfall with French onion is salt content (bread, broth, and cheese all bring salt to that party), but this is balanced to a tee. The duck fat fries with truffle are excellent, as they have been from the Goat's inception. As part of the steak frites, they're served with a ribeye that's sauced with foie gras and thyme butter and then covered with shallots. The shallots are a tad under-caramelized and lack that deeply sweet addiction, but it's a small error that doesn't ruin the dish. The slow-cooked pork belly has an incredible crust on it, although it, along with the red wine-braised Harris Ranch short ribs, seem to have been cooked a tad too long and come close to the dry side. The sauces on both, however, are excellent. And there is absolutely nothing wrong with the Goat's roasted asparagus risotto, served with Parmigiano-Reggiano cheese and black truffle perlage (truffles made into caviar, essentially).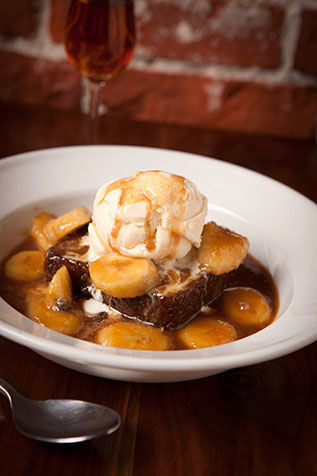 Griddled to perfection: Banana bread with bananas Foster and vanilla ice cream
With steak frites, short rib, pork belly, salmon, fries, French onion soup, and a beet salad on their menu, the Goat isn't trying to be El Bullì here. Piehl is executing at a high level the dishes that have become famously loved in the last few years. I'd love to see the kitchen take more risks. I have to think Piehl's regular crowd in a sophisticated burg like North Park would trust him to do it. But well-executed mainstays are also their own reward, as is obvious from the Goat's loyal fanbase.
The restaurant doesn't have a full liquor license, but it improvs a Negroni using Bonal (a French aperitif similar to Campari), Dolin Rouge vermouth, and soju (Korean rice liquor).
For dessert, do not miss the griddled banana bread, which develops a crust and a creamy interior like the best French toast, nuzzled among slices of bananas Foster (caramelized and set aflame) and vanilla ice cream. The goat cheese cheesecake with vanilla-poached nectarines and whipped cream is also a tangy, tart, not overly sweet affair. For coffee, they serve Caffé Calabria, one of the city's top local roasters and a neighbor in North Park.
The Smoking Goat isn't mind-blowing. It's not avant-garde. It's a warm, intimate place with soul. And that is incredibly, incredibly hard to create or come by.