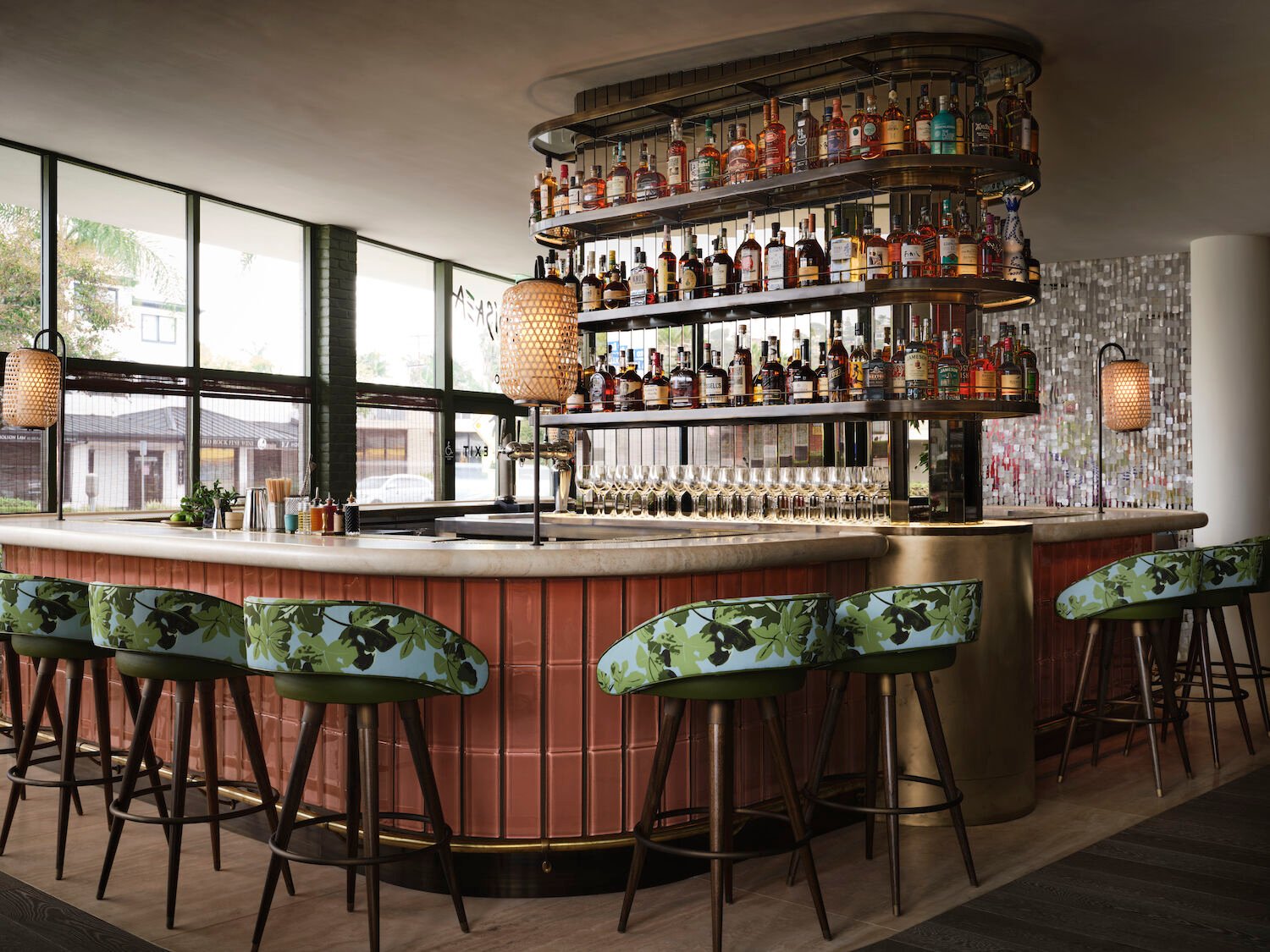 Photo Credit: Douglas Friedman
From the bull market on hot pots, to futuristic space tiki bars on acid, to the return of an iconic San Diego chef, to Japanese-inspired listening bars, even a little fish shop from a fifth generation local fisherman who hit rock bottom and turned his life around to become one of the world's foremost experts in sustainable seafood…
San Diego's food and drink world rose back up in 2022. Not without struggle. Not without hefty competition for employees and a drastically changed world and holy-damn inflation.
Right before the world broke, Michelin and the New York Times and national media were sending emissaries to San Diego to kick the tires on the food scene that had finally managed to get their attention.
That fever pitch continues. These are our picks for best new restaurants, bars and venues of the year.
---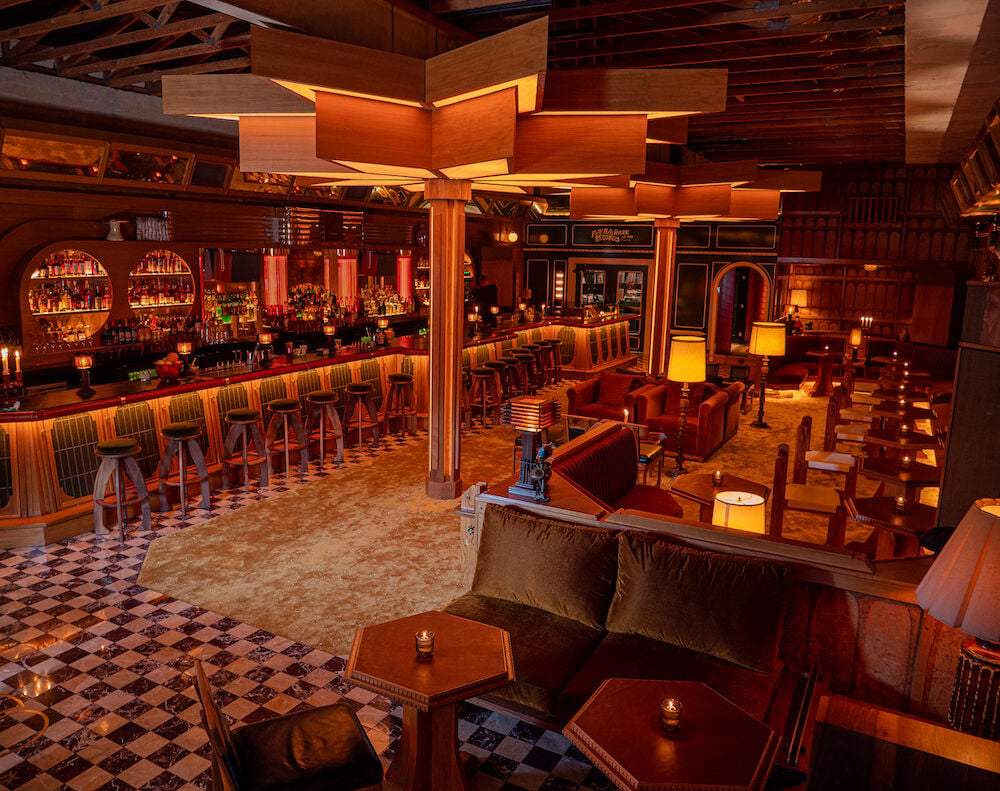 Photo Credit: Riley Dring
Part Time Lover
Know that friend who loved music with their entire soul, talked about vinyl as if it's a burning bush, and then grew up and got a job and spent their extra money turning a room of their house into the greatest music room on the planet? How one night you all drank whiskey in highballs in there and listened to some Hungarian jazz and it was like you'd never even heard music before that? Like Rick Rubin's studio, but without the overbearing smell of weed?
That's listening bars, a concept started by the isle of audiophiles—Japan. A beautiful room built to ricochet a beautiful sound system, turntables manned by uber music nerds who re-birth you into that cool Miles Davis talked about.
For this North Park concept, CH Projects partnered with one of the legendariest (it's a word now) record shops in the city (Folk Arts Rare Records) to create Part Time Lover. CH-level cocktails (they made their name with them), appropriately including Japanese high balls and whiskeys.
It filled a spiritual hole left in North Park by Bar Pink, the beloved musicians hangout that didn't make it through the pandemic. But Consortium brought on Pink owner Dang Nguyen to manage it. Inside is moodlit with rich woods, soft chairs, and shadows.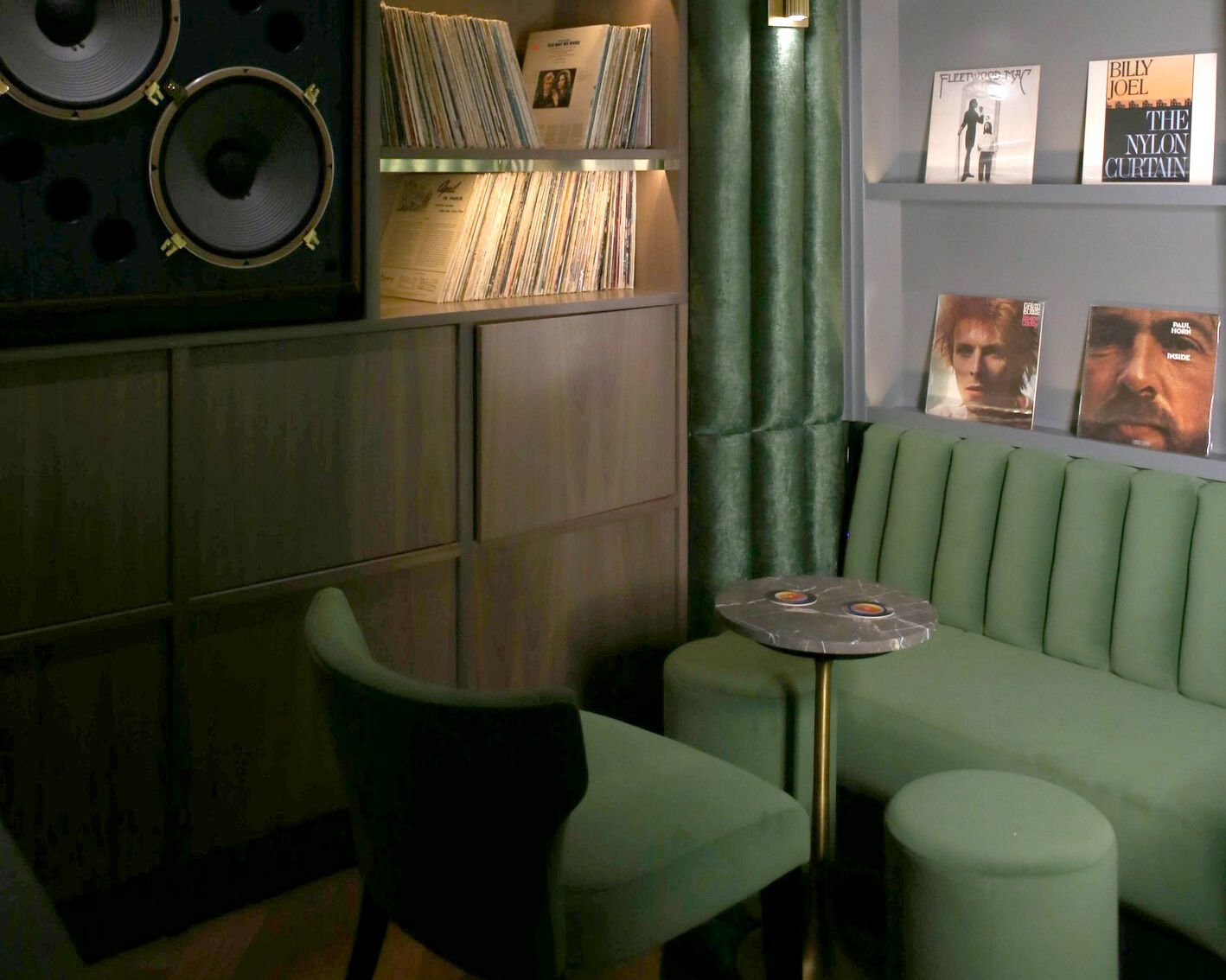 Courtesy of Convoy Music Bar
Convoy Music Lounge
Same concept, different neighborhood, different vibe. Walk past the Taco Stand, past those alley dumpsters, and just when you start to wonder about crime statistics you find yourself in this little sliver of room joy.
Convoy Music Lounge is a vinyl records-and-cocktails experience by the Taco Stand people (Showa Hospitality). There's a dress code (no sandals, no cargo shorts despite their incredible capacity for snacks). Records and records and more records handpicked by Showa's Yuichiro Edamatsu, with glassware and records imported direct from Japan. It's a slender joint. Sit, sip, listen.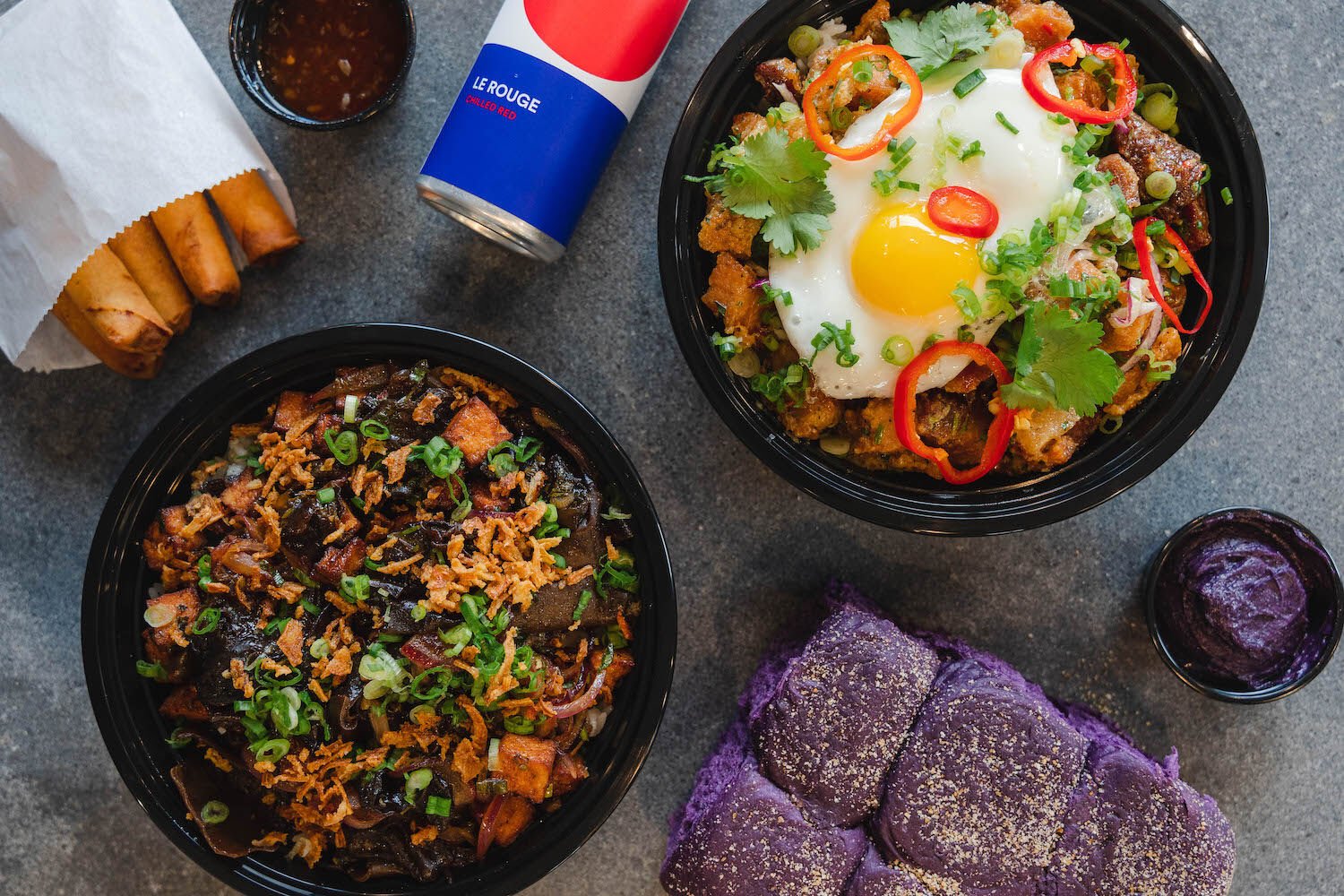 Photo Credit: Nathan Concepcion
White Rice Bodega
San Diego Magazine's 2020 "Chef of the Year" is starting to materialize his dreams (and ours). National City native and Phillip Esteban (who cooked at Momofuku, then came to San Diego to be the R&D chef for Consortium Holdings, then spent his time making hot meals for people in need during the pandemic) is starting with White Rice. The first outpost went into Liberty Public Market, and then he expanded into a tiny-mighty footprint in Normal Heights (a whole 600-square-feet).
It's the spot for lechon kawali (crispy deep fried pork belly cubes) and that famous ube pandesal (one of the best bites of baked goods in the country). It doubles as a bodega (selling provisions and alcohol, some housemade pickles). Even better, every meal purchased at White Rice, Esteban and team donate one meal to San Diegans facing hunger. A nearly flawless tiny thing for a neighborhood.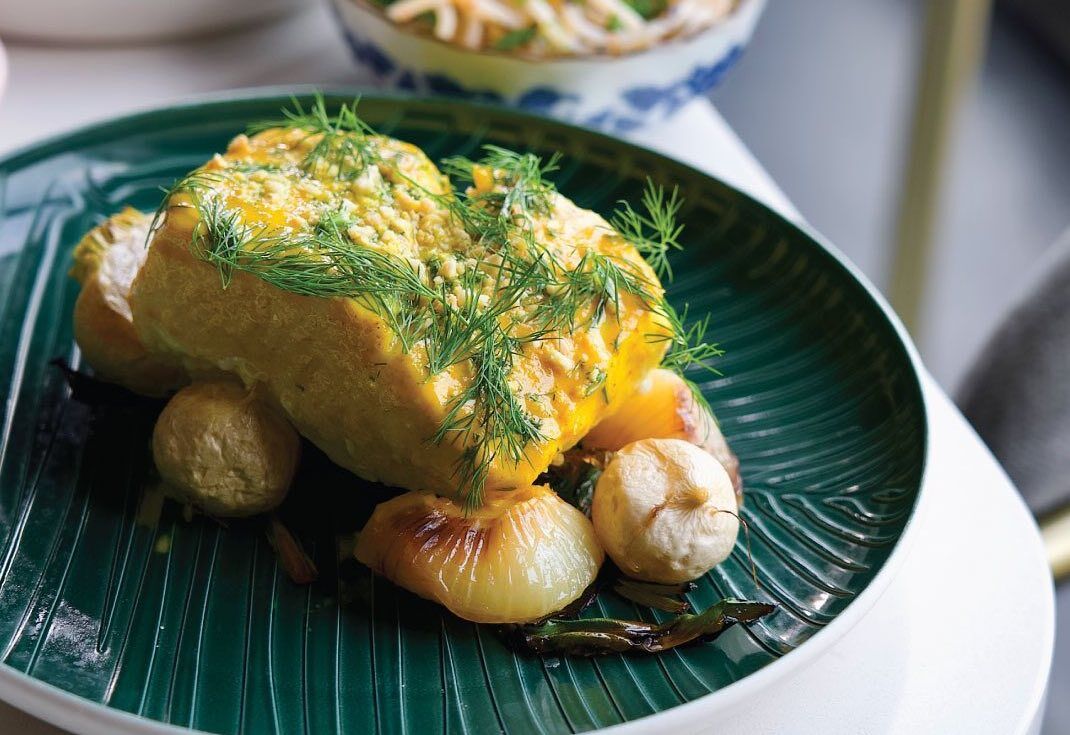 Courtesy of King Fisher
Kingfisher
Jonathan Bautista earned this one. The chef worked his duff off in some of the city's top kitchens (most notably at George's at the Cove under Trey Foshee). During the pandemic, he fell into a dark place like the rest of us, pulled himself out on top of a Peloton.
Why's that important? Because it was a gift from the family that owns Crab Hut (a local success story). They'd been eating at George's for years, loved his cooking. The Peloton was a gesture and a sort of promise ring that said, "soon as we're out of this, let's do something." And that they did, opening Kingfisher, a knockout modern Vietnamese/pan-Asian restaurant in Golden Hill.
The whole place has an Asian Golden Girls vibe, marvelously gold and floral. I won't be so gross to say that San Diego Vietnamese food somehow wasn't good before Kingfisher, because many moms and pops are cooking fantastic Bún bò Huế across the city. But fact is Bautista's skill set is higher than most humans, and it shows in dishes like the beef tartare (a kick of fish sauce, Thai chiles, toasted quinoa, pickled ramps, crispy shallots, cured egg yolks) and the fantastic cold diver scallop dish where the salty funk of fish sauce is perfect with pineapple. Order the smoked duck (or try to at least, it sells out every night).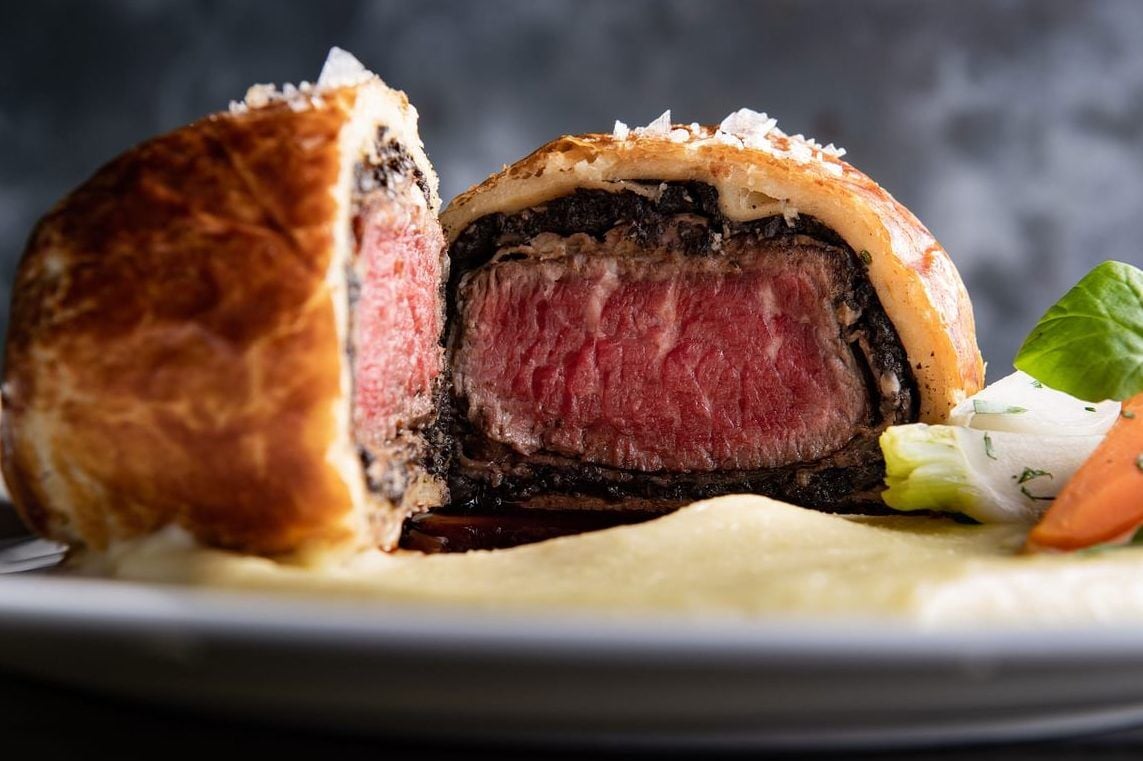 Courtesy of Hell's Kitchen San Diego
Hell's Kitchen
This is exactly the kind of new restaurant Americans should be demanding of our casinos. Honestly, when I'm throwing down major blackjack wagers ($5) and hitting on 16 because everyone's clairvoyant after two drinks… not sure I'm in the right mind frame for a quaint farm to table concept with rosemary sprigs and chapbooks about the grower. I want a show.
And Gordon Ramsay's Hell's Kitchen at Harrah's Resort SoCal is definitely that—an 11,360-square-foot signature restaurant for the Funner, California casino (they actually renamed the city). It's built around the Michelin-starred chef's TV show on Fox.
The whole joint is ringed in flames, with hero shots of the contestants, a curated wine wall, two private dining rooms, and two chef's tables. They do a pretty fantastic seared scallop, in which they present you only with the best part of the sear (a la muffin tops) with celery root puree, braised lardons, and pickled Granny Smith apples. Also, they bring back the beef Wellington—a marvelous pastry-wrapped steak that never should have been abandoned in the '70s. Delicious. Funner "mayor"—actor Jane Lynch (Glee, The Marvelous Mrs. Masel)—helped create a menu of zero-proof cocktails in case you need a little less clairvoyance.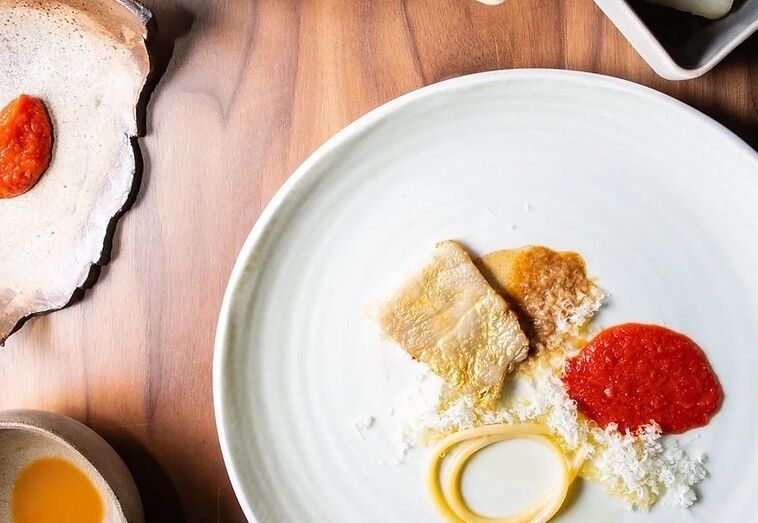 Courtesy of Ambrogio by Acquerello
Ambrogio by Acquerello
After a couple decades of lovable red sauce, San Diego's Italian food scene has been modernizing step by step at spots like Bencotto, Solare, Civico1845, Buona Forchetta, and Amalfi Cucina Italiana. Ambrogio is another one, started in 2016 in Pacific Beach as a Milan-style pizza joint from three friends who moved here from Northern Italy.
That success spun off a few more locations (they've now got five throughout the county, and have plans for Phoenix next year). Ambrogio by Acquerello is their real step up, a partnership between the owners (Giacomo Pizzigoni, Andrea Burrone, Luca Salvi) and the culinary team behind Milan's Michelin-starred Ristorante Acquerello (partner chefs Silvio Salmoiraghi and Choi Cheolhyeok) . The menu is a mix of five cuisines: Italian, French, Korean, Japanese, and Californian.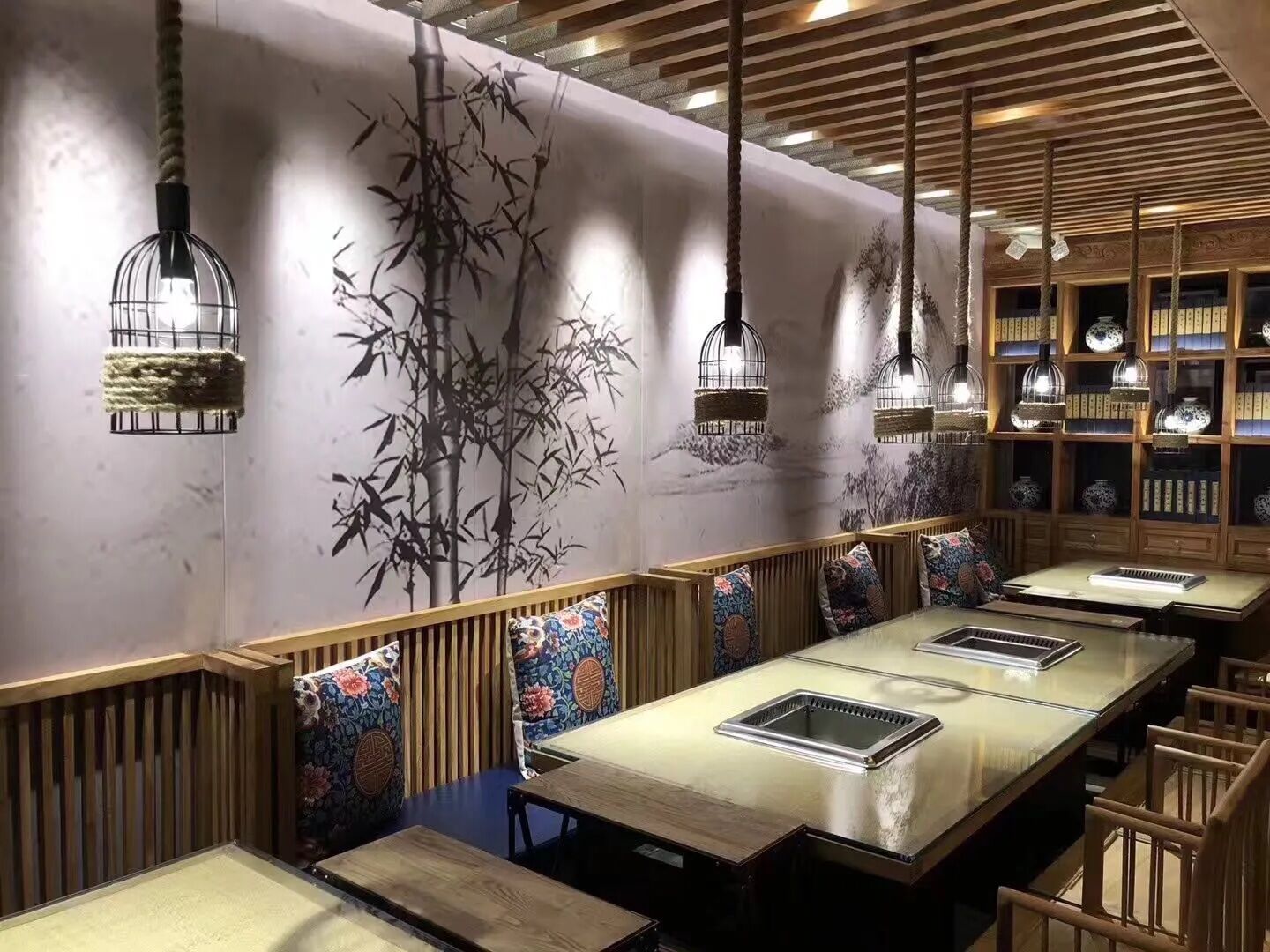 Courtesy of Shancheng Lameizi
Shancheng Lameizi
Order the mild. I know you're from China or have been to China or have watched every episode of Hot Ones. Still, order a combo of mild and spicy broths because the mild is actually spicy and the spicy has dissolved people's heads. Hot pot is one of the original communal meals, how civilizations started, huddled over a hot pot of food until they were forced to converse and begin to build a culture. And Shancheng is a breakout concept from Beijing, with over 20 locations worldwide now.
This is San Diego's first, a lovely sliver of a hot pot restaurant (located, in Convoy tradition, in a strip mall). Hot pots are done Chongqing style. Choose your broths (mushroom, pork bone, milk, etc.). Then your protein (Shancheng has prime western-friendly cuts like ribeye and Wagyu and lamb leg, but also traditional Chinese cuts like beef tongue and pig brain and chicken gizzard). The star is the sauce bar with soy garlic and spicy fire and a dozen other options—drizzle nearly every one, or follow the instructions on proven combos.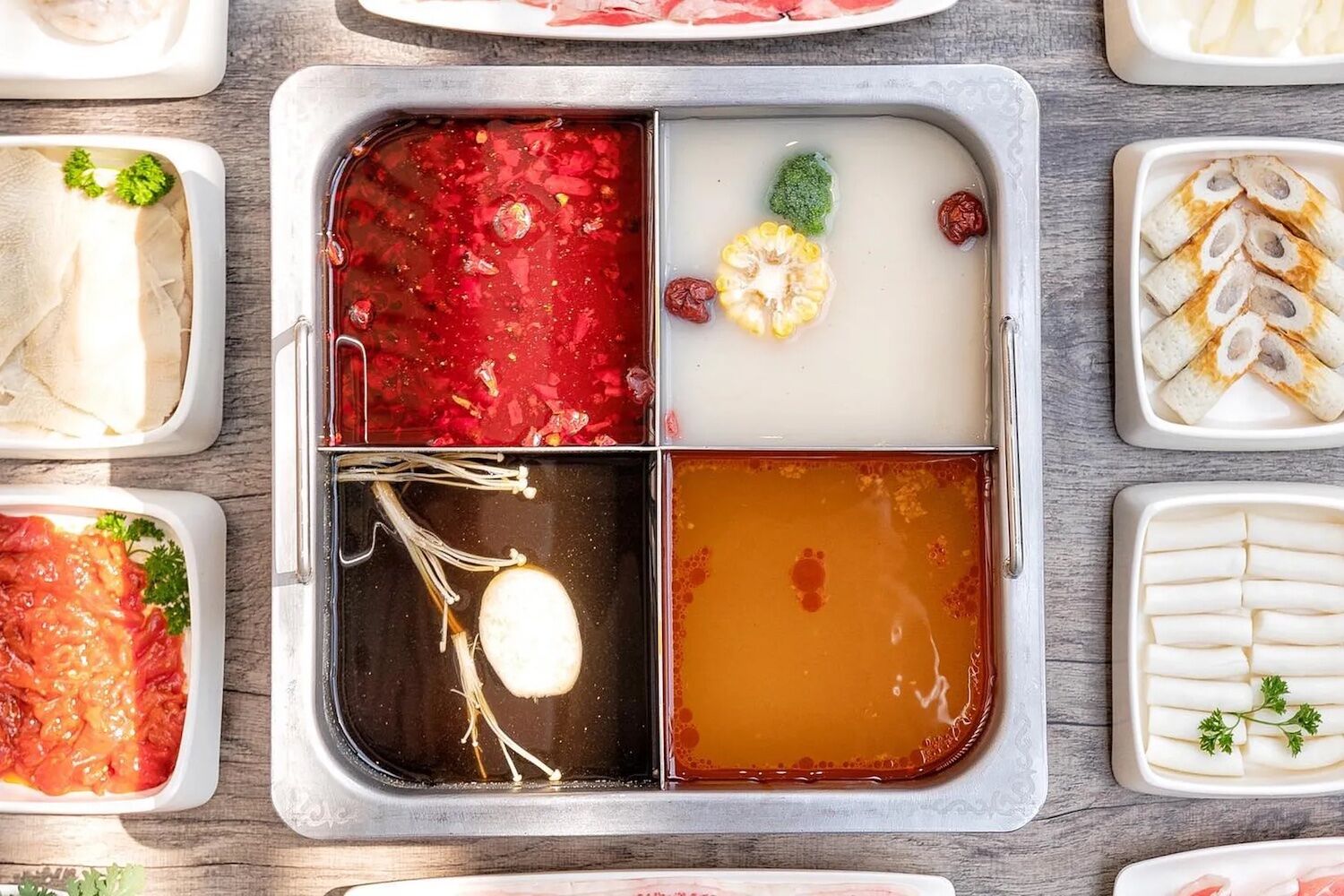 Courtesy of Haidilao San Diego
Haidilao San Diego
It's the year of the hot pot in San Diego's food scene. Haidilao is the other massive arrival at UTC Westfield (which, despite my original skepticism, has become a hell of a destination and seemingly refuses to stop recruiting big names in the food world).
From the Sichuan province of China, Haidilao is the Din Tai Fung of hot pot, the country's largest specialist. Take a seat in the chic lobby, sip a cocktail (spiked lychee iced tea), be alternately charmed and creeped by the spaceman teddy bears.
Hot pot is a splash-zone food, especially for those just learning the trade, and they give you all you need (aprons, hair ties, plastic baggies for electronics). For meats they've got it all, sourced from the right places (Kobe belly, Australian lamb, organic chicken, korubata pork). They'll hand-pull noodles at your tableside for show.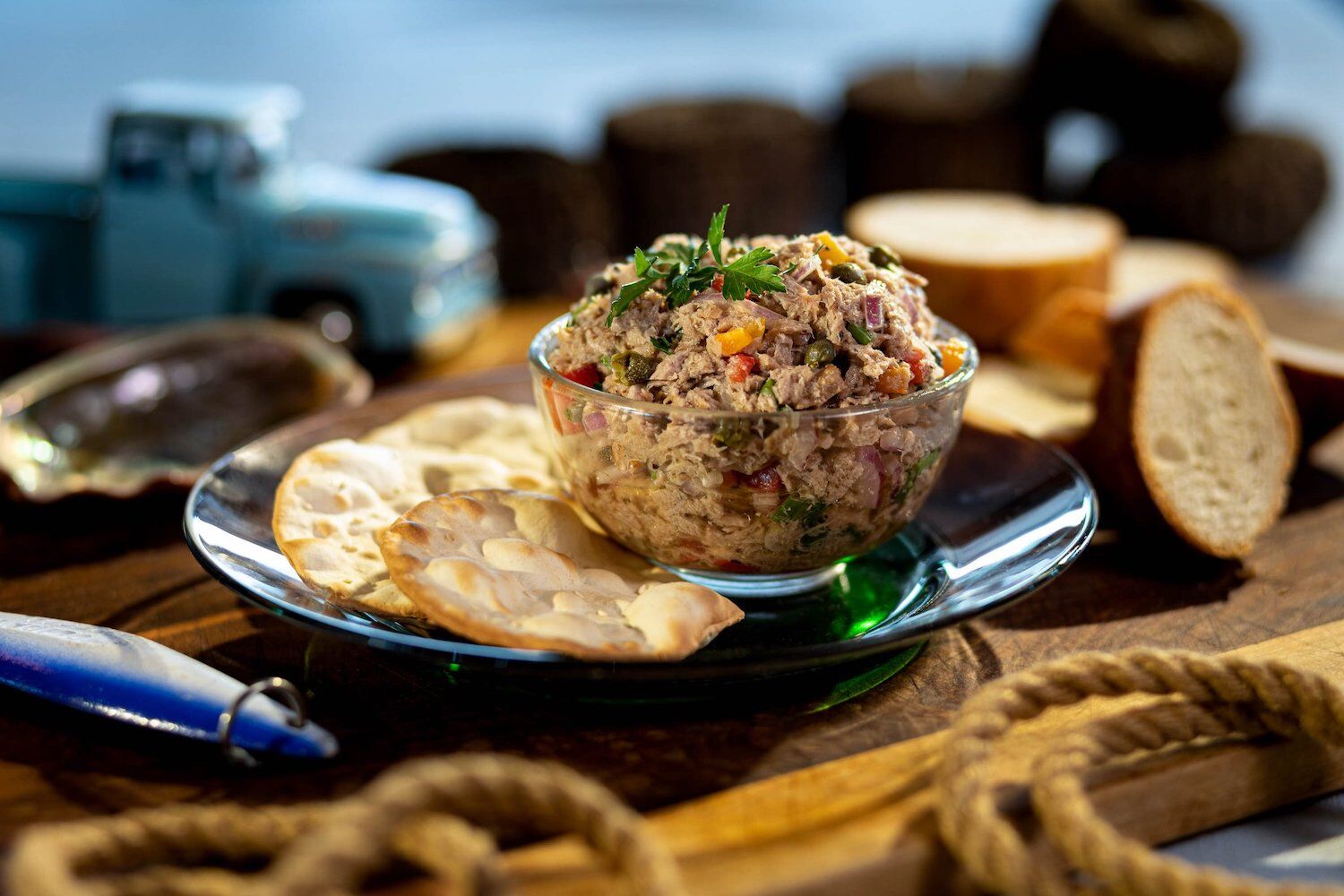 Courtesy of Tunaville
Tunaville
A fifth generation San Diego fisherman who's spent the last 50 or so years championing local, sustainable seafood just opened a fish shop in conjunction with another local-boat lifer and seafood icon. That's honestly all you really need to know.
Tommy Gomes and partner Mitch Conniff (Mitch's Seafood) opened Tunaville as an outpost for local catch. You'll see slices of bluefin sashimi, mussels, clams, sheepshead, whatever's come in fresh. They've also got ceviches and salads, and a small selection of dried foods (salts, pasta, oils, beans, sauces).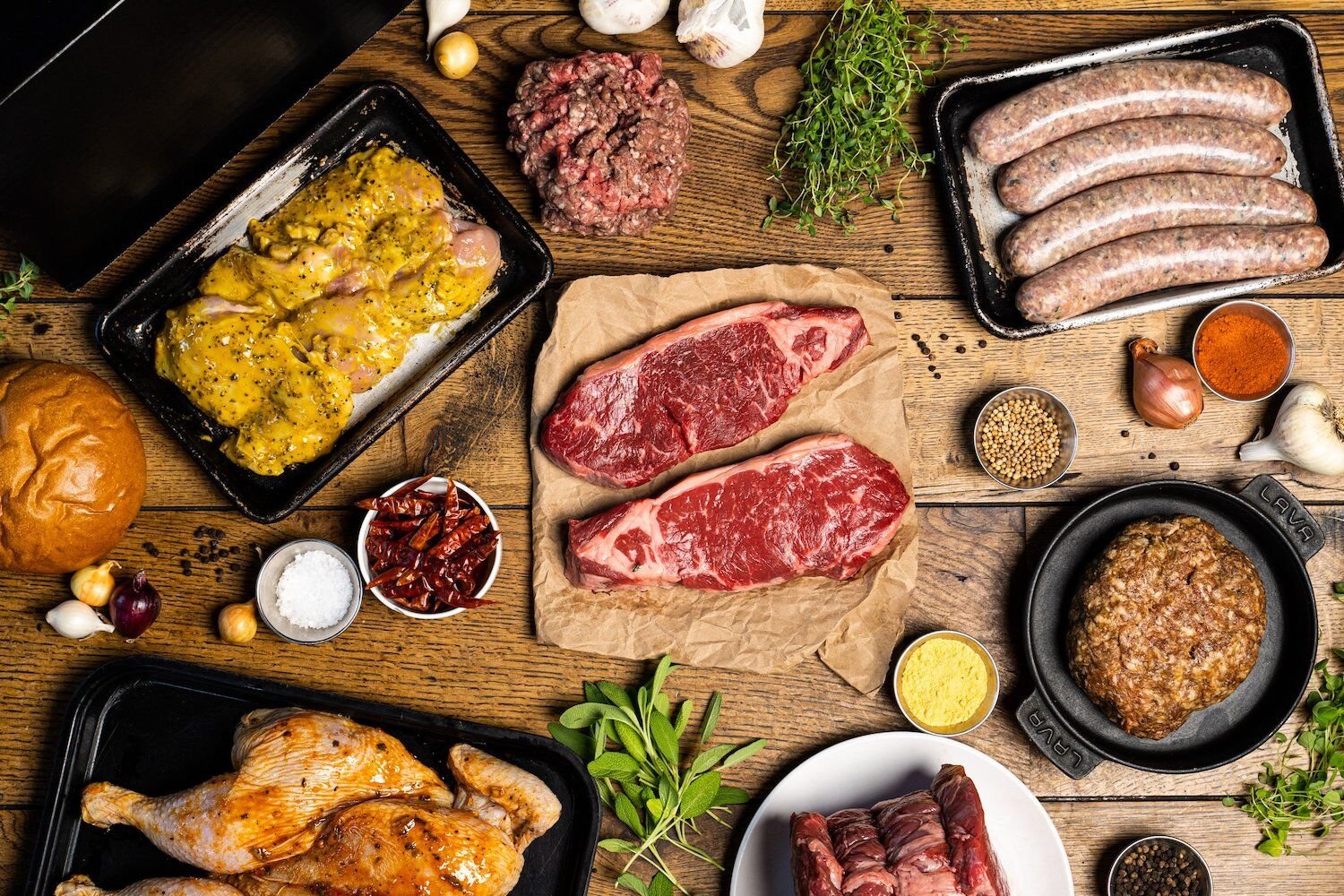 Courtesy of Wise Ox
Wise Ox
This was a pandemic pivot that went wild. Chef Brad Wise has made his name a few different ways, but at all his restaurants (Trust, Fort Oak, Rare Society) he's had marinated meats and sauces (which he usually then places over a pile of fancy burning wood).
Wise Ox is a butcher and sandwich shop that specializes in those recipes. They use the best meats you can find, treat 'em right. And now they've got an outpost in La Costa. This town's got a ton of Boar's Head delis that'll do in a pinch, but when a whim or a mood calls for far better than a pinch, Wise Ox is it.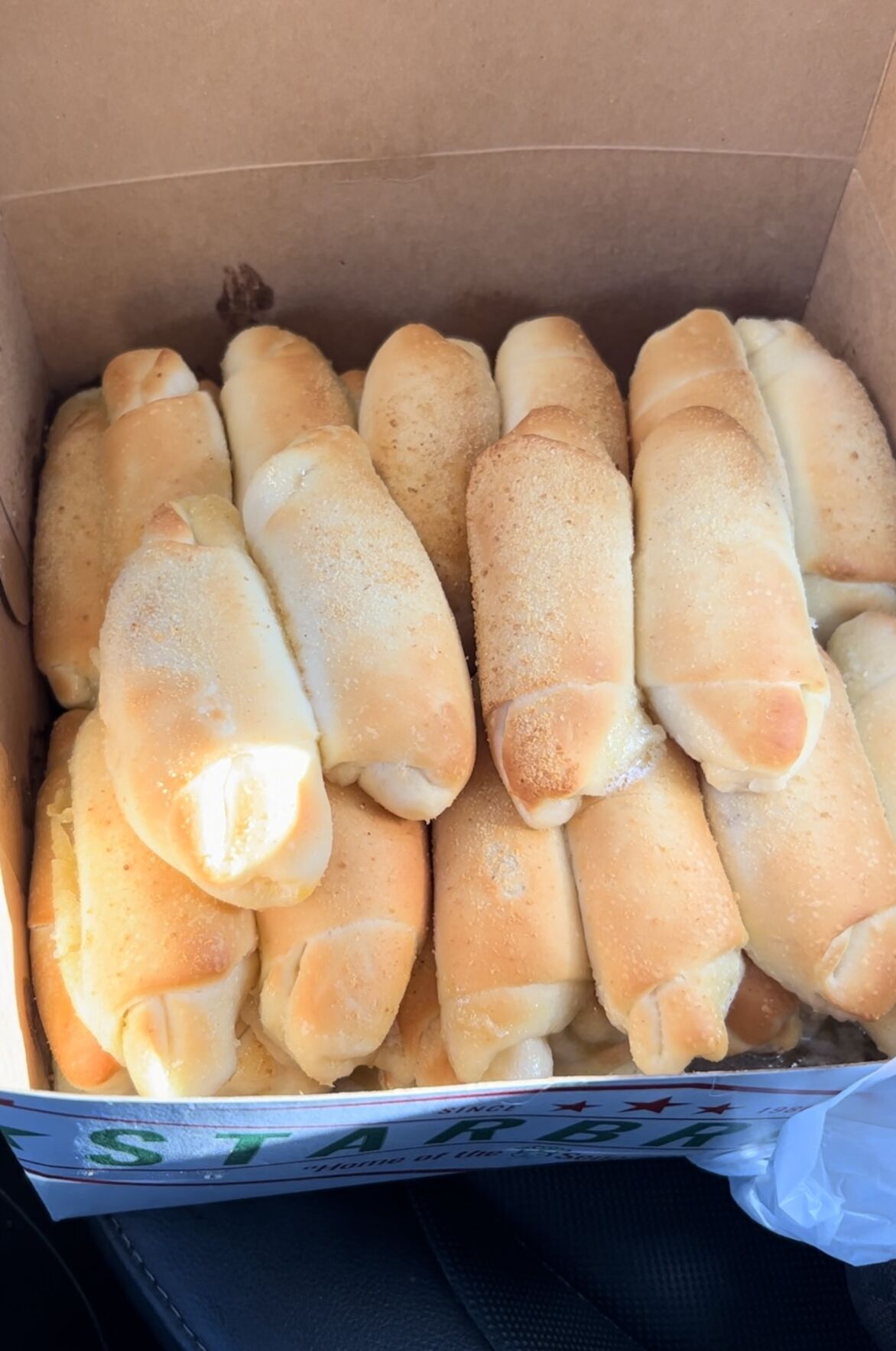 Starbread National City
Oh dear god the señorita bread. They're gonna offer you a box of 200 or so. Don't listen to them. Get 400. The buttery, creamy tiny footballs of sweet baked goods at Starbread—somewhere between a Parker House roll, a Mexican doughnut, and an almond croissant (without the flakiness)—are good enough to ruin a few lives.
The concept was started in South Sacramento by Romy and Nelly Romanan, and it's a mix of Filipino and Spanish concepts—the key being sugar, butter, and breadcrumbs that create a gooey interior. So simple, and worth every bit of the hype.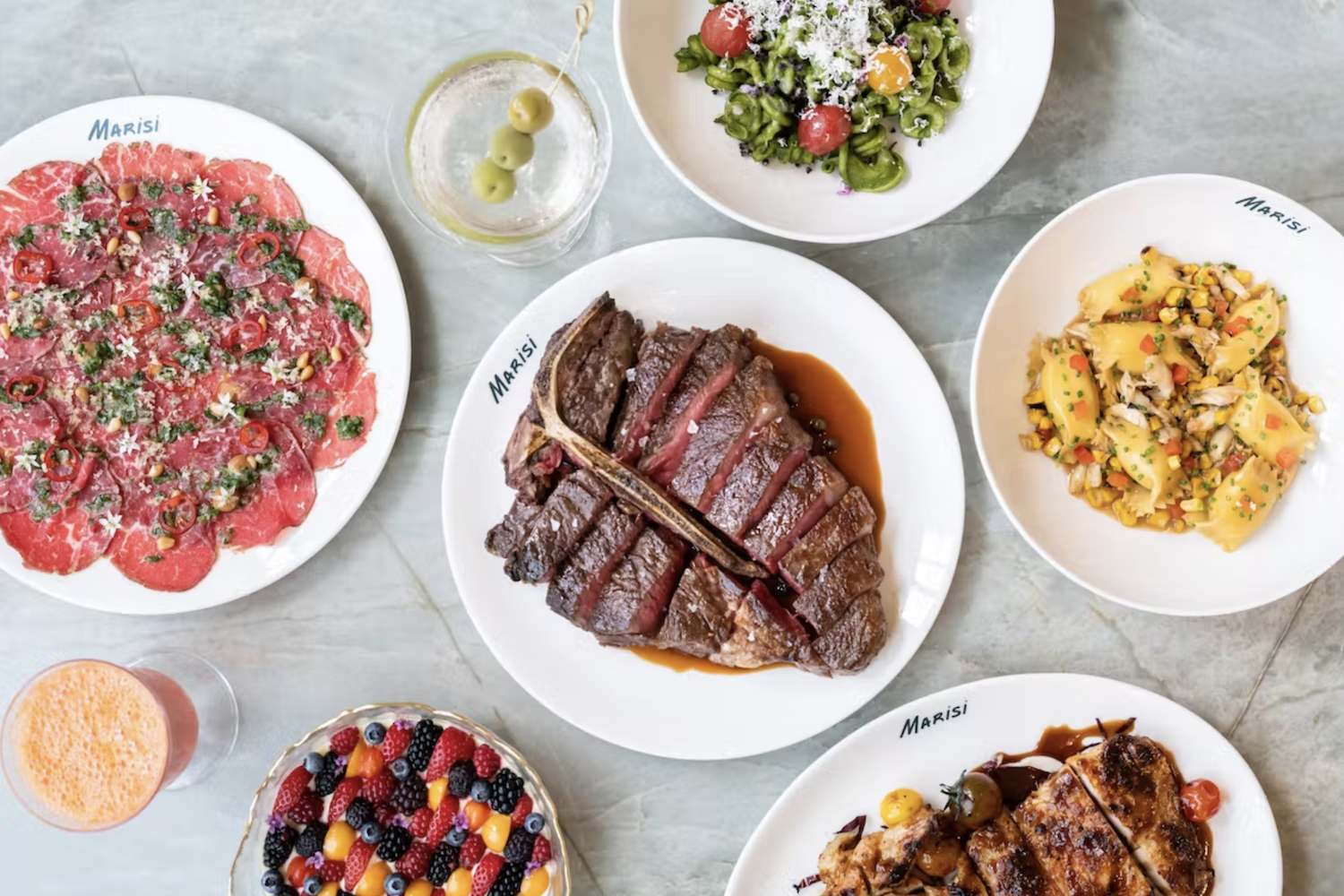 Courtesy of Marisi
Marisi
There is fish dry-aging upstairs, next to a table of cooks hand-rolling pasta. Downstairs there is whiskey that's rarely ever seen except on collectors' websites, more whiskey aging in a barrel in the courtyard. Exec chef Chad Huff was a line cook at two-star Michelin Providence, then studied pasta under Evan Funke at Felix Trattoria; beverage director Beau du Bois comes from three-star Michelin The Restaurant at Meadowood. It's a dreamy team. Marisi was without a doubt the Italian opening of the year, an obsession.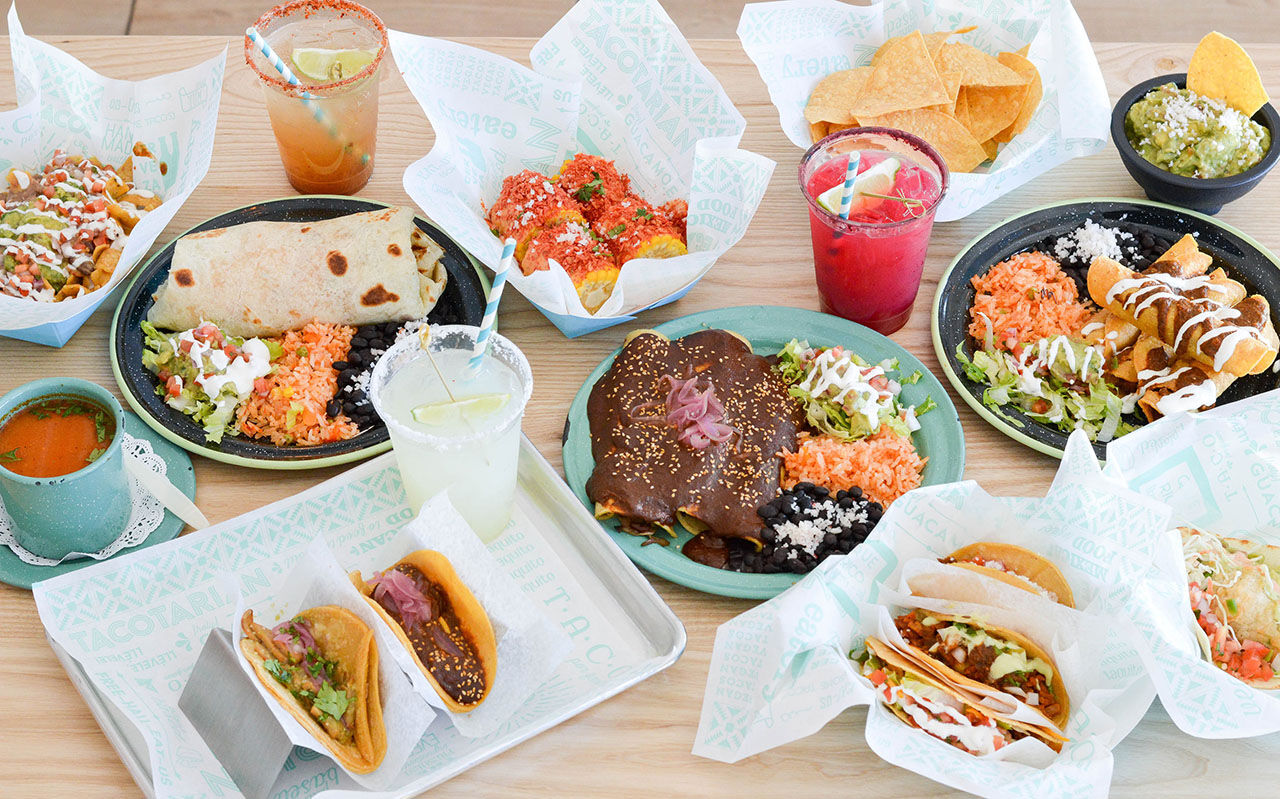 Courtesy of Tacotarian
Tacotarian San Diego
If Taco Bell had been invented after the "better food" movement and the vast quality escalation of plant-based cuisine, it might look and taste a lot like this. The vegan riff on fast-casual tacos (they do a jackfruit quesabirria with bits of Beyond meat, a plant-based fish taco, a California burrito, seitan asada, etc.) was a runaway hit in Vegas.
This is Tacotarian's first location in San Diego, going into a North Park spot that has played host to two vegan restaurants before it (Modern Vegan and Chicago Not Dogs). They've got full cocktails, arroz con leche for dessert. Plant-based fast food is coming, and this is a good one (they've made sure to include employees in the ownership structure as well).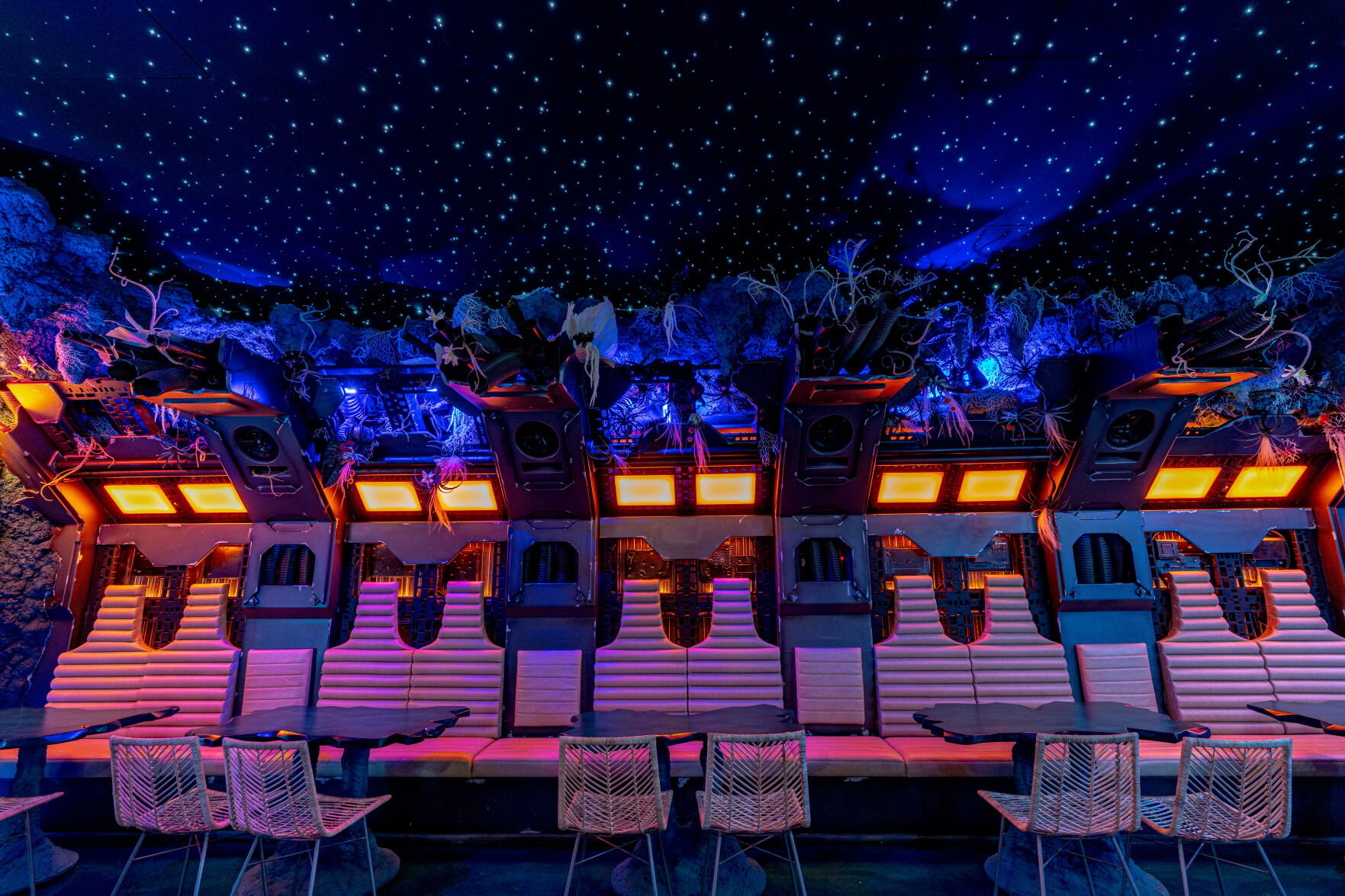 Photo Credit: James Tran
Mothership
Kindred has done all kinds of special things with vegan food (most importantly, they made it feel like a side-stage party at a heavy metal show), and with their partners Arsalun Tafazoli and CH Projects they created an alien tiki otherworld in a tiny dive bar in South Park. Mothership has a small menu of vegan food, but the bar is the main attraction here.
It's hard to overstate what they've done. They tapped designer Ignacio "Notch" Gonzalez, whose company Top Notch Kustoms crafted the famous tiki bar other-worlds in San Francisco (Smuggler's Cove, Whitechapel) and Seattle (Inside Passage). The result is like Land of the Lost meets Star Wars meets highly anesthetizing tropical drinks.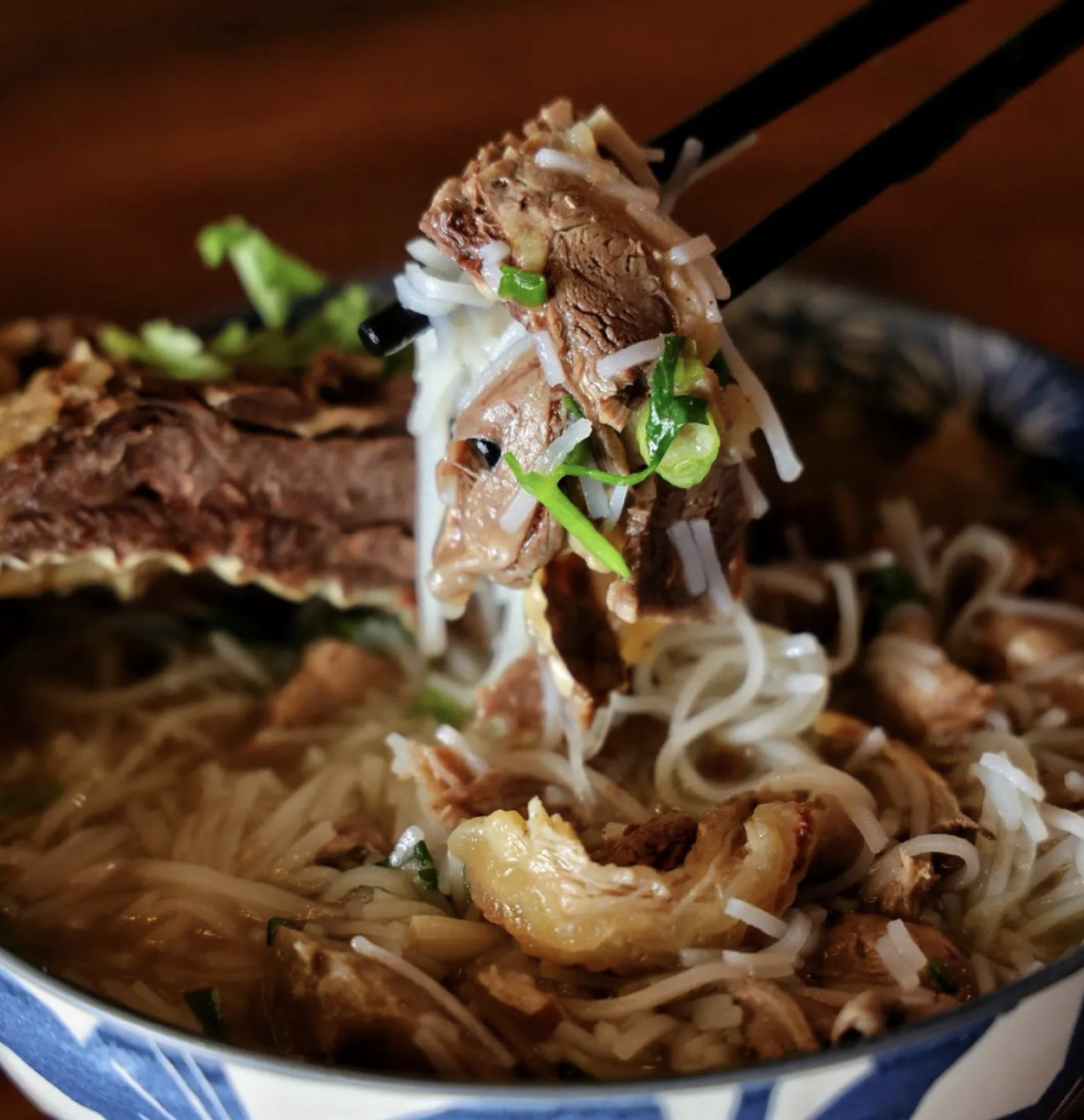 Courtesy of Xin Chao
Xin Chao Eatery
It may not look like much, taking over a small footprint next to a Jamba Juice in Del Mar Highlands, but pho is life. And in Del Mar, there are only two places I know of to get it: Le Bambou and Xin Chao Eatery, a new concept from local couple Joyce and Justin Nguyen. And having only one option for pho is like only having one coffee shop. Crimes.
Their house special pho is a meat lovers' special filled with filet mignon, meatballs, brisket, and topped with a Flinstonian, tender beef rib where the meat soaks up the broth like the innards of a french dip. Also try the pho made of oxtail, the most delicious cut of meat known to meat. Del Mar Highlands is now basically north county's version of Westfield UTC, a grown-up mall that's compensated for the challenges of retail by inserting some truly good places to eat.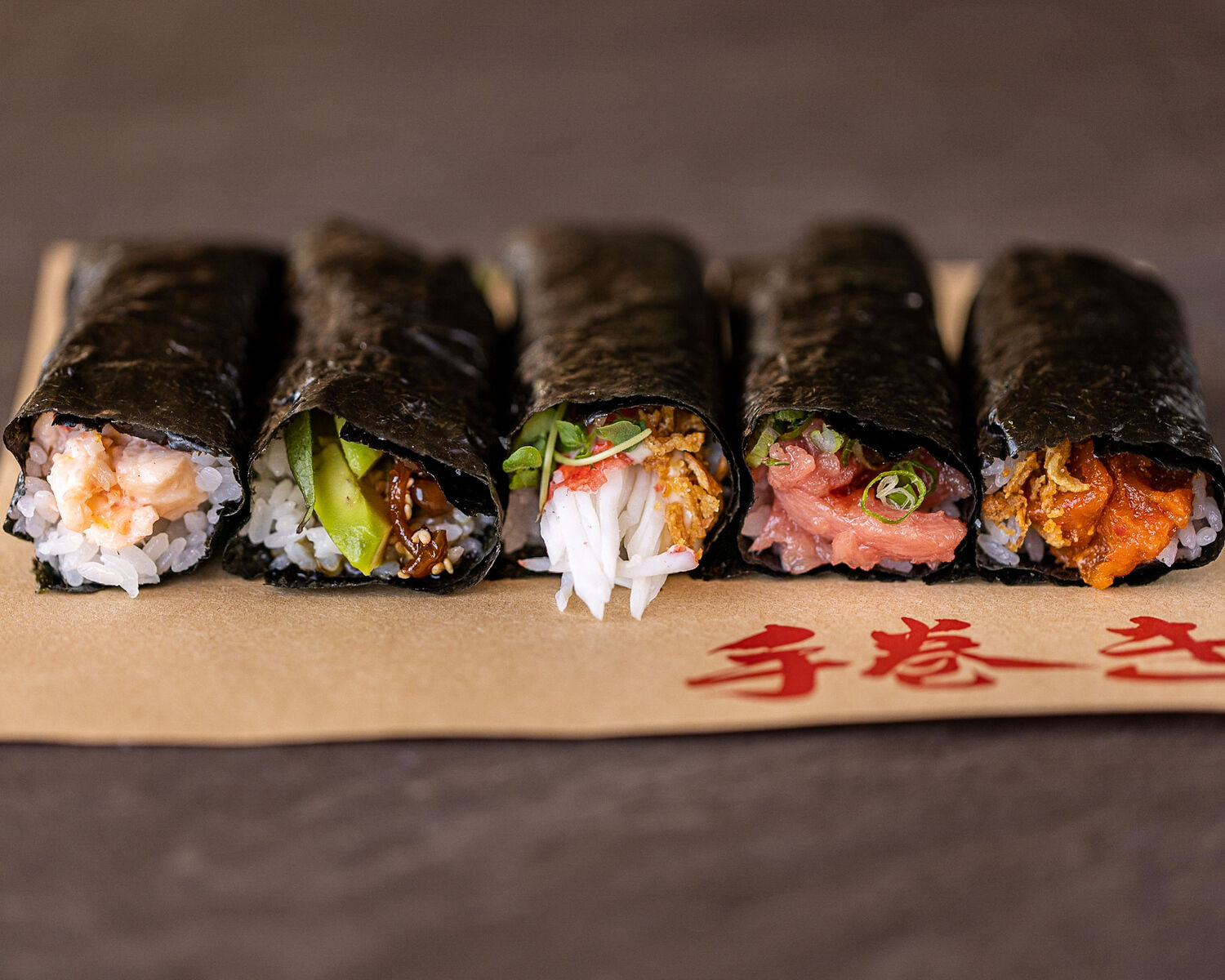 Courtesy of Temaki
Temaki
Chef JoJo Ruiz of Clique Hospitality (Serea, Lionfish, Joya Organic Kitchen) has made a name for himself in San Diego as one of the most sustainable seafood chefs around. With Temaki in Encinitas, he's specializing in hand rolls and things ordered at the bar from the sushi case.
The spicy tuna crispy rice is so good it's almost a dirty trick: crispy-fried rice is arguably better than movie popcorn and many forms of sex, and then you pile it with well-seasoned sushi grade ahi with a kick and a citrus ponzu. It's a social hangout, with beer, wine, sake, Japanese soda (Ramune, which looks like all sorts of radiator fluid and is beloved), and mochi ice cream for dessert.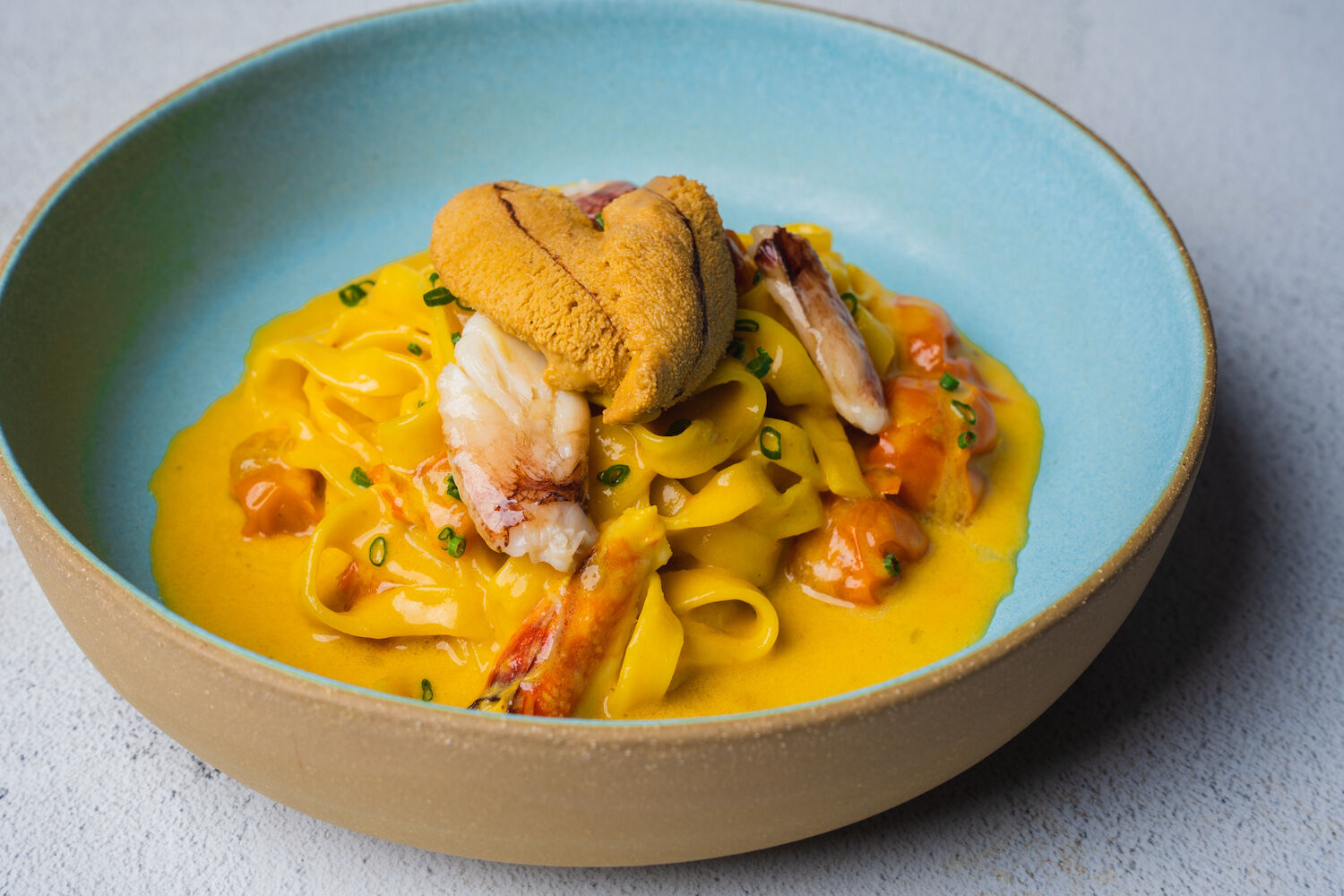 Courtesy of Paradisaea
Paradisaea
Much like Worcestershire, no human can properly pronounce the name of this new restaurant, which took over the iconic piano showroom in Bird Rock. Check out Paradisaea's design, from the patterns on chairs to the tiles from acclaimed local ceramicist, Josh Herman.
Bird Rock, which has seemed like another planet due to the long road to accessing it through La Jolla or P.B., is putting together a just-right sized food and drink scene with standouts like Wayfarer Bread and LJ Crafted Wines alongside the solid and beloved Beaumont's. Paradisaea's team is stellar, led by culinary director Mark Welker (former pastry sous at three-star Michelin Eleven Madison Park and pastry chef at NoMad).
The kitchen stars with the sauces, and it's got everything you'd want from a marquee restaurant—oysters and pastas, a dry-aged cheeseburger, scallops in vadouvan curry, bone-in ribeyes in veal jus. Definitely try the tempura halibut in green curry aioli.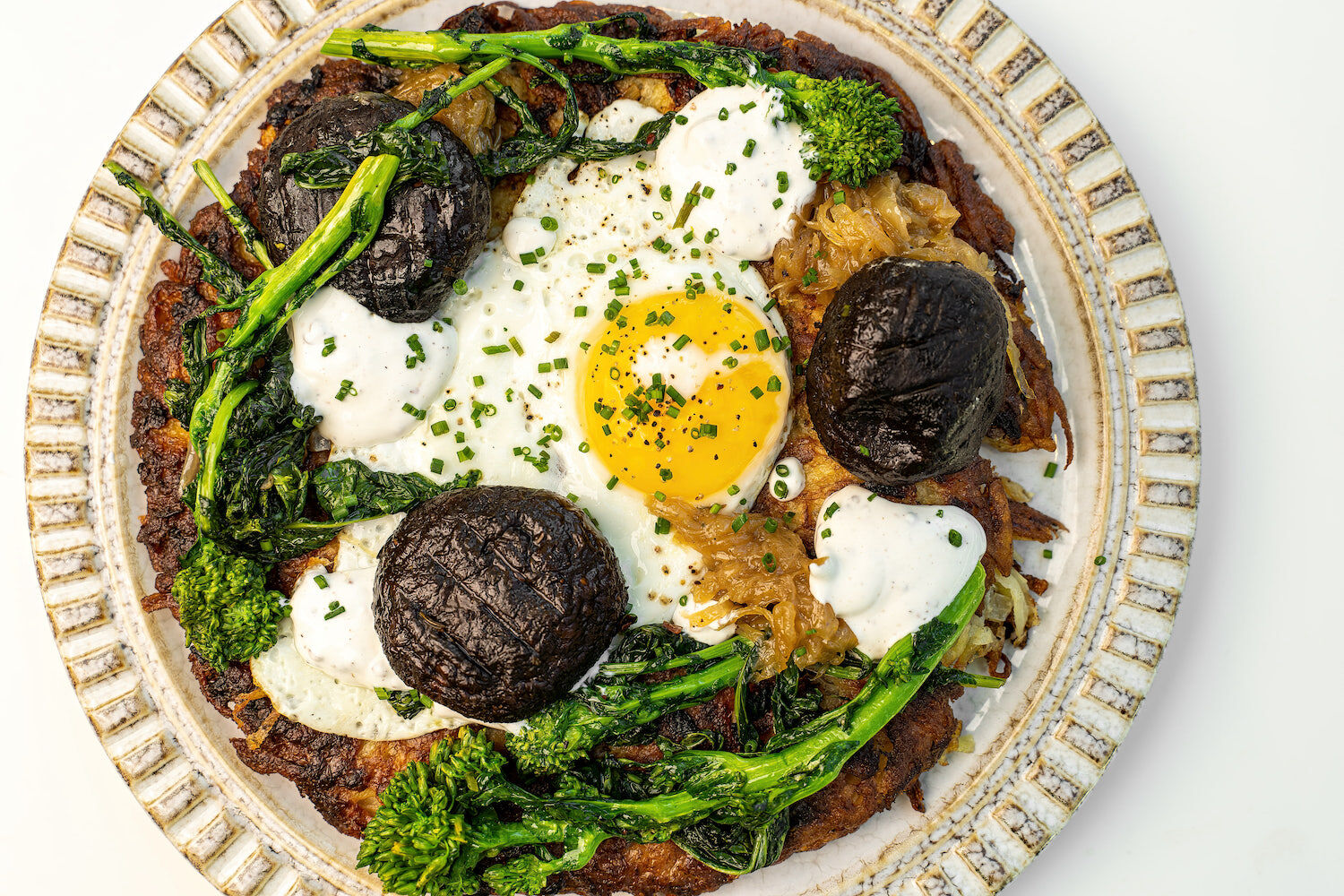 Photo Credit: Kimberly Motos
Gold Finch
Tracy Borkum is simply one of the better restaurant operators in the city, has been since she ran Ken Grill. Really made her name with Cucina Urbana in Bankers Hill, though. The polenta plate has kept a couple families together. Her most recent project is a take on a modern Jewish deli, a concept that San Diego needs ten or 12 more of.
Just the phrase "shmaltz crusted potato" warms a cold heart. It's a weekday breakfast-lunch thing, with early morning loaded latkes, corned beef hash wrap, but also acai bowls, baked goods (honey cakes, baklava, regelach, knish). Then for midday it's bowls and salads and sandwiches (brisket French dip, reuben, etc.) and snacks (muhammara spread, smoked trout rillette). And of course, blintzes.
Hard to beat the team of chef-partner Tim Kolanko (years as the chef de cuisine at AR Valentien), Jeff Armstrong (ex-Parakeet), Frankie Becerra, and pastry chef Adrian Mendoza.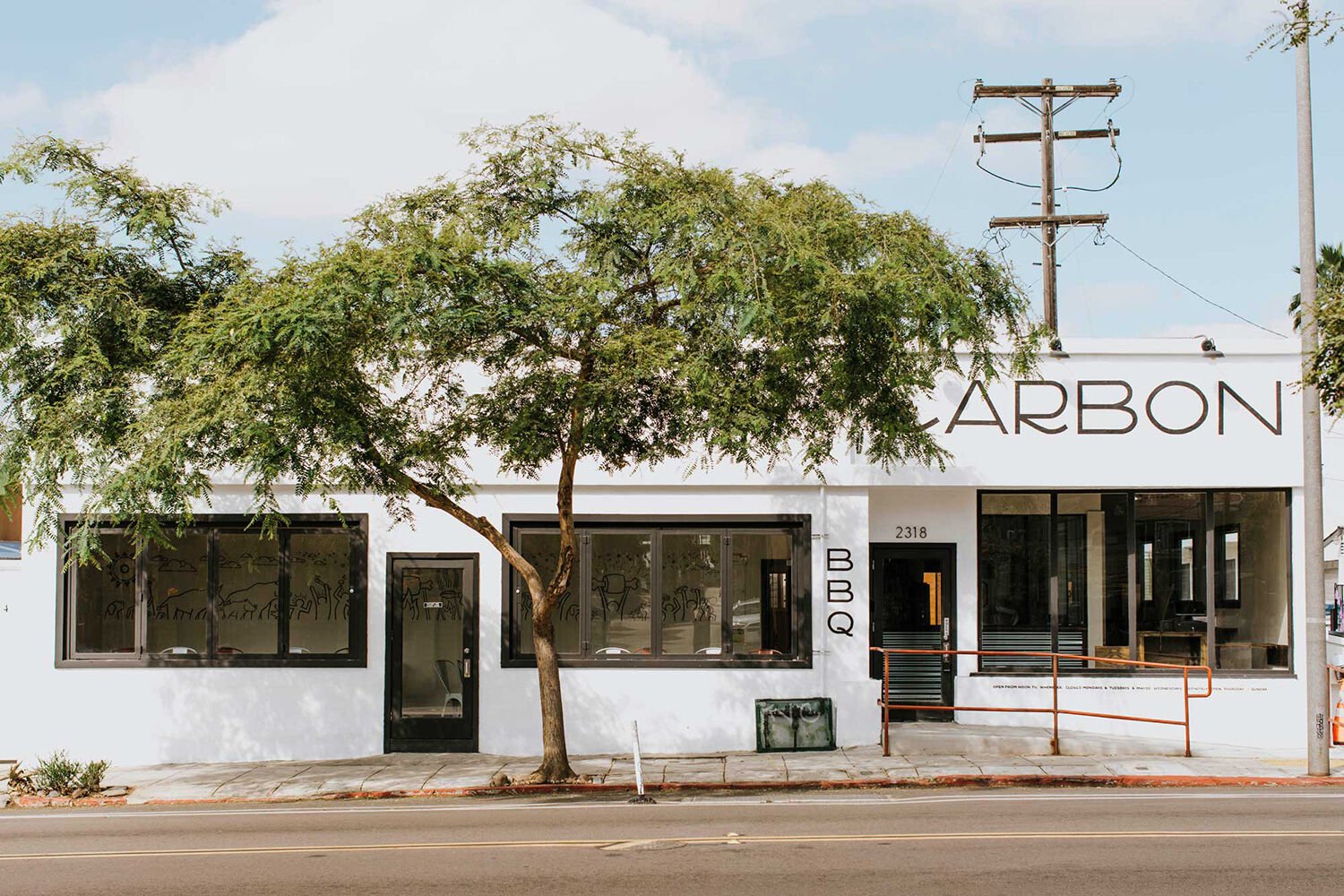 Courtesy of Carbon BBQ
Carbon BBQ
A long while back, chef Hanis Cavin stopped working at fancy restaurants, opened a tiny little window in North Park, served pork belly out a little North Park window, and called it Carnitas Snack Shack. He's long since moved on from that glory, even moved out of town and made some people cry.
Now he's back and teamed with one of the top Italian restaurant groups, Buona Forchetta, for a Texas-style barbecue concept. Get the brisket sandwich, get the mac 'n' cheese, watch these two talented partners evolve it at Carbon BBQ.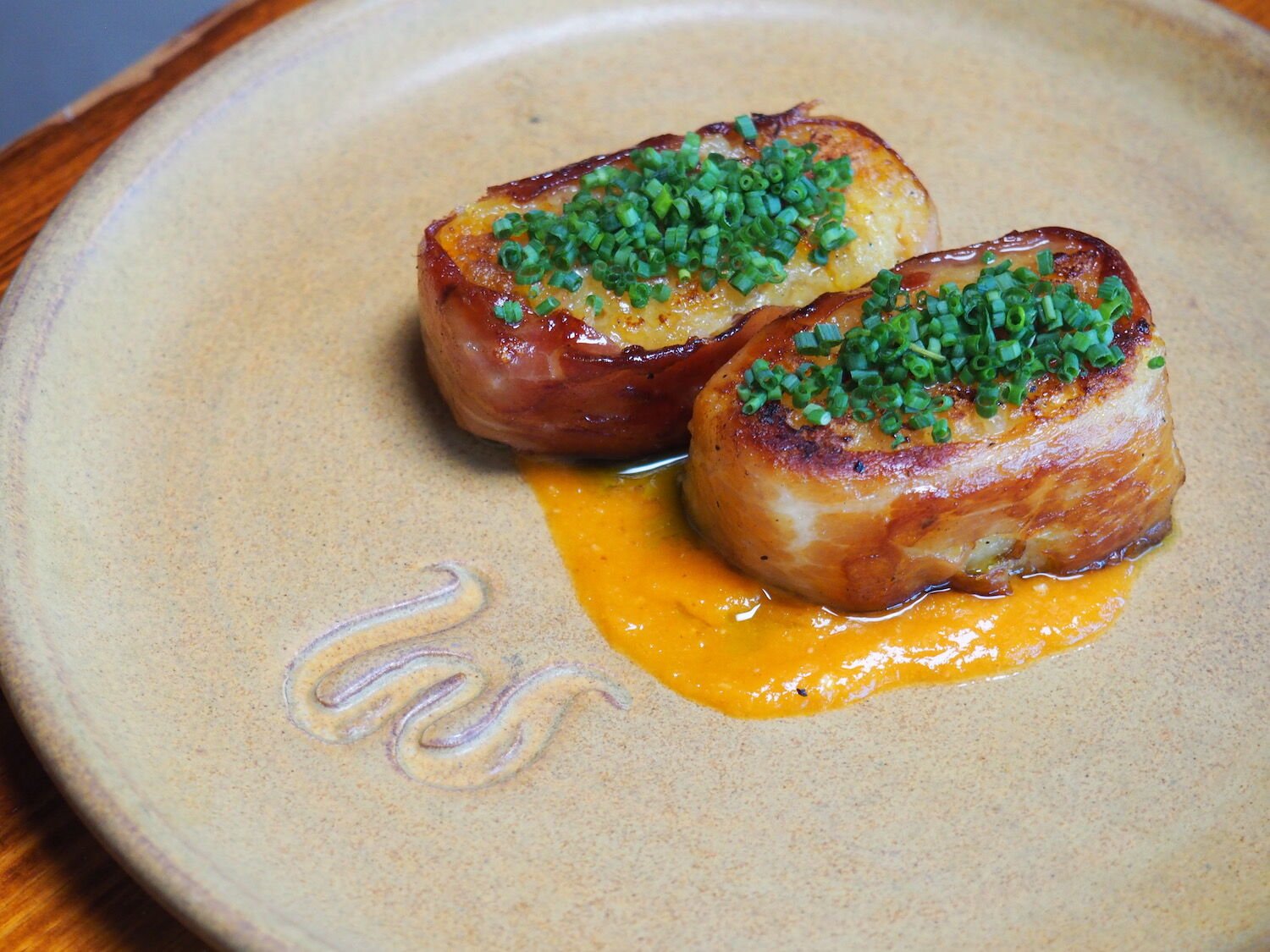 Photo Credit: Jackie Bryant
Mabel's Gone Fishing
Chelsea Coleman's been doing natural wine right in San Diego for a long while, starting with The Rose Wine Bar in South Park. She was one of the creators of Nat Diego wine festival that brought one of the world's top natural wine experts to town (Alice Feiring). But her cooking chops aren't to be underestimated, having cooked in Europe and done time in the kitchen at two former standouts in San Diego (The Linkery and Whisknladle).
Now she's expanded with her co-chefs Dan Luong (also of The Rose) and Ross Garcia (formerly of Brookyn's Marlow & Sons) to this gin-centric Spanish and Portuguese-influenced small plates joint (yes, oysters)—with standout dishes like blistered padron peppers in goat cheese, swordfish schnitzel with creamy tomato sauce (all of these change regularly with season and whim, but you get the point).
The cocktail list at Mabel's Gone Fishing is from Tony Roehr, a longtime barkeep with CH Projects (get the "G and T," with Nordes gin, lemon, grape, and sage). Oh, and the burnt Basque cheesecake for dessert.