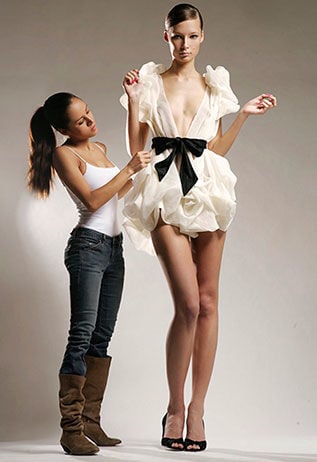 Ximena Valero
On the cusp of two extremes—the edge of Latin America that's inseparably sewn to its Anglophone counterpart—Tijuana is a city more chic than most would imagine, thanks in part to its homegrown hotbed of haute couture.
One of the biggest names on international runways to come from the border city, Tijuana native Ximena Valero is best known for looks that effortlessly morph from full dresses into tops or skirts. A functional concept that allows the wearer to be the designer, Valero's transformable fashion has graced the likes of Jessica Alba, Eva Longoria, and Katy Perry. ximenavalero.com
It was 20 years ago that Tijuana native Jorge Sanchez began stitching together swap-meet finds to make hybrid creations with enough bang to resell at boutiques in SD and L.A. Now his gowns are some of the most sought-after in northern Mexico. July brought the 30th installment of Intermoda Guadalajara, where his spring 2015 collection took to the runway alongside those of Mexico's top designers. Next up is October's Innovamoda, part of Tijuana Innovadora, a biannual expo showcasing the city's best innovators in industry, technology and design.
Laura Garcia began creating her own garments as a child. She's since gone on to become one of Tijuana's most promising emerging designers. Looks from her label Bonita are now a mainstay on the racks at Doratto, one of Avenida Revolucion's new generation of boutiques specializing in handmade clothing and housewares made by locals. vivebonita.blogspot.com