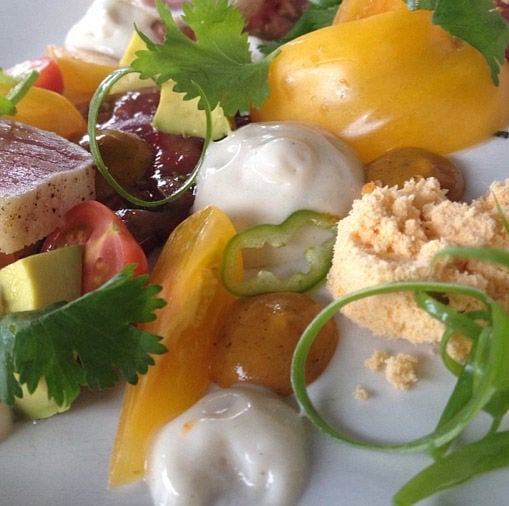 "Fish Taco" @ Beaumont's
There are two camps when it comes to deconstructed sci-fi food utilizing neat kitchen tricks. The first views such food as needless puffery getting in the way of "real" food. "Just braise me somefin," says that set. The other camp truly loves this mind-bending exploratory food realm and still cries softly in the night over the closing of El Bulli. I'm somewhere in between. I like creativity in food as long as you don't send me a "yuzu gelee" that looks and tastes like a jaundiced pencil eraser. And Beamont's chef George Morris nails the balance with his "fish taco."  It's seared albacore, grilled corn tortilla foam (which tastes more like a cream), dehydrated chorizo, and hatch chile puree with heirloom tomatoes, avo, cilantro and jalapeno. All together, it really does taste like a super-clean, top-notch fish taco. For inspired food in sleepy little Bird Rock, Morris and Beaumont's are definitely the place. Note: Order from his specials menu. Beaumont's Eatery, 5662 La Jolla Blvd., 858.459.0474.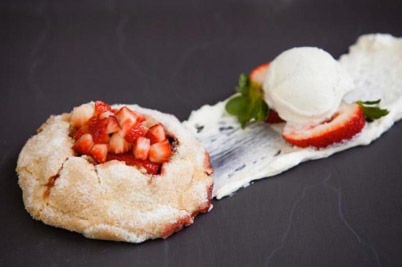 Strawberry-Rhubarb Tart  @ Tidal
I'm not a big dessert guy. I spend too much of my time and table space with the savory menu. By the time dessert comes around I'd often just rather order a soft couch to wink out on for a while. I also am not a fan of warm, macerated fruit fillings. Pies and tarts pale in my eyes to, say, a doughnut (or plain old unadulterated berries with cream).  And yet somehow this tart—with its perfectly dense pastry, not overly cloying berry filling and confetti of mint with vanilla gelato—overcame all that. Eat this on the Tidal patio as the sun goes down and all that stressful life crap you worry about will turn to dust. Tidal @ Paradise Point, 1404 Vacation Rd., Mission Bay, 858.274.4630.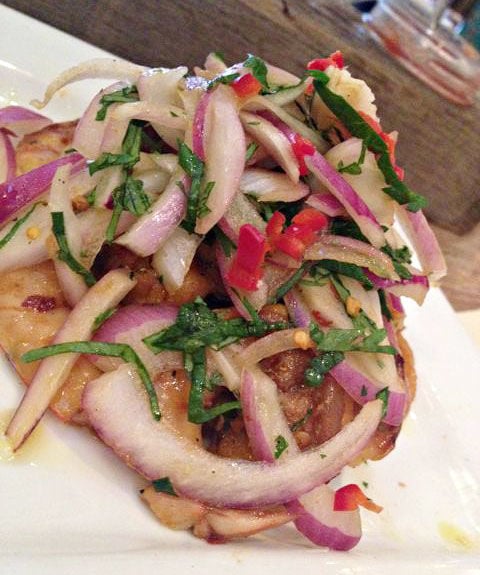 Wild Shrimp Cockteles @ Don Chido
Antonio Friscia is one of my favorite chefs in San Diego—a certified sommelier, student of global cuisine, super gracious, other-oriented host. But if I didn't love his food, I'd go fishing with him instead of writing about his new Mexican restaurant. Here, the chef has a Santa Maria grill for meats (a griller's dream, and a rarity to see at restaurants). His queso fundido is a plus-sized dream, and his piping hot churro bites with caramel sauce taste like school lunch dessert from the 1970s (a minor difference being his don't taste like stale bread sticks). But my favorite bite may have been his simple cockteles with wild Mexican shrimp. He makes his similar to an aqua chile, marinated in lime, yuzu, top-notch olive oil and chiles., Don Chido C527 5th Ave., Downtown, 619.232.8226.