It happens every spring—friends who had the foresight to plant seedlings as the weather turned start texting photos of their mighty harvests. Haunted by images of plump tomatoes and shiny peppers, we're left staring sadly at our forlorn garden beds and empty patio pots. But not this year. Fall is the perfect time for planting saplings or enhancing your home décor with houseplants from San Diego plant shops.
With the right amount of sunlight, water, and tender-loving care, your gardening endeavors will pay off when warmer days arrive. Whether you want to transform your apartment into a low-maintenance succulent Eden or wow friends with a fully homegrown salad at a dinner party, these local plant stores have you covered.
Here are 10 of our favorite San Diego plant shops: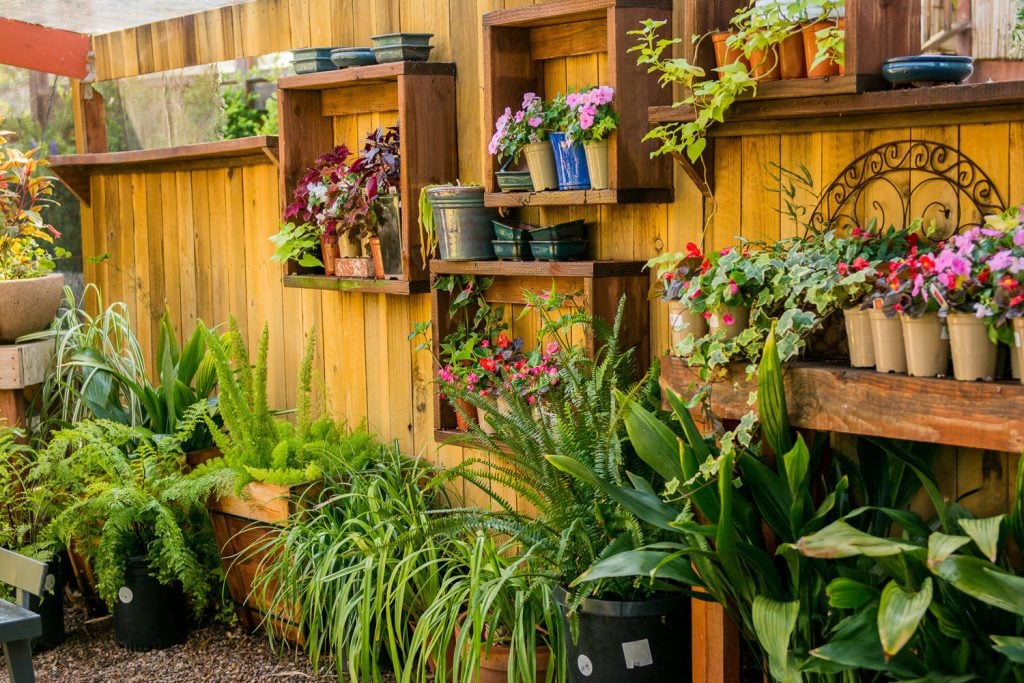 Barrels & Branches Nursery
Encinitas
Nestled on Santa Fe Drive, Barrels & Branches is a hidden gem filled with an array of plants, succulents, pottery, and garden accessories. This North County spot is a haven for gardeners seeking plants suited to San Diego's micro-climate, including drought-resistant varieties like leucadendron, lomandra, grevillea, and other flora sourced from similar environments, such as South Africa, Australia, New Zealand, and the Mediterranean.
Hours: 8 a.m.–5 p.m. daily
1452 Santa Fe Drive, Encinitas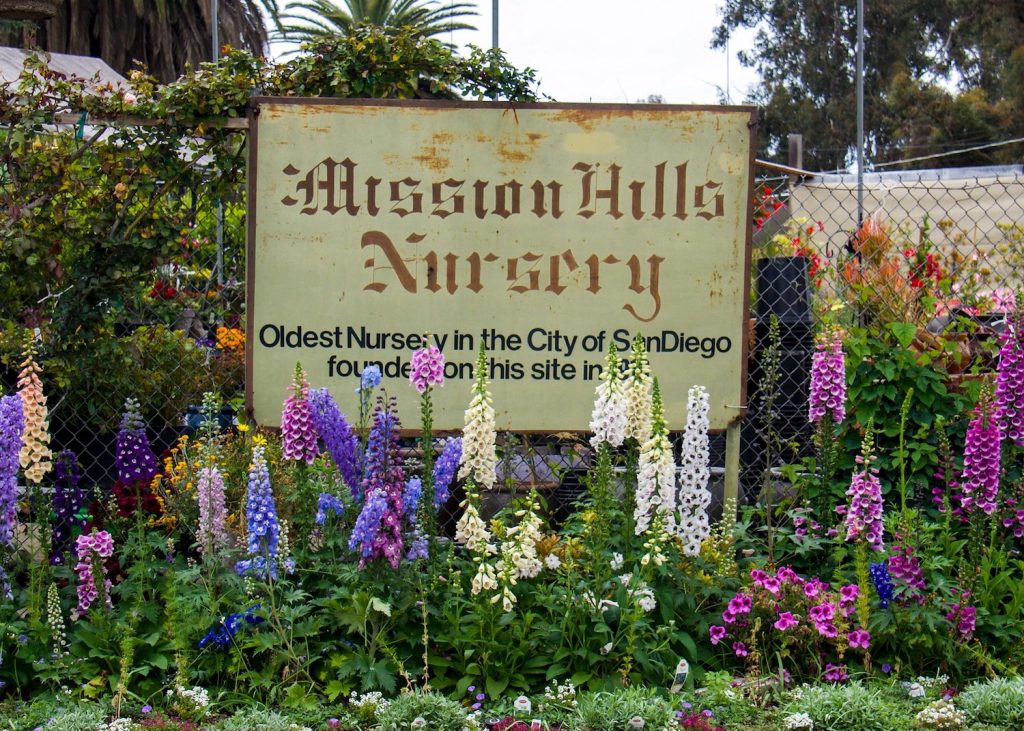 Mission Hills Nursery
Mission Hills
Founded by the legendary San Diego botanist Kate Sessions in 1910, Mission Hills Nursery holds the distinction of being the city's oldest plant stop, still serving plant-lovers to this day. Sessions—known as the "Mother of Balboa Park"—and her successors curated a vast selection of flora varieties, an expansive outdoor section, and some friendly garden companions in the form of a resident cat, a couple of chickens, and an oversized garden gnome. Beyond flowers, the shop sells industrial landscaping tools, fertilizers, plant beds, fruit trees, and even landscaping design services for your most ambitious gardening projects.
Hours: 8 a.m.–5 p.m. daily
1525 Fort Stockton Drive, Mission Hills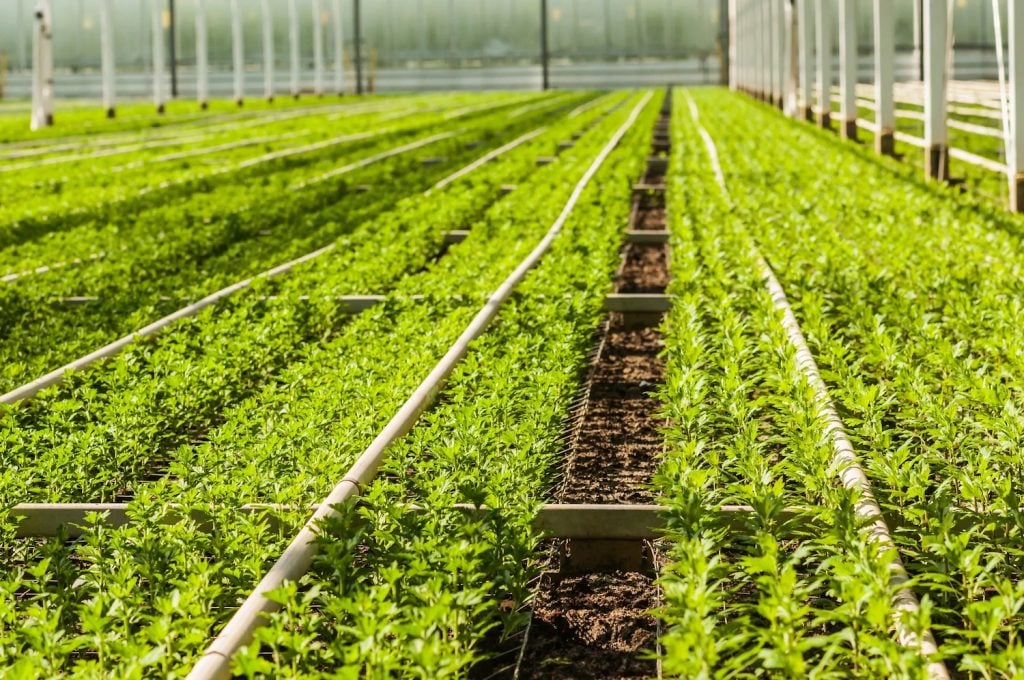 Terra Bella Nursery
Chula Vista
Spread across 300 acres of wholesale plant and farming property on the outskirts of Imperial Beach, Terra Bella Nursery features endless flower beds brimming with greenery, bulk plant supplies, and an affordable green waste disposal service. The nursery's knowledgeable staff can assist you with any planting project, including custom orders and landscaping services. Keep an eye out for their forthcoming Midway District location.
Hours: Monday–Saturday 7 a.m.–5:30 p.m.; Sunday 8 a.m.–3:30 p.m.
302 Hollister Street, Chula Vista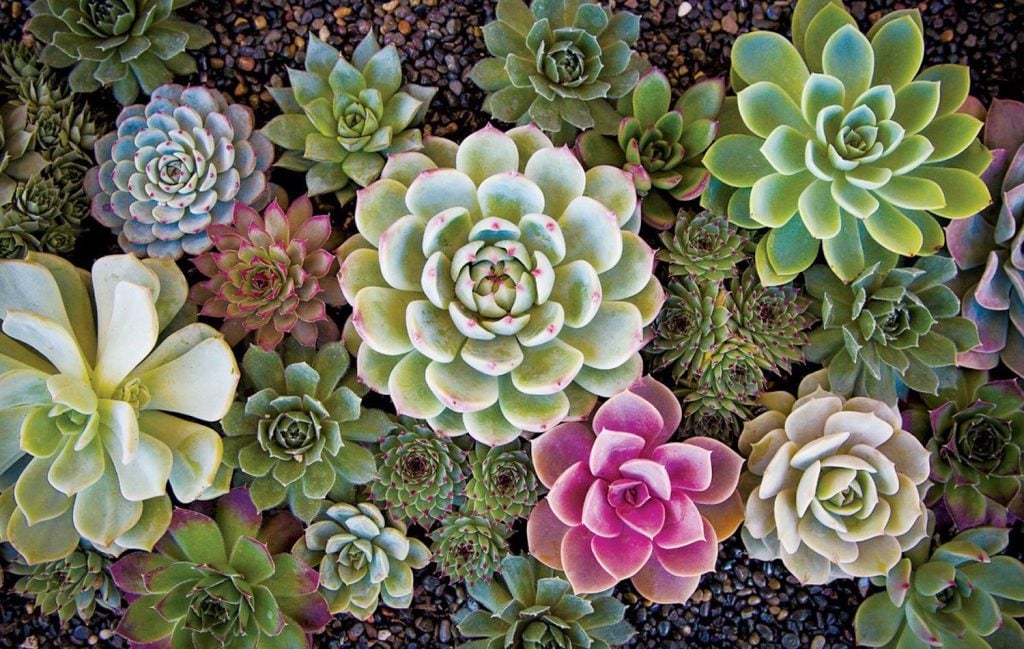 Walter Andersen's Nursery
Point Loma, Poway
Founded in 1928, Walter Andersen's Nursery is a great destination for plants suitable for every season and environment in San Diego. They offer a diverse range of options, from flowers and vegetables to ferns and orchids. The spacious indoor and outdoor nursery hosts free hour-long gardening classes every Saturday at both its Point Loma and Poway locations. Additionally, visitors can take advantage of the "Hedge Fund" loyalty program for frequent buyers, a 90-day plant warranty, and a weekly podcast in which Walter Andersen's expert gardeners answer listener questions and delve into all things plant-related.
Hours: 8 a.m.–5 p.m. daily
3642 Enterprise Street, Point Loma
12755 Danielson Court, Poway
Cordova Gardens
Encinitas
A family-owned and -operated garden center, Cordova Gardens is a paradise for plant enthusiasts looking to transform their backyard into a serene oasis. They vend a wide variety of plants, with a focus on tropical varieties like plumerias, bromeliads, and hibiscus. In addition to their flower and herb selection, Cordova sells elaborate stone fountains, bird baths, clay pots, and other outdoor décor to enhance your lush refuge.
Hours: Monday–Saturday 8:30 a.m.–5 p.m.; Sunday 10 a.m.–4 p.m.
902 Encinitas Boulevard, Encinitas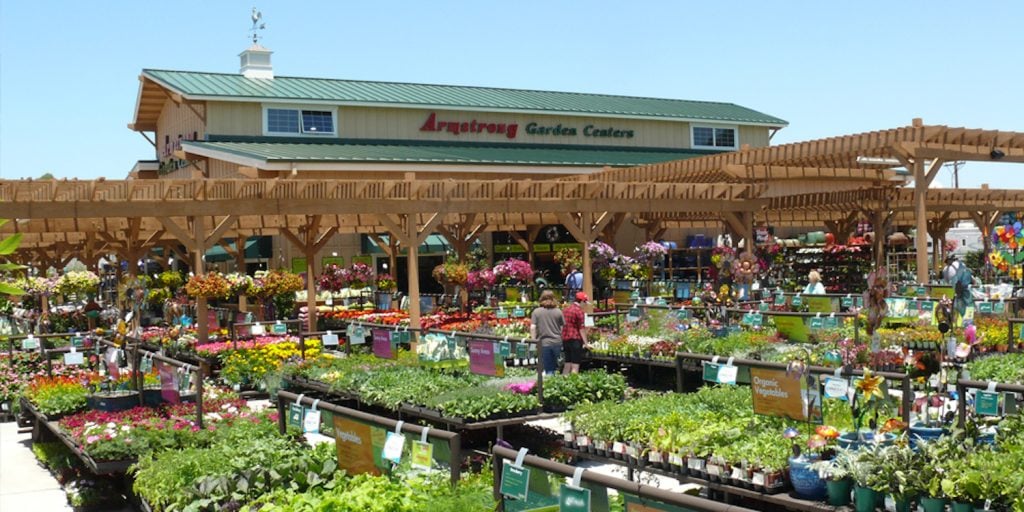 Armstrong Garden Center
El Cajon
Whether you're a seasoned horticulturist looking to expand your veggie garden or a houseplant novice looking for a low-light companion, Armstrong Garden Centers have you covered. With three San Diego locations, Armstrong caters to gardeners of all skill levels, providing a diverse selection of plants, tools, and outdoor ornaments. And if your plant haul is too heavy to carry, fear not—Armstrongs offers delivery services, ensuring that towering ficus or 50-pound bag of fertilizer arrives conveniently at your doorstep. After an afternoon of planting saplings, your back will thank you for skipping the extra step of hauling 'em home.
Hours: Monday–Saturday 8 a.m.–6 p.m.; Sunday 9 a.m.–6.pm.
1755 East Main Street, El Cajon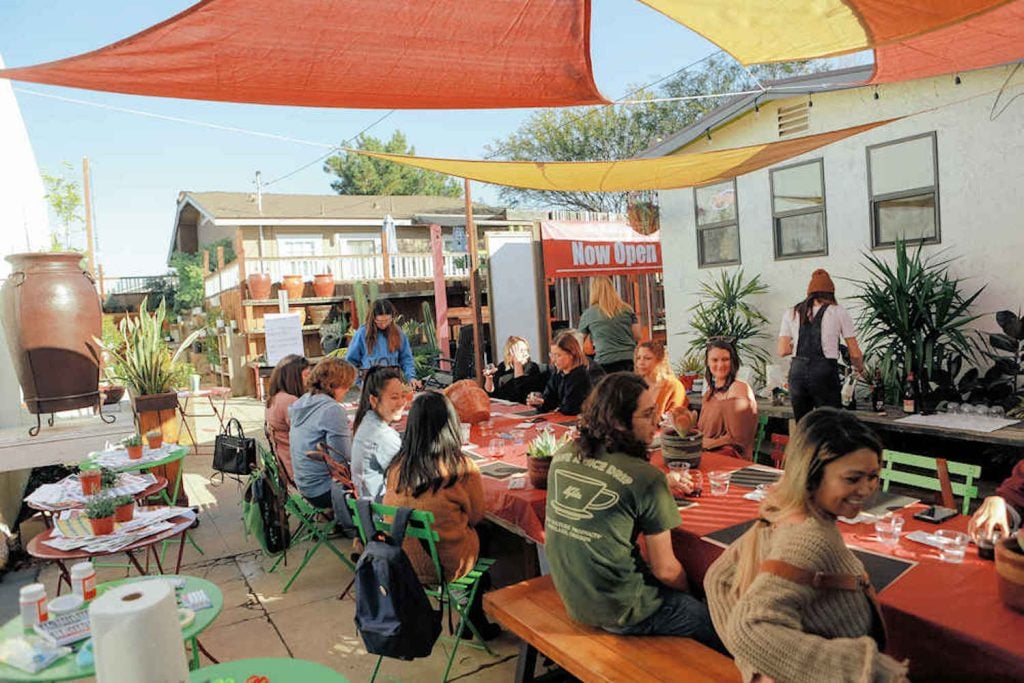 North Park Nursery
North Park
Situated in the heart of North Park on University Avenue, this San Diego plant shop slings native plants, arrangements, and gardening supplies in a compact yet delightful storefront. North Park Nursery specializes in native plants suitable for San Diego's often arid climate and dry soil conditions, including succulents, aloes, cacti, and other desert plants. Consider reserving their event space for a succulent arrangement workshop, and don't forget to check their Instagram regularly for updates on new arrivals and discounts.
Hours: 10 a.m.–5 p.m. daily
2335 University Avenue, North Park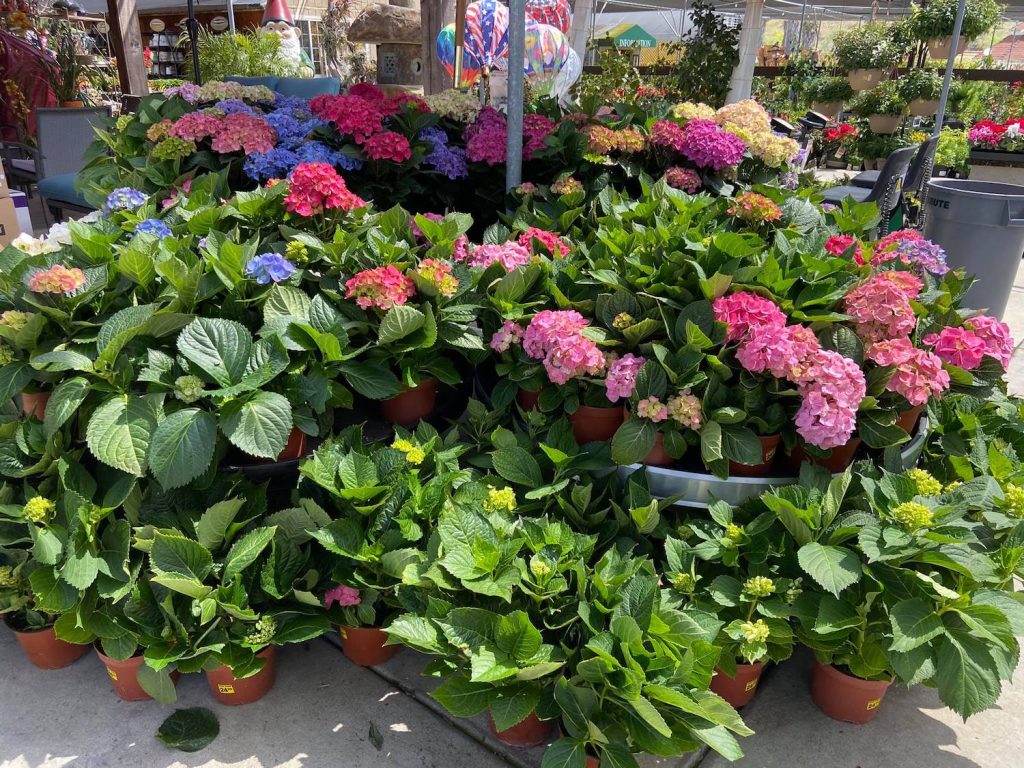 Green Thumb Nursery
San Marcos
Polish your green thumb at this expansive garden center in San Marcos. The comprehensive San Diego plant shop sells a wide variety of drought-tolerant plants, fruit trees, tropical flowers, houseplants, herbs, aquatic plants, and even patio furniture for you to lounge on and smell your roses. Green Thumb Nursery spans four acres of verdant bliss and has everything you need for your dream garden—including electic décor like tikis and life-sized bear statues.
Hours: 8 a.m.–5 p.m. daily
1019 W San Marcos Boulevard, San Marcos
Botanica Home and Garden
Ocean Beach
Houseplants make fantastic home decorations, and you'll find plenty at Botanica Home and Garden. Located just steps away from Ocean Beach's Newport Avenue, this San Diego plant shop and boutique is a must-visit anyone looking to spruce up their living space with botanical charm. In addition to their Instagram-worthy plant collections and succulents, they sell a selection of handmade pottery, antiques, and local art. If you're feeling creative, join their ceramics workshops and open studio hours from 12 to 6 p.m on weekdays to throw your own plant pots.
Hours: Monday–Friday 12 p.m.–6 p.m.; Saturday & Sunday 10 a.m.–4 p.m.
1909 Cable Street, Ocean Beach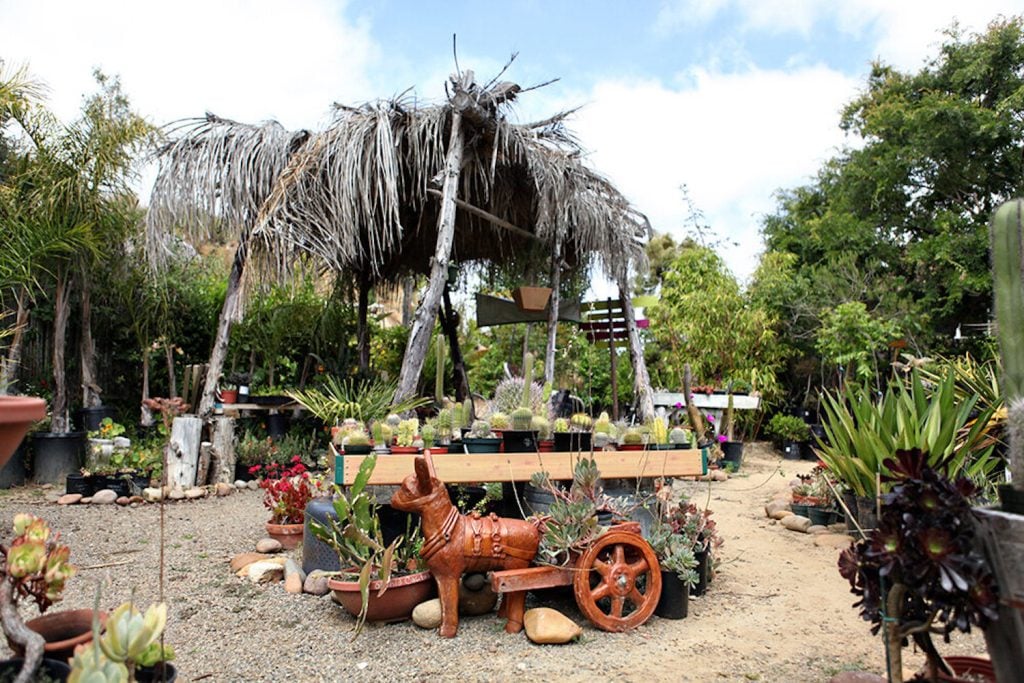 City Farmers Nursery
City Heights
Located in City Heights, this is the go-to place for San Diego gardeners looking to grow their own produce. While they specialize in edible plants and fruit trees, City Farmers Nursery offers an array of supplies for raising chickens, goats, and fish, as well. During your visit, be sure to join their "Sunshine Club," a free quarterly program that provides visitors with an assortment of flower seeds to try in their own gardens (while supplies last).
Hours: Wednesday–Sunday 9 a.m.–5 p.m.; Closed Monday & Tuesday
3110 Euclid Avenue, City Heights