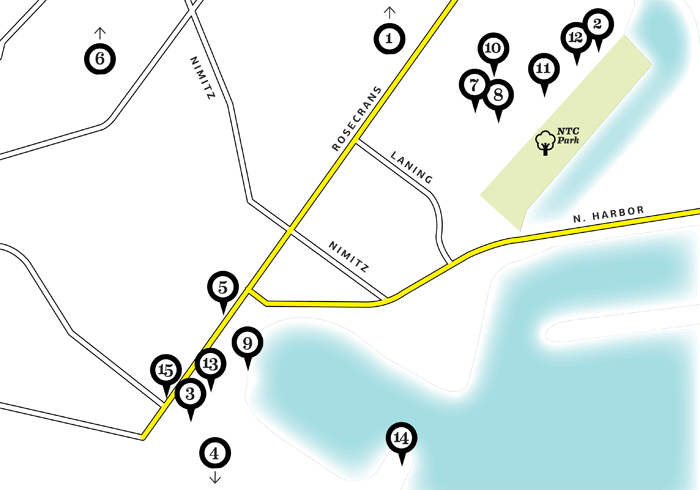 1. NEW
Modern Times
Beer that lives up to the hype! Cool, bright tasting room, too.
3725 Greenwood Street

2. NEW
Stone Brewing World Bistro & Gardens
The famous brews now flow in a spectacular beer garden, complete with an outdoor bocce ball court.
2816 Historic Decatur Road, Liberty Station

3. NEW
Pummarò
This rustic Italian restaurant, related to La Jolla's Osteria Romantica, serves wood-fired pizza, calzones, and pasta.
1101 Scott Street

 

4. NEW
Fathom Bistro, Bait, and Tackle
Sunny days are made for craft beer, burgers and decadent dogs on the tiny fishing pier.
1776 Shelter Island Drive

5. The Pearl
Sustainable menu, Dive-In Theatre, and bingo lure locals to this fabulously retro boutique hotel.
1410 Rosecrans Street

6. Sessions Public
This gastropub serves top-notch beer, craft cocktails, and great brunch.
4204 Voltaire Street
This Month in Point Loma

February 7
Friday Night Liberty for free arts and culture at Liberty Station

February 12–15
Valentine's Date Nights
at The Pearl

Wednesdays
Fishermen's Farmers Market,
4900 North Harbor Drive,
3 p.m. to 7 p.m.
7. Yoga Six
Yoga tailored for each level and purpose, in a luxury studio.
2850 Womble Road, Liberty Station

8. Tender Greens
Local farm-fresh food served quick in a bright room or breezy patio.
2400 Historic Decatur Road, Liberty Station

9. Point Loma Seafoods
Have a beer by the bay while shopping for fresh seafood.
2805 Emerson Street

 

10. NTC Arts & Culture District
Liberty Station's historical grounds also house galleries, studios, and performances.
Liberty Station

11. The Bar Method
Sculpt your body and gain balance and stamina with this non-impact workout.
2751 Roosevelt Road, Liberty Station

12. Con Pane Rustic Breads & Café
Coffee, sandwiches, and pastries—plus the crusty Point Loma Sourdough is some of the best we've tried.
2750 Dewey Road, Liberty Station

 

13. Supannee House of Thai
Try its extensive specialty curry list, summer rolls, or sweet and sour chicken.
2907 Shelter Island Drive

14. Bali Hai
Glittering skyline views with Pacific Rim-inspired dishes and tiki drinks like the infamous Mai Tai.
2230 Shelter Island Drive

15. Harbor Town Pub
Trivia, karaoke, taco Tuesdays—there's something for everyone at this local pub.
1125 Rosecrans Street