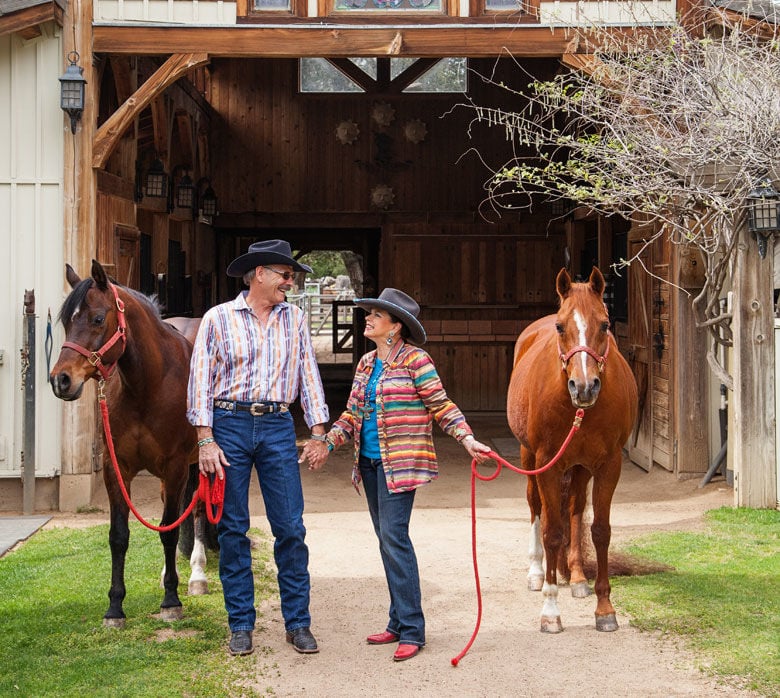 GUEST ROOMS
8, each with its own theme, such as the All Saints Room and the Pendleton Room
HORSES
12, including a foal that was born this spring
Their Story
For most San Diegans, Diane Powers will always be the woman who pioneered the birdbath margarita and made Old Town the place to eat chimichangas beneath a sea of colorful umbrellas. But at the East County ranch she shares with husband Brent Gilman, Old Town feels a million miles away. Of course, there is color (lots of it) and tequila (plenty of that, too), but here, the rolling pastures and natural meadows offer a quiet serenity. Inside, the décor is what fans of her Bazaar del Mundo Shops might expect: vivid Guatemalan textiles, Talavera china, and entire rooms of folk art collectibles—a passion that began when a college professor gave Diane her first Mexican Tree of Life. That gift spawned a deep love of Mexican and Southwestern culture that inspires nearly everything she does. At home, she's created a space that's distinctly Diane (after all, her aesthetic is part of this city's history). With a recently remodeled kitchen, separate catering room, and multiple dining areas, it is primed for what this San Diego icon does best. Bring on the chips and salsa!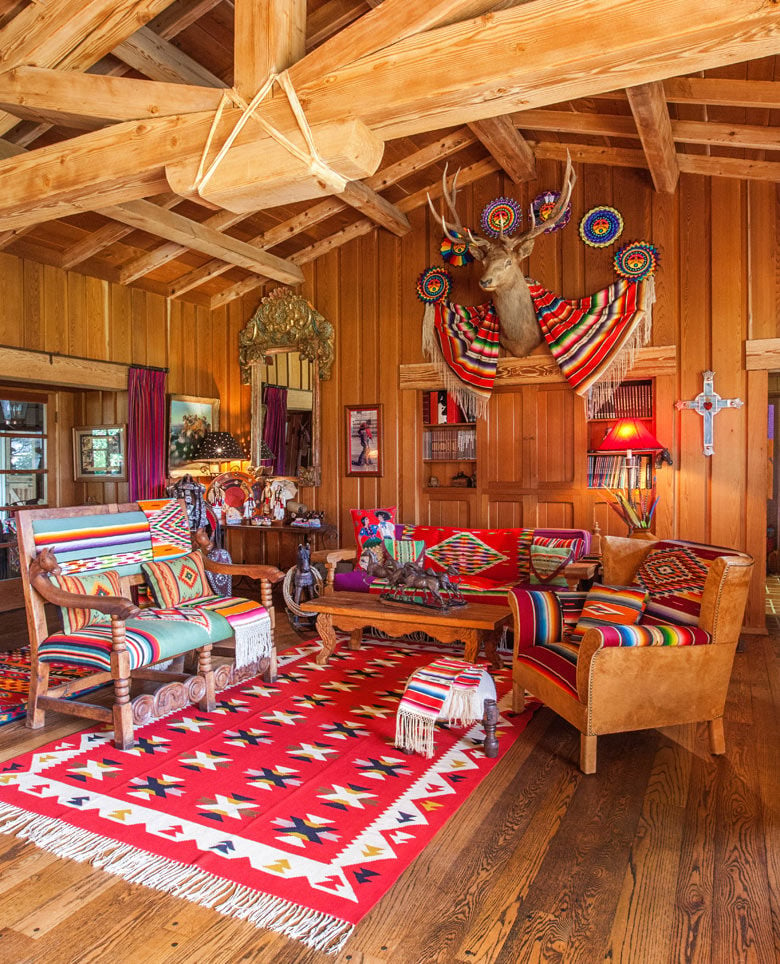 Navajo Niche
The formal living area features original redwood paneling and hand-hewn rafters tied with rawhide joinery. The room showcases Diane's extensive collection of vintage Saltillo serapes. Some drape decoratively, while others are used as upholstery. Most of the accessories date back to the '30s and '40s, when the ranch was built. "I really tried to keep to what was done in those times," Diane says. "But I put a contemporary spin on it."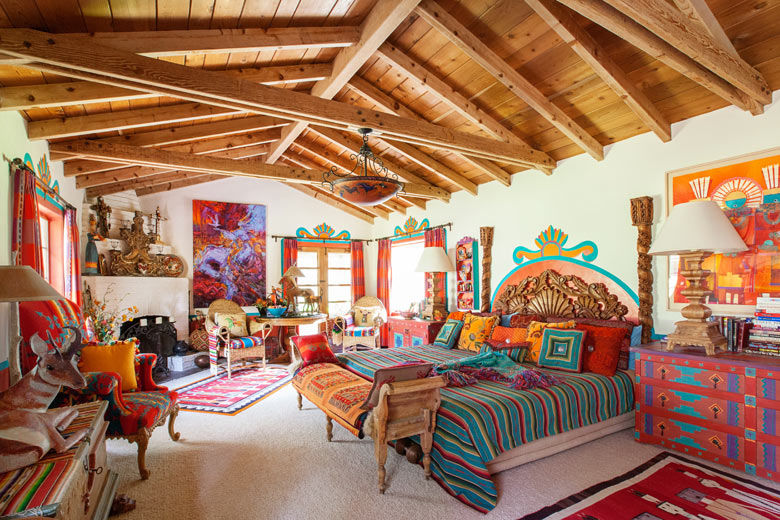 Rustic Retreat
The couple's custom headboard is made from two posts that once served as structural support columns in Mexico. Diane and her team then drew the rest of the design on the wall and filled it in with golden yellow and turquoise paint. The same design continues above the French doors and window treatments. On the left, Pendleton fabric covers an antique armchair. "Everything just evolves," says Diane, who frequently travels to the Southwest, Guatemala, and Mexico, buying items for her stores and clients. "There's a ribbon of continuity and vibrancy, those things that your eye responds to. It's a style and a lifestyle that's colorful, vibrant, and cultural."
These Boots Are Made For Riding
Diane turned one of the property's spare bedrooms into a dressing room, where a sampling of her leather riding boots lines the floor. They are just as vivid as the rest of her life. "I love color," she says. "That always attracts my eye when they've added something more radical."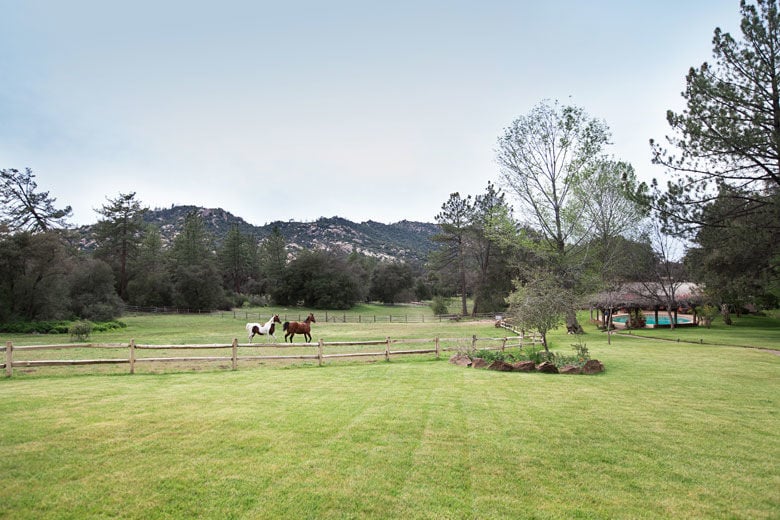 Wide Open Spaces
"You don't know you're in San Diego when you're here," Diane says. This is one of her favorite views, from the main house overlooking the valley. "Everything is so natural," with miles of hiking trails, live oaks, and roving wildlife. The cedar barn (not pictured) stands behind the pool house on the far right. The couple's Arabian horses are their pride and joy, and have taken the duo all over the country to various competitions. Below, Kimberlite and her filly Karma Link frolic in the meadow and await dinnertime.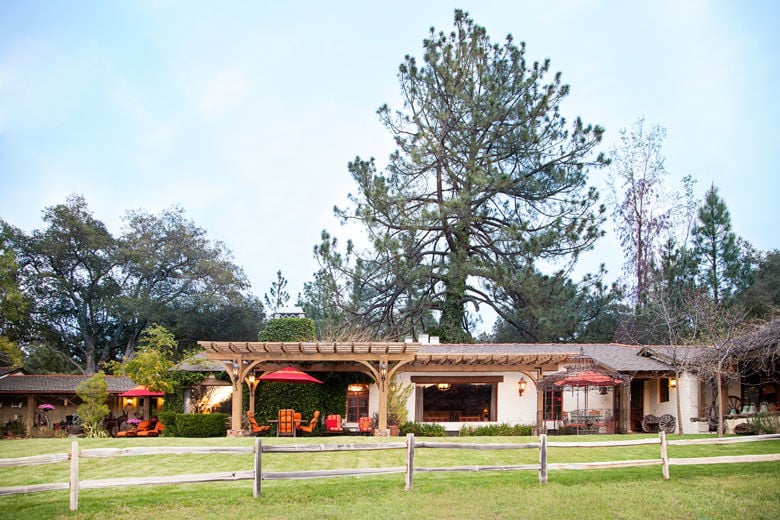 The ranch house was built around this pine tree, which is at least 200 years old.
The ranch house was built around this pine tree, which is at least 200 years old.
What's Cooking
The kitchen features an array of bright Mexican tile work, a large island with a built-in griddle, and an original copper hood. Nestled inside the ranch house cabinetry are stacks of colorful platters and Talavera china. Diane laughs as she sifts through a shelf in search of the perfect bowl. "It looks like my store, right?" For further color, the restaurateur chose shiny cobalt Viking appliances. "I thought it would complement the other colors I have everywhere. I didn't want to overdo the red, but the blue accents the red." When asked if she ever gets sick of Mexican food, Diane, who is constantly working with her chefs to create new menu items, replies: "Never! I get addicted to it."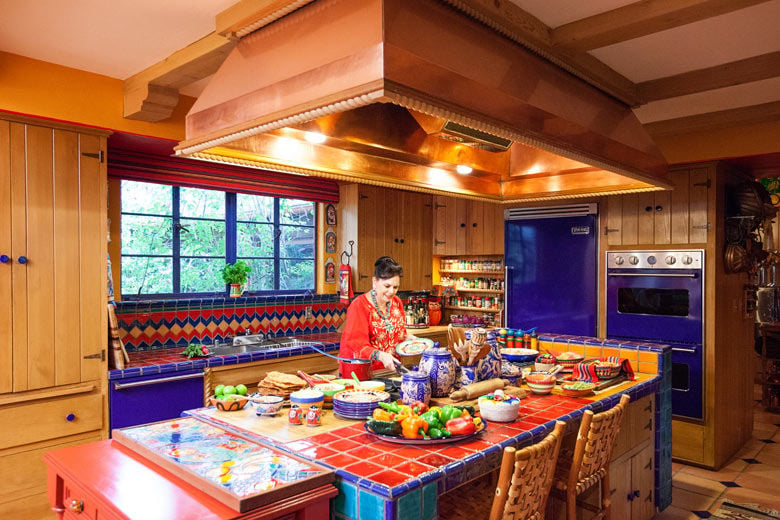 Colorful Corner
In this sunlit breakfast nook, ceremonial masks, a Guatemalan runner, and other festive textiles add cultural flair. Chevrons, stripes, and florals blend together—a thick border here, a thin accent there, some fringe to garnish. "Color is my passion, but I'd be hard pressed to answer if someone asked what my favorite color is," Diane says. "I love color combinations. I like hot colors—red, orange, fuchsia—and then I love to contrast those with cobalts and blues." (Fabrics available at Bazaar del Mundo)