In one of Joseph and the Amazing Technicolor Dreamcoat's most energetic moments, the cast sings a song about the many colors in this very special coat and the show's namesake.
There are 29 colors to be exact. As the lyrics go, "It was red and yellow and green and brown and scarlett and black and ochre and peach and ruby and olive and violet and fawn and lilac and gold and choc'late and mauve and cream and crimson and silver and rose and azure and lemon and russet and grey and purple and white and pink and orange and blue!"
This is just one of many great numbers in this beloved Andrew Lloyd Webber musical, with lyrics by Tim Rice—a score that many theater lovers, including San Diego Magazine staffers, know by heart. (Note: These songs are so catchy; we guarantee you'll be singing them all the way home.)
The story of Joseph and his magical coat is based on a Biblical fable. It's great for families with children, offering life lessons about honesty and honor and faith.
The current production, now playing at the San Diego Civic Theatre, stars former American Idol contestants (and married couple) Ace Young as Joseph and Diana DeGarmo as the narrator. We can't wait to "Go, Go, Go" and see their real-life chemistry on stage.
Here's to life in Technicolor—and all the dreamers out there!
Joseph and the Amazing Technicolor Dreamcoat runs through June 29. For tickets visit, broadwaysd.com.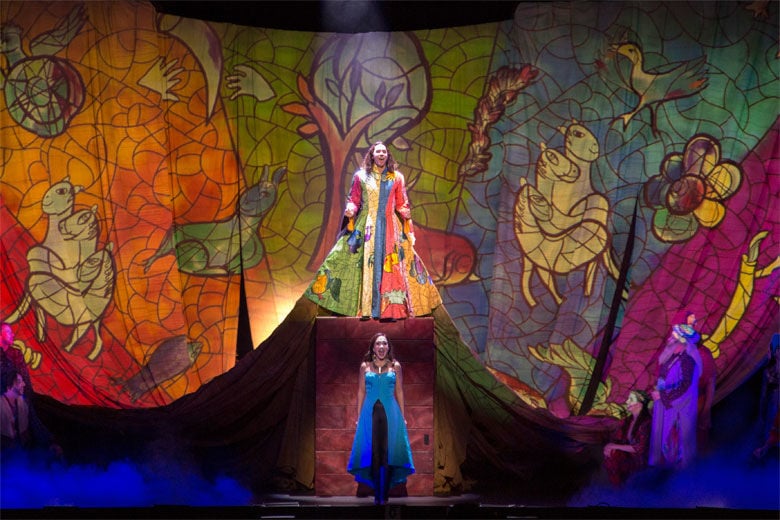 Courtesy of Broadway San Diego