My six-year-old is not a big fan of the arts. He doesn't like singing or dancing. When I ask him to make a craft project with me, he gets stressed that he's not doing it right. If I offer to take him to a museum, he says, skeptically, "Is it a museum where you do things or just look at things?"
But I'm going to keep trying—because children should be encouraged to interact with art, says Nina Garin, associate director of marketing at The Old Globe.
"Exposing kids to the arts just makes them better citizens of the world," she explains. "Their point-of-view is expanded, they learn about people different from them, they learn empathy and acceptance, [and] they learn about beauty and hope."
Luckily, San Diego has a thriving arts scene packed with family-friendly activities, including touchable sculptures, kid-approved studios, and silly stage productions. To help you and your little ones make the most of it, we asked some experts where to go, what to do, and how to encourage your kids to be more interested in art. Here's their advice.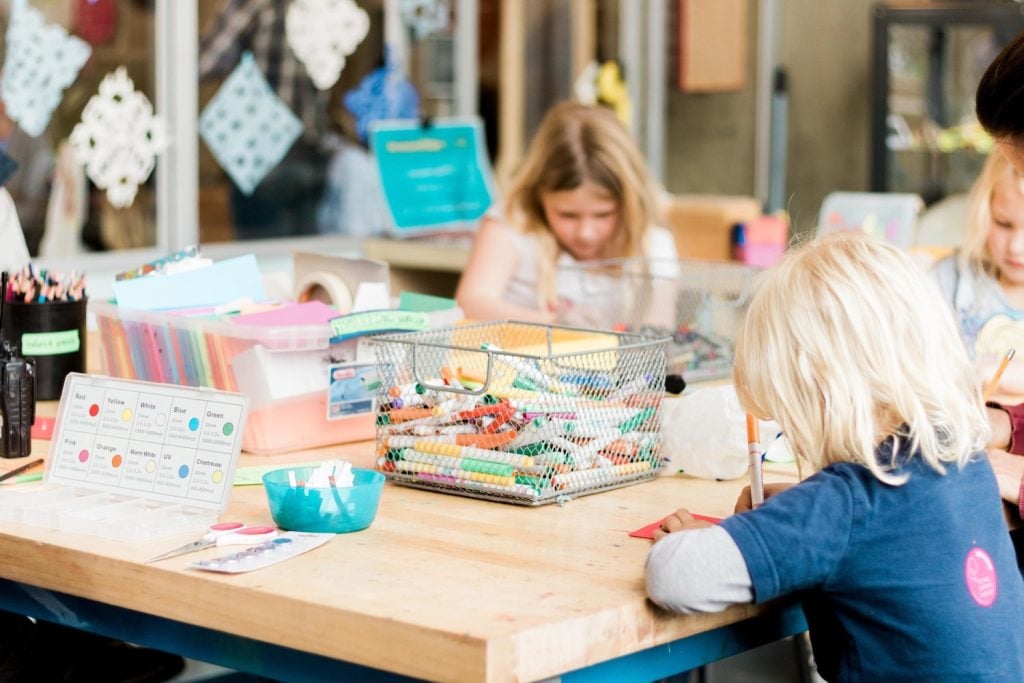 At What Age to Start
According to Garin, children are never too young to begin exploring the arts.
"If you're reading your baby a bedtime story, that's exposing them to fiction and storytelling," she says. "Drawing pictures in preschool is exposure to visual art. It's when their lives become busy with school and sports that the arts start fading. The challenge is to keep arts in that rotation, which can be done with dance or music lessons or by making an effort to attend regular arts events, [even something] as simple as a free concert in the park."
Just be sure to start in the right places, adds Bob Lehman, executive director of the San Diego Museum Council.
"Kids love to … make noise and run around," he says. "For an awesome first art museum experience, take your kids to the sculpture garden at the San Diego Museum of Art. This is where they can explore real art [while running] through the grassy yard and [getting] a bite to eat at the Panama 66 restaurant. There might even be some live music on the outside patio."
Visitors can stand near the sculptures but aren't allowed to touch them, so checking out the garden is also a great way to teach children how to respect both public and gallery art. Get close to one of the pieces and show kiddos how to look with their eyes, not their hands.
These early engagements with creative spaces can help kids interact confidently with art throughout their lives—a boon considering that institutions like museums can sometimes intimidate even adults.
"I think kids, as they grow older, become more self-conscious," says Maru Lopez, the education and engagement manager at the Museum of Contemporary Art San Diego. "So, definitely, that's something to take into consideration, since exposure kind of makes them comfortable."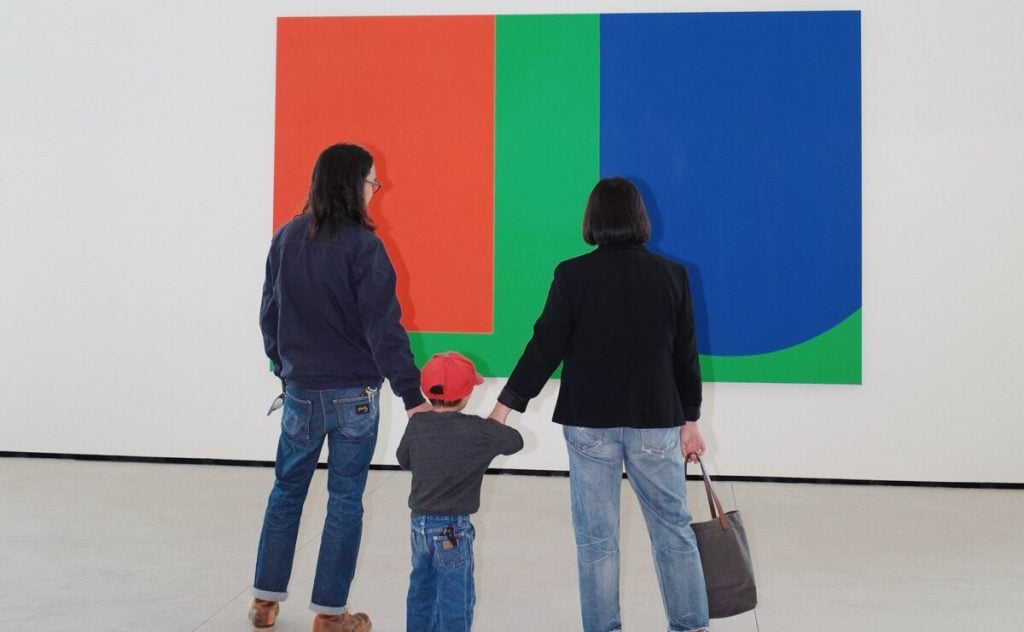 Where to Go
The New Children's Museum in downtown offers a fun, approachable take on serious art.
"Essentially, it's a giant playground made by innovative artists and educators," Garin says. "Oh, this fun tube slide you're riding? That's the work of internationally renowned street artist Panca."
Gabrielle Wyrick, chief curator and director of audience engagement at the New Children's Museum, explains that the museum is one of the few in the entire country that commissions artists to make work that kids can play in and interact with.
"In the children's museum field, there are a lot of museums that focus on STEAM and cross-disciplinary topics and adult readiness," she says. "And we really felt like this was a prime opportunity to do something distinctive around the arts. And this is such a rich arts community and such a beautiful, beautiful space that it's become our signature."
The museum offers daily workshops where kids ages 6 and up can make art. There's also a paint and clay studio, where children of all ages can drop in and create something. On Fridays, the museum has a program called Toddler Time focused specifically on younger visitors.
Outdoorsy types will appreciate the Stuart Collection at UC San Diego, since most of the pieces are on view in the open air. You can see awesome sculptures and other works while treating the visit like an adventure or scavenger hunt.
The Museum of Contemporary Art hosts a free family Play Day on the second Sunday of each month with kid-friendly museum tours and art projects. The museum collaborates with local artists and organizations, who lead crafts, share stories, and play age-appropriate tunes.
Meanwhile, Family Sundays at the Mingei International Museum also offer storytelling, musical performances, and hands-on art making with San Diego artists. They have a "Mini Mingei" series, too, providing crafts for little ones ages 2 to 5.
Museums also offer camps throughout the year (not only in summer!). And, even if you're just stopping by for the day, many museums host fun spaces where kids can grab a seat and draw, paint, or craft.
"The Centro Cultural de la Raza has a great table just for kids to play and create," Lehman says. "Kids can also get their fingers gooey at artistic workshops, like the ICA San Diego Ceramics Lab [that took place] this fall in Encinitas."
Performances to Check Out
The Old Globe's annual Dr. Seuss's How the Grinch Stole Christmas! is the first introduction to theater for many young San Diegans, Garin says. But the Globe also has free student matinees designed to engage high school students.
"I love attending these performances because I see firsthand the impact theater has on young people," Garin adds. "Teens are dismissed as being addicted to social media or not having long attention spans, but, in our theater, they are so passionate and supportive of what's on stage that it gives me genuine hope for the future."
Summer musicals at Moonlight Amphitheater in Vista offer a chance to experience live performances while munching on a picnic. Lawn seating means that "kids can wiggle and squirm without bothering anyone," Garin says.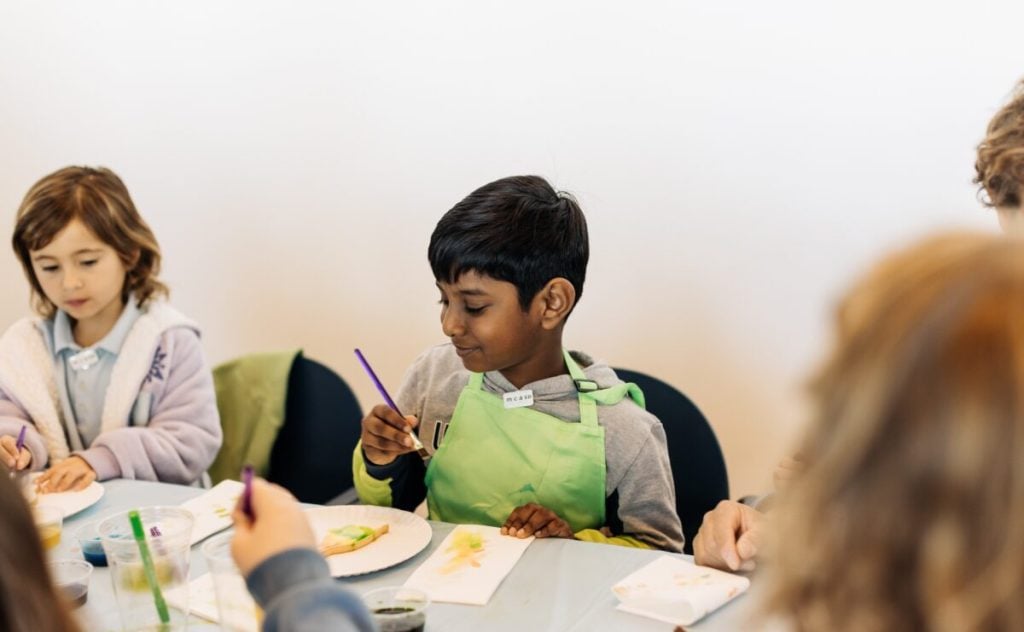 What to Do When You Get There
When heading out to see art, there are things parents and caregivers can do to encourage their kids to be more engaged. The preparation starts before you arrive, Garin says, so if you're going to a concert, listen to some of the music beforehand. Or read a summary of a play or an exhibit.
"Make it feel exciting and wondrous on the way there," she emphasizes. "On the day, I like to arrive early, get kids a treat from concessions, and walk around the venue as long as possible before having to sit for a long period."
It's also vital to make clear to little ones that art is about freedom and expression—not getting things "right."
"[Regardless of] how you approach any art activity, it's correct, and that's the beauty of art," Lopez says. "There's space for all of us to create, no matter our skills, especially when you're young and you're at that point where you're just learning about colors and being creative. … And we say more or less the same thing in the galleries when we're talking to them and asking, 'What colors do you see? What is it that you're seeing here?' There's no right or wrong answer. There are multiple points of entry to every work of art."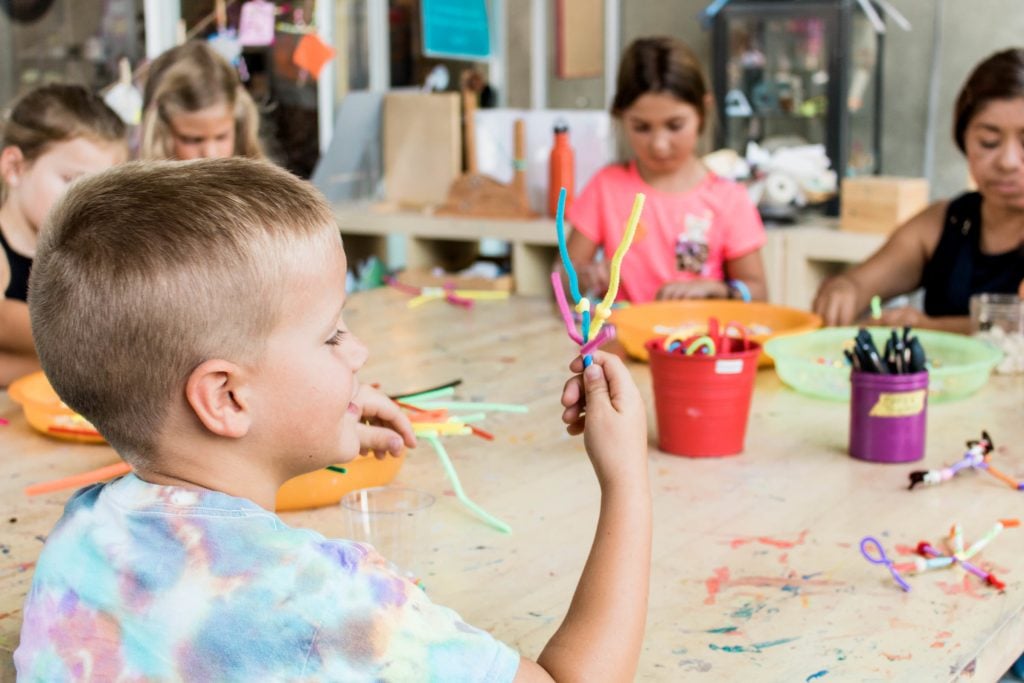 What to Do at Home
You can read books about artists you see and provide your kids with chances to explore their creativity at home, says Eva Struble, an artist and professor at San Diego State University. She likes to give her 6-year-old son Felix found objects—like bamboo or wood scraps from their yard—as fodder for his creative play.
"You can make bridges or gates or towers out of pieces of bamboo," she says. "We built a little stage in the backyard, so any of these objects might become part of Felix's pirate costume, and he performs onstage."
She also suggests bringing paper and crayons along on museum visits, so kids can sit on the floor there and sketch out some art inspired by the work they're seeing on the gallery walls.
What to Avoid?
There can be pressure to do certain activities or see certain performances (think Hamilton or The Nutcracker), but when allegedly amazing experiences don't live up to the hype, it can leave a bad taste in everyone's mouth.
"So, everyone dresses up in uncomfortable clothes and experiences the event as if it's homework," Garin says. "This was how I first saw Cats, and I left the theater absolutely hating it. No one prepared me [for the fact] that this show would have zero talking or that the songs would be so treacly, and, from the back row of a giant theater, I felt bored and disconnected."
Garin now enjoys and appreciates Cats—but it took her years to get there after her initial distaste for the show.
In the same vein, professional productions of The Nutcracker, for example, may feel overwhelming and stuffy to young kids. Instead, check out a version of the ballet put on by your local dance studio, where most people on that stage are students.
"Let your kids get caught up in the iconic Tchaikovsky music, the costumes, and the magical story about a land full of sweets," Garin says. "Eventually, you can work your way up to a professional Nutcracker, and then maybe even different kinds of ballet and dance."
Arzu Okhal, an artist and professor at San Diego State University, feels that all art institutions need to continue to find ways to make children feel excited, curious, and relaxed when visiting.
"Do you know any children who would not want to go to Target? I don't think so," Okhal says. "These stores provide parents with carts that kids can sit on and comfortably look at products almost from the same eye-level as their parents. Parents are comfortable, as they don't have to carry the kids. The stores know that children are potential consumers, and if they enjoy the experience, they will be the next generation of consumers of the store."
Art institutions should also understand this, Okhal adds. She has designed a rolling chair that museums can offer to help kids come face-to-face with the art.
"[Museums] need to find creative ways to engage and involve young audiences," she says. "Children might not become artists when they grow up, but, if they feel welcomed, they will develop an understanding and appreciation. They will become future members and supporters of these institutions and perhaps collectors of the artwork."