The fact that rock climbing nabbed a spot in the 2021 Olympics is a testament to its growing popularity. The US has more than 600 climbing gyms, eight of which reside in San Diego County, including Vertical Hold, Mesa Rim and Grotto Climbing & Yoga. And while indoor gyms are a great place to learn climbing skills and find a community, getting outside to work on your technique is a whole different experience that can add to your love of the sport.
Luckily, San Diego is home to a number of rocks, crags, and mountains to summit either nearby or within an hour of the city. If you're ready to get above the clouds, here are six climbing spots in San Diego to enjoy: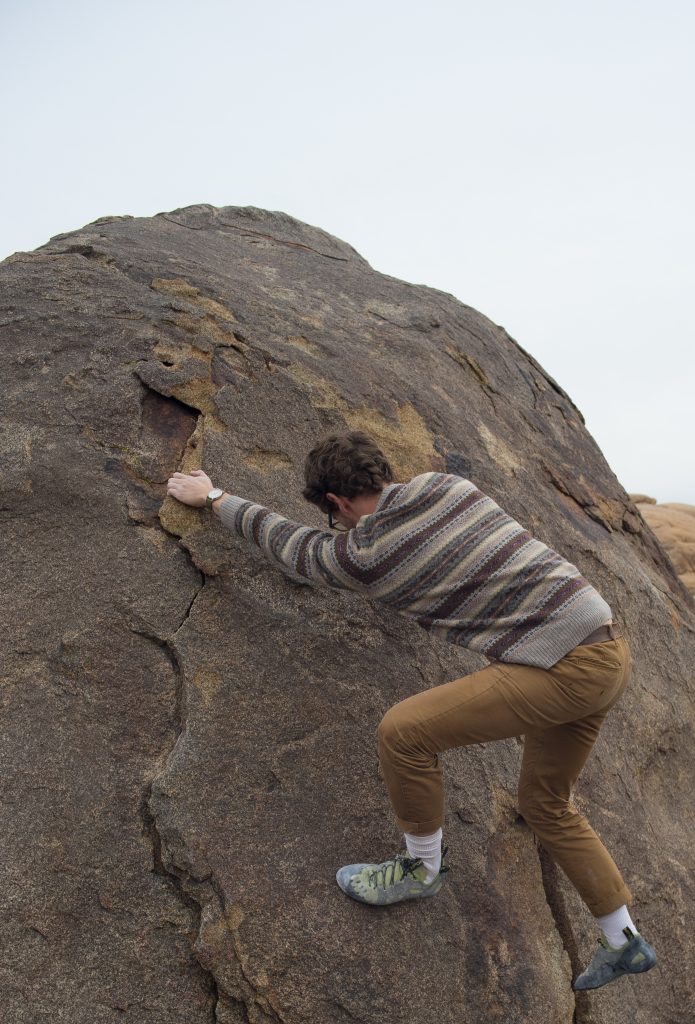 Santee Boulders
Arguably the most accessible and beginner-friendly climbing spot in San Diego, Santee Boulders is located just 45 minutes from downtown and is accessible via the West Hills Park. 
This outdoor jungle gym is home to 151 climbing routes, including beginner boulders like The Knobs (V0) with its distinct jug holds indoor climbers will appreciate, fun slabs like The Face (5.9) where you can test your balance, and more advanced projects like the Bullet Hole Face (5.10+), perfect for top roping or a dicey high ball. Santee Boulders is a prime destination for beginner climbers transitioning from the comforts of plastic holds to the abrasive realities of outdoor rock climbing.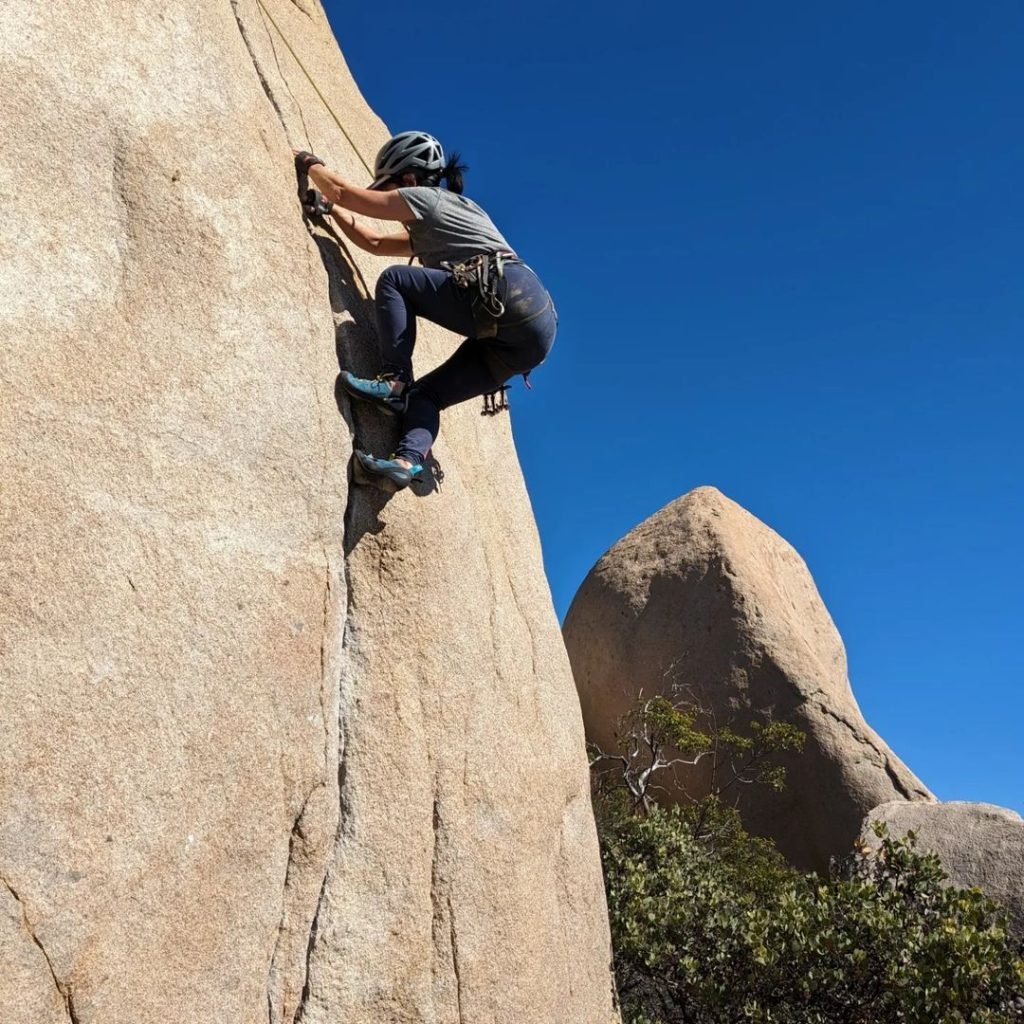 Mount Woodson
Known for its iconic Potato Chip Rock, Mount Woodson offers more than Instagram photo ops and casual switchback hiking. This Poway-adjacent climbing spot has 400 unique climbing routes and is a popular destination for lead, top rope, and crack climbing.
First popularized by climbing legends Royal Robbins and John Bachar in the 1950s, Mount Woodson is a rock hoppers' playground with plenty of granite walls to conquer, including Robin's Crack (5.10a) a famous 20-foot crack wall; Jaws (5.11a), a cracked boulder with a name more ominous than than the climb itself; and Uncertainty Principle (5.11c), a sort of Pride Rock for Mount Woodson, demanding great endurance and the attention of nearby hikers.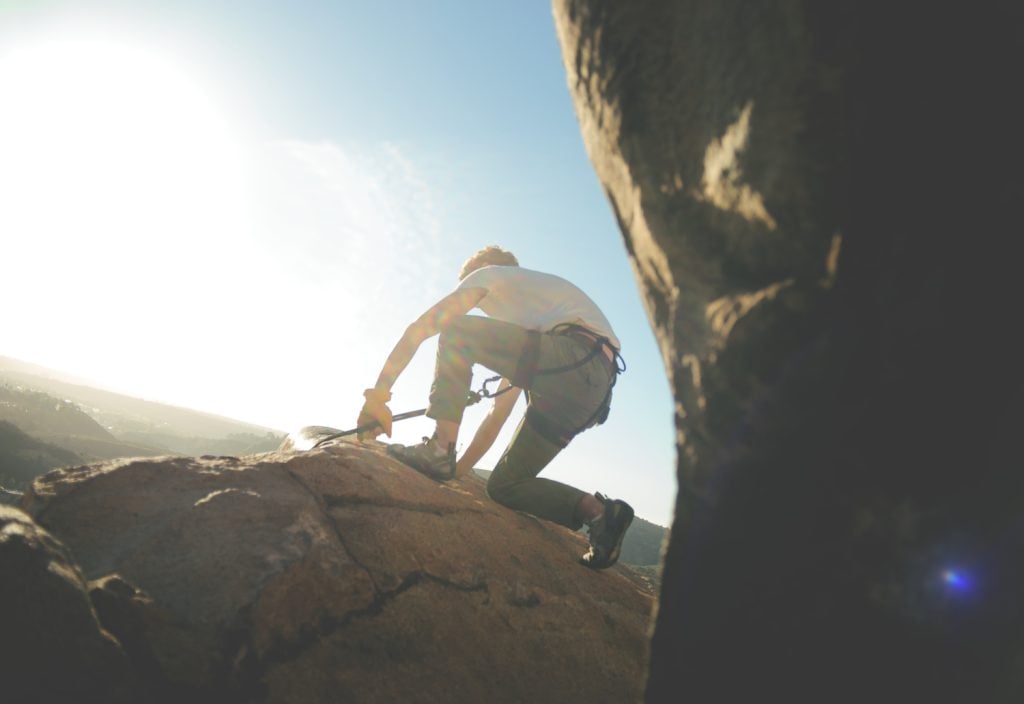 Mission Gorge
Mission Gorge is a trad and top-rope climber's dream located just under 20 minutes from downtown San Diego. The area is home to butter-like walls spanning three sections: the Main Wall, Limbo Area, and Middle Earth (although you won't find any hobbits there). These west-facing walls provide much-needed shade during morning ascents, helping prevent sweaty palms on the park's notoriously slick holds.
You'll find more than 200 climbing routes, including The Tower (5.7), an enjoyable 50-foot route with bolts and a views of the San Diego River upon completion; Craig's Crack (5.8), a Limbo area spot ideal for working on your jam; and Orange Sunshine (5.10d), which requires precise, cat-like moves to leverage technical foot holds.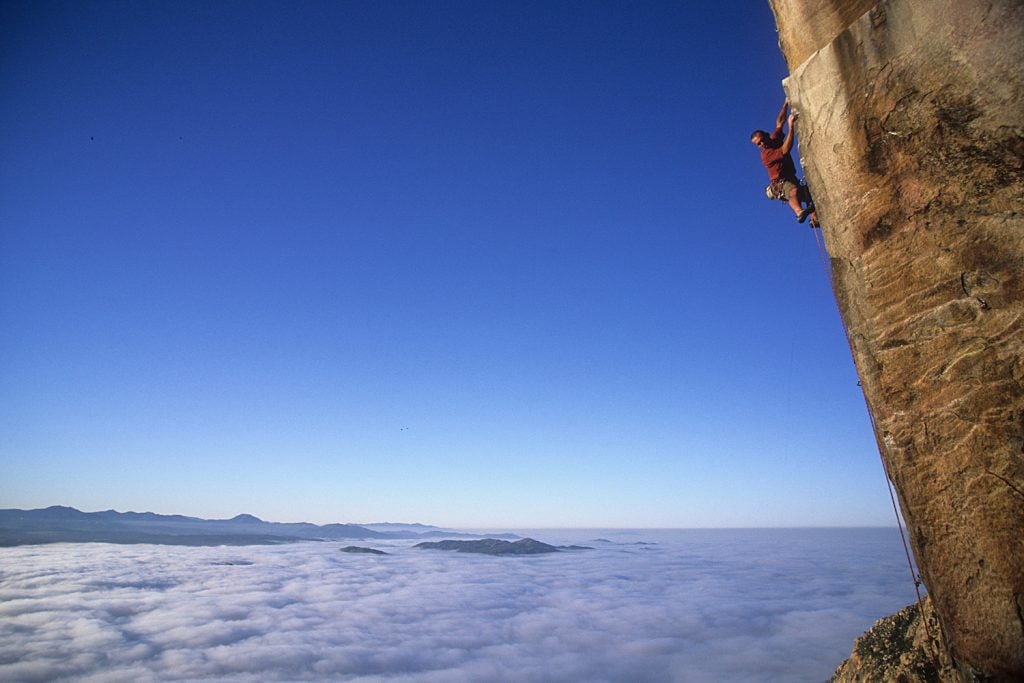 El Cajon Mountain
Perched 50 minutes from downtown, El Cajon Mountain boasts 200-plus sport and traditional climbing routes. After accessing the area via the paved roads of Lake Jennings, climbers must embark on a strenuous two-mile, 1,800-foot hike in direct sun before choosing between the beautiful granite cliffs of the Main Wall (The Wedge), Fly Dog Buttress, or the Mountaineering Wall.
Popular routes include Lenoids (5.9), one of the most traveled multi-pitch sport routes in San Diego; Triton Tower (5.11a), a challenging 360-foot, three-pitch climb under a granite slab roof; and Sleeping Giant (5.10a), a 1,000-foot, 10-pitch climb on the lesser traveled Mountaineer Wall. Bring water, hiking boots, and binoculars for an incredible view of the ocean when you top out on this local gem.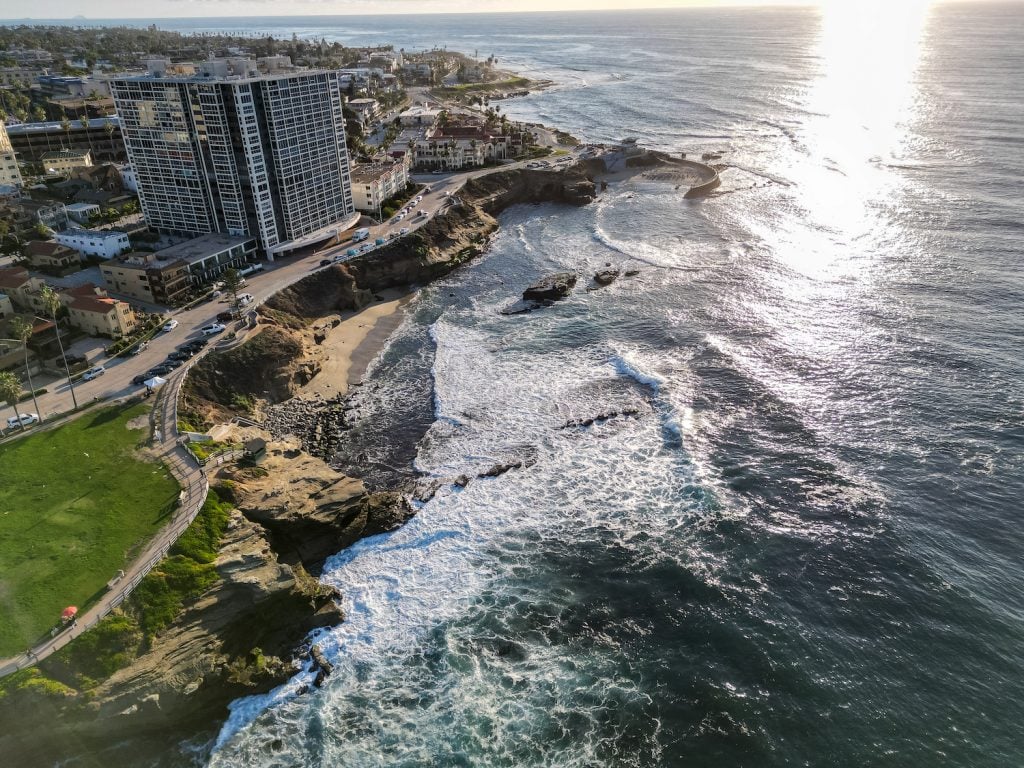 People's Wall & Sunset Cliffs Pump Wall Traverses
While rarely cited in conversations about top climbing spots in San Diego, the People's Wall and Pump Wall offer traverse practice for climbers wanting to stay central. The People's Wall in La Jolla sits steps away from the Museum of Contemporary Art San Diego and provides climbers with a 200-foot-long stone wall traverse along the coastline.
The Pump Wall offers a more challenging climb with less-distinguished hand holds along the exposed north side of Sunset Cliffs Boulevard above Claibornes Cove. After a few traverses, these seemingly simple walls will leave you with pumped arms and sore hands barely capable of gripping a steering wheel—making the short car ride home a relief for city-bound climbers.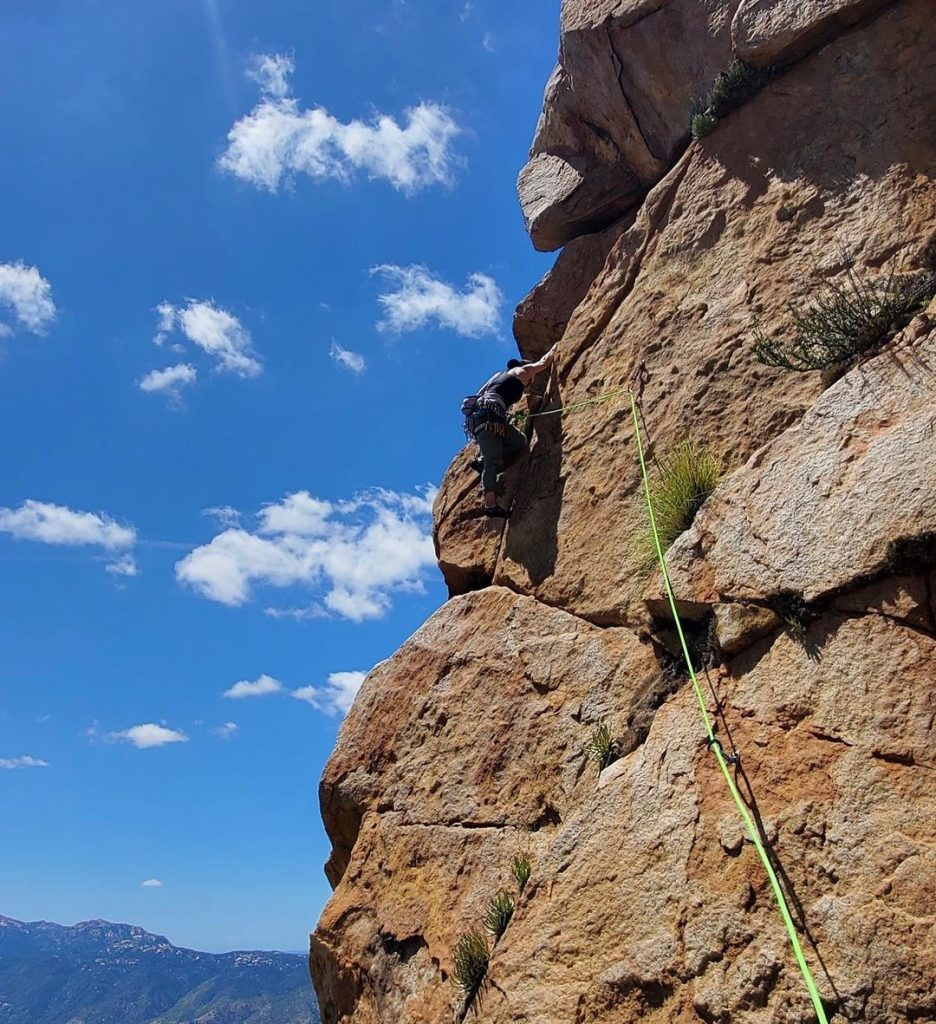 Eagle Peak
Just over an hour's drive from San Diego, Eagle Peak is an ideal spot for sport climbers seeking more challenging single and multi-pitch climbs in San Diego County. Home to 65 routes, Eagle Peak features four 100-foot tall granite rock faces (Left Wall, Right Wall, Tan Man Tower, and the Summit). Climbers who make the trek to Cuyamaca, follow the switchbacks along the Eagle Peak Trail, brave the East County heat, and avoid dive-bombs by birds will be rewarded with excellent local climbing.
Try routes like Cruise Line (5.10c), a five-pitch climb on the Left Wall serving as a friendly introduction to Eagle Peak; Baby Face (5.11a) a four-pitch ascent full of crimps to challenge your fingers; and Irie Corner (5.10b/c), a 200-foot, two-pitch route featuring a panoramic view to share with the spot's avian overseers.