With Thanksgiving right around the corner, it's time to finalize your plans with some of San Diego's best restaurants and chefs crafting prix fixe menus for the holiday. From modern twists on Thanksgiving classics to lavish seafood buffets and ready-to-cook feasts, we've got your guide to ensuring your turkey day is worthy of your friends and family's thanks. Here are 21 places to get Thanksgiving dinner in San Diego this year: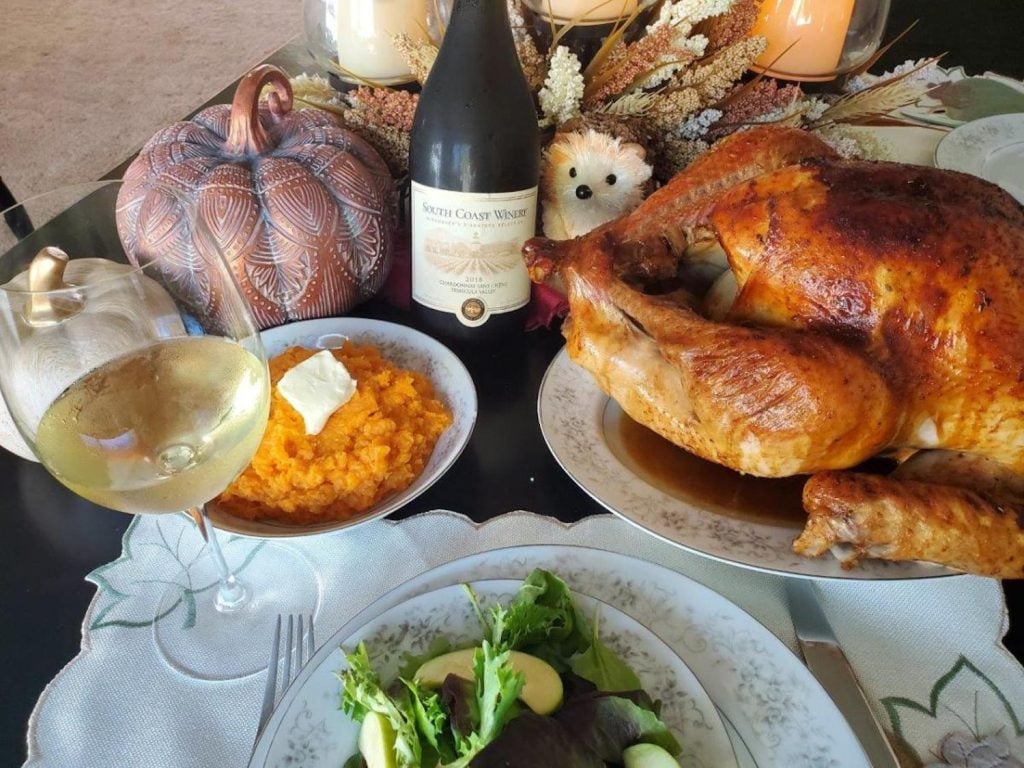 Thanksgiving Dinner Specials
The Vineyard Rose Restaurant
On Thanksgiving day, the Vineyard Rose restaurant in Temecula will host their Bountiful Thanksgiving Brunch Buffet, offering guests a variety of seasonal favorites. The spread includes meat and charcuterie boards; a seafood display with shrimps, mussels, and poke; a salad bar; carved turkey; and an omelet station. The Vineyard also offers a takeout special from 5:30 p.m. to 9 p.m. Reservations are required via OpenTable or by calling (951) 719-8356.
Time: 10 a.m. – 3 p.m.
Price: $79 for adults; $39 for guests five to 11
Address: 34843 Rancho California Rd, Temecula
Turf Club
Celebrate Thanksgiving at the Del Mar Racetrack with a Thanksgiving brunch at the Turf Club followed a day of racing and festivities. Brunch consists of a three-course meal serving traditional Thanksgiving favorites and bottomless Mimosas. Dress code is enforced, so be sure to don your finest turkey day attire. Reserved tables seat up to four and larger groups will be seated adjacently.
Time: 11 a.m
Price: $125 per person
Address: 2260 Jimmy Durante Blvd, Del Mar
Rustic Root
Celebrate Thanksgiving at this stylish rooftop venue in the heart of the Gaslamp offering a modern take on Thanksgiving classics. Rustic Root's Thanksgiving meal includes roasted garlic mashed potatoes, green bean casserole, cream corn, butter biscuits, and herb roasted turkey breast. These seasonal favorites are available in addition to their full dinner menu options.
Time: 2:00 p.m. – 8:00 p.m.
Price: $32 for in-venue dining; $100 for a to-go family pack that feeds four
Address: 535 Fifth Ave, Gaslamp Quarter
20|Twenty
After a round of Thanksgiving Day golf at the Crossings, savor a Thanksgiving dinner at 20|Twenty, offering a three-course feast of locally sourced ingredients. The prix fixe menu begins with your choice of chicory greens or ginger miso carrots, followed by entree options like Diestel turkey, Campbell River salmon, stuffed acorn squash, or prime rib. The service concludes with a butter cake or pumpkin pie sure to hit the spot. Enjoy this feast on the outpost's spacious outdoor patio, offering a panoramic view of the North County coastline.
Time: 1 p.m. – 8 p.m.
Price: Prix fixe menu – $95; reservations recommended
Address: 5480 Grand Pacific Dr, Carlsbad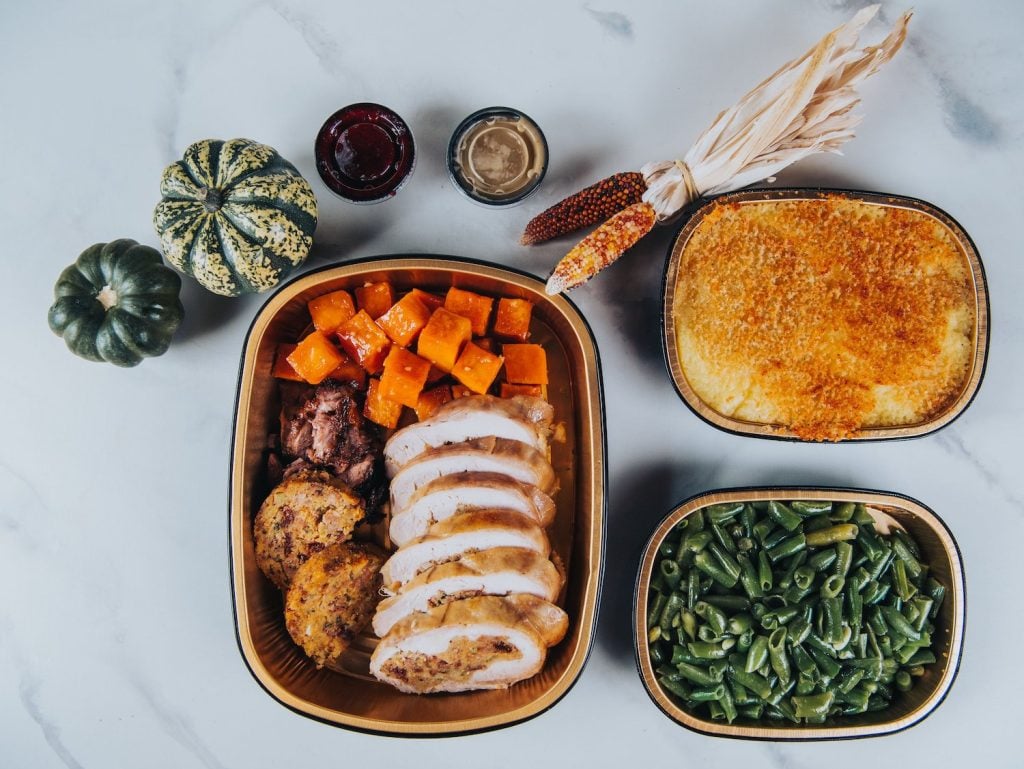 STK
Steak isn't the only thing on the menu at this downtown locale; those looking for a Turkey dinner can dine-in between November 23 to 26 this year. STK is offering free-range turkey dinners featuring cornbread and sage stuffing, shallot and thyme thighs, sautéed green beans, baked sweet potatoes, cranberry orange chutney, and spiced pumpkin pie which can also be ordered to-go. Pre-order this feast to go starting November 13.
Time: November 23-26
Price: Dining in costs $64 for adults and $29 for children (12 & under); take-home dinners are $64 per serving plus signature sides at $16 each plus whole pumpkin pies available for $64
Address: 600 F St, Gaslamp Quarter
Ambrogio by Acquerello
Indulge in a Thanksgiving dinner at the charming Ambrogio by Acquerello. Experience an exceptional eight-course tasting menu curated by esteemed chef Silvio Salmoiraghi, featuring signature dishes like Trancio di Tacchino in Stile Ringraziamento (an Italian spin on a turkey dinner), Raviolo d'Autunno (a pasta dish featuring harvest flavors like pumpkin and chestnut), and Torta Morbida alle Noci (a crumbly cake offering hints of pecan and vanilla). Reservations for this Italian feast are filling up fast; visit Tock to secure your spot.
Time: 5 p.m. – 9 p.m.
Price: Chef's signature menu is $159 per person; vegetarian menu is $139 per person
Address: 7556 Fay Ave, La Jolla
Rancho Bernardo Inn
For a Thanksgiving meal in true Country Club fashion, visit Rancho Bernardo Inn for a feast by the links. Enjoy a four-course meal at their French American bistro, Avant, curated by chef Sergio Jimenez offering seasonal specials like pumpkin veloute, crispy duck leg, butternut squash gratin, and sweet potato pie. For guests interested in traditional a la carte options, there will be a Thanksgiving buffet in their Bernardo Ballroom from 1-4 p.m. and freshly baked 9" pies from Cafe Granada, including pumpkin, Dutch apple, bourbon pecan, and a unique orange and cranberry pie with rosemary compote.
Time: 4 p.m. – 8 p.m.
Price: $125 per adult and $65 per child
Address: 17550 Bernardo Oaks Dr, Rancho Bernardo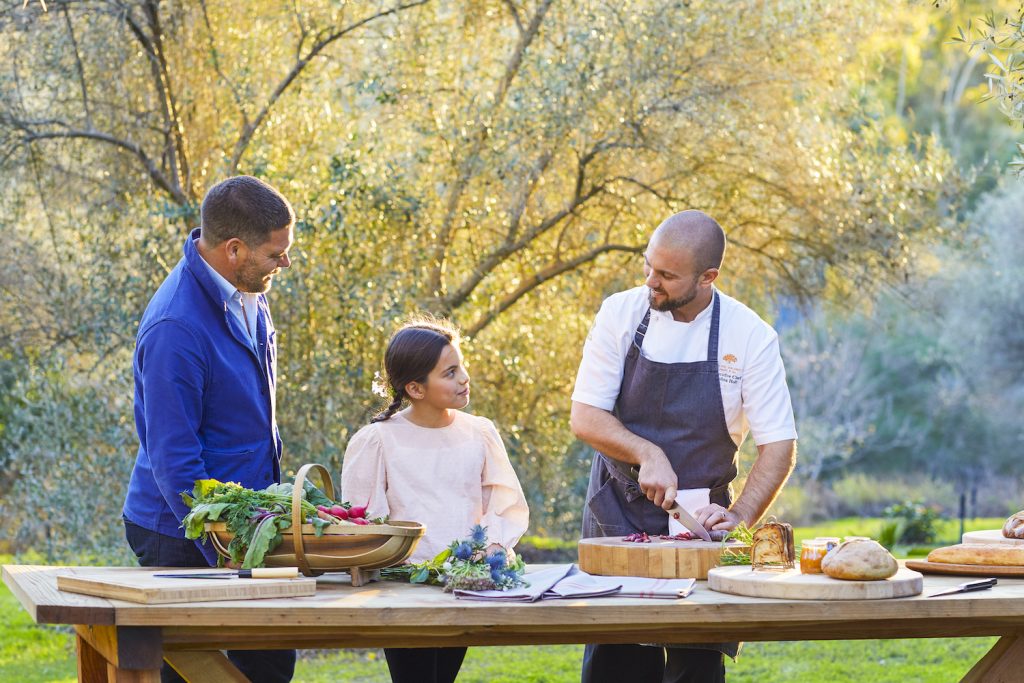 Rancho Valencia
This year, Rancho Valencia is throwing a grand celebration for the whole family on Thanksgiving. The day features a grand buffet, petting zoo, carriage rides, arts and crafts, and more. The buffet consists of a raw bar, seasonal appetizers like green bean and mushroom casserole, duck fat Brussels sprouts, a turkey carving station, and a dessert bar with Dutch, banana cream, and pecan pies. Locals can also order dinner to go by Sunday, November 19. Orders will be ready for pickup on Wednesday, complete with cooking directions.
Time: 10 a.m. – 4 p.m.
Price: $195 per person and $55 for children 11 and under
Address: 5921 Valencia Cir, Rancho Santa Fe
94th Aero Squadron Restaurant
Give thanks to family and fellow service members at 94th Aero Squadron Restaurant, a Kearny Mesa spot designed as a replica of a World War I French farmhouse located adjacent to Montgomery Airport. Raise a toast to the brave men and women who served our country and feast on Thanksgiving cuisine in a truly memorable setting.
Time: 11 a.m. – 8 p.m.; last seating at 7 p.m.
Price: $100 for adults and $45 for children aged 4-10
Address: 8885 Balboa Ave, Kearny Mesa
Parc-Bistro and Brasserie
Parc-Bistro and Brasserie in Banker's Hill is offering a three-course prix fixe menu this year including harvest favorites like butternut squash soup, roasted turkey, rack of lamb et cassoulet, escargot du Bourgogne, wild mushroom ravioli, and apple tarte tatin. After your meal, take a stroll through Balboa Park to burn off those holiday goodies.
Time: 11 a.m – 8 p.m.
Price: $79 per adult and $28 per child
Address: 2760 Fifth Ave, Banker's Hill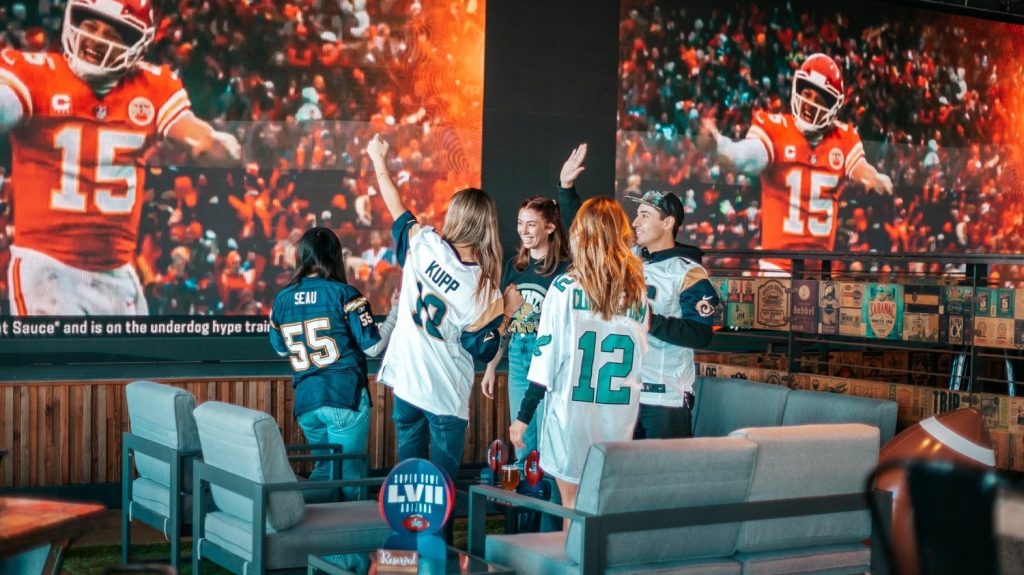 Draft at Belmont Park
For an ideal spot to enjoy a Thanksgiving meal while you watch this year's NFL matchups, visit Draft at Belmont Park. This gastropub features a 31-foot LED screen, perfect for football fans to catch the 49ers/Seahawks game, kicking off at 5:20 p.m. Draft will provide guests with a comprehensive buffet featuring Thanksgiving favorites, including plenty of mashed potatoes and casserole to send you into a food coma. Finish off your meal with an assortment of seasonal pies and pastries.
Time: 12 p.m. – 5 p.m.
Price: Reservations required; $65 per adult and $25 for children aged 12 and under
Address: 3146 Mission Blvd, Mission Beach
Huntress
Huntress is offering locals a sophisticated take on a traditional Thanksgiving meal in downtown San Diego. The upscale Gaslamp locale serves modern reimaginings of classic dishes like pumpkin agnolotti, a rich pasta with seasonal flavors, turkey truffle roulade, and green bean en croute.
Time: 6 p.m. – 10 p.m.
Price: A la Carte
Address: 376 Fifth Ave, Gaslamp Quarter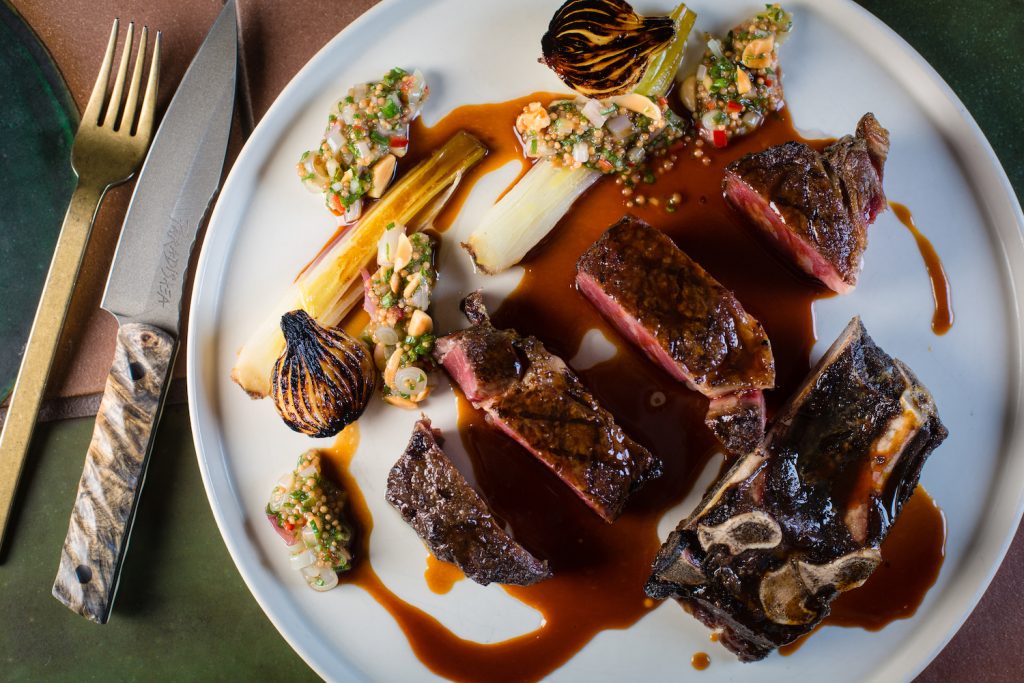 Paradisaea
Stroll down to Bird Rock for a turkey dinner that truly rocks. The coastal La Jolla hotspot is offering a Thanksgiving prix fixe menu consisting of seasonal favorites with a California twist including parker house rolls with pumpkin spice butter, pan seared scallops, roasted turkey breast, cornbread and chorizo stuffing, and caramel pecan tart or pumpkin pie to top it off. Reservations can be made via OpenTable or by calling (858) 255-8011. 
Time: 4:00 – 10:00 p.m.
Price: $95 for adults and $45 for children
Address: 5680 La Jolla Blvd, La Jolla 
Ponto Lago
The Park Hyatt Aviara is a dreamy spot to enjoy your turkey day this holiday. The Baja-inspired resort restaurant is hosting a four-course meal on Thanksgiving which includes pumpkin seed and tomatillo dip, a zesty rockfish ceviche, fall mushroom paella, wood-fired turkey breast, tender baby sweet potatoes, and a calabaza mousse made with poached apple and marranitos crumbs. Ponto Lago promises to be the ultimate fusion of Mexican and Thanksgiving cuisine, a savory experience you never knew you needed.
Reserve your spot today on OpenTable, as they are filling up quickly.
Time: 3:30 p.m. – 8:30 p.m.
Price: $105 per person and $34 per child aged 3-12
Address: 7100 Aviara Resort Drive, Carlsbad
Kansas City Barbeque
Celebrate Thanksgiving like locals at this iconic Top Gun destination offering a smoked turkey dinner free for active duty military. This 39-year-old barbecue joint is the perfect spot for a holiday get-together where you can watch the pigskin games on TV, or even belt out "Great Balls of Fire" in the corner while you savor a Kansas City-style feast.
Time: 11 a.m. – 6 p.m.
Price: $22 for adults; free for active duty military
Address: 600 W Harbor Dr, Gaslamp Quarter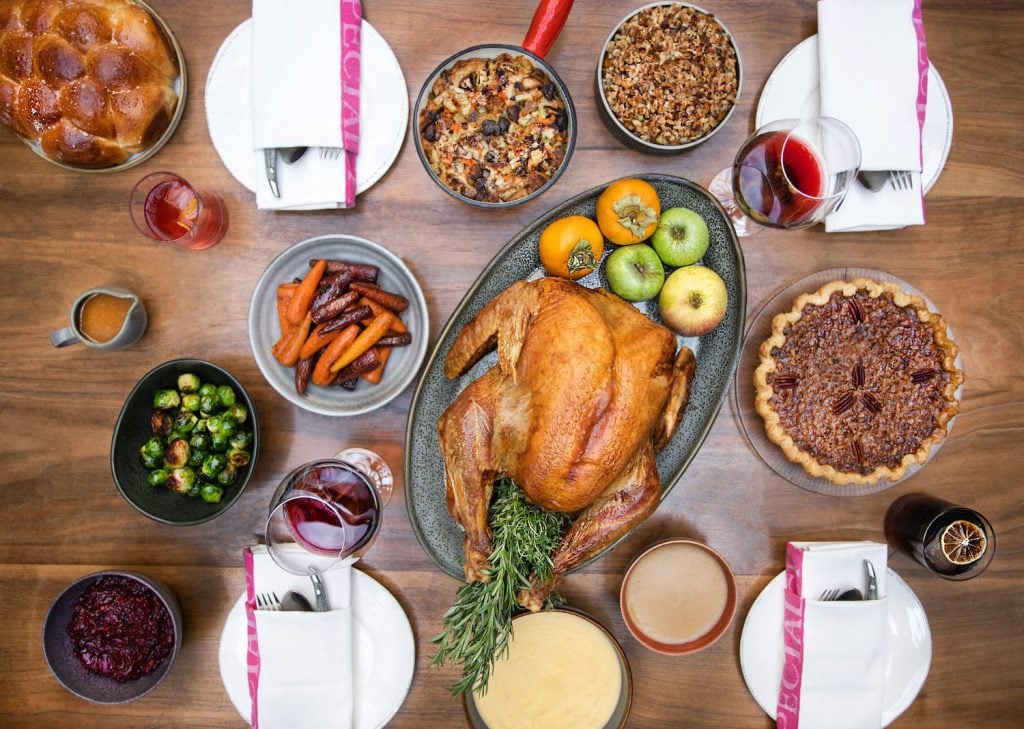 Take-Home Meals
Urban Plates
Health food restaurant Urban Plates is offering a take-home turkey family feast for those wanting to stay cozy this year. The turkey day feast includes turkey, mushroom stuffing, gravy, cranberry relish, artisan bread, and your choice of sides including marble potatoes, mashed organic potatoes, Brussels sprouts with turkey bacon, and rainbow carrots with golden beets. Pre-orders for this meal, serving six to eight people, can be placed until November 19 and are available for pickup on Tuesday and Wednesday of Thanksgiving week.
Time: Order Before November 19; pick-up on November 21 and 22
Price: $174.95
Address: 12857 El Camino Real, Del Mar and 8707 Villa La Jolla Dr, La Jolla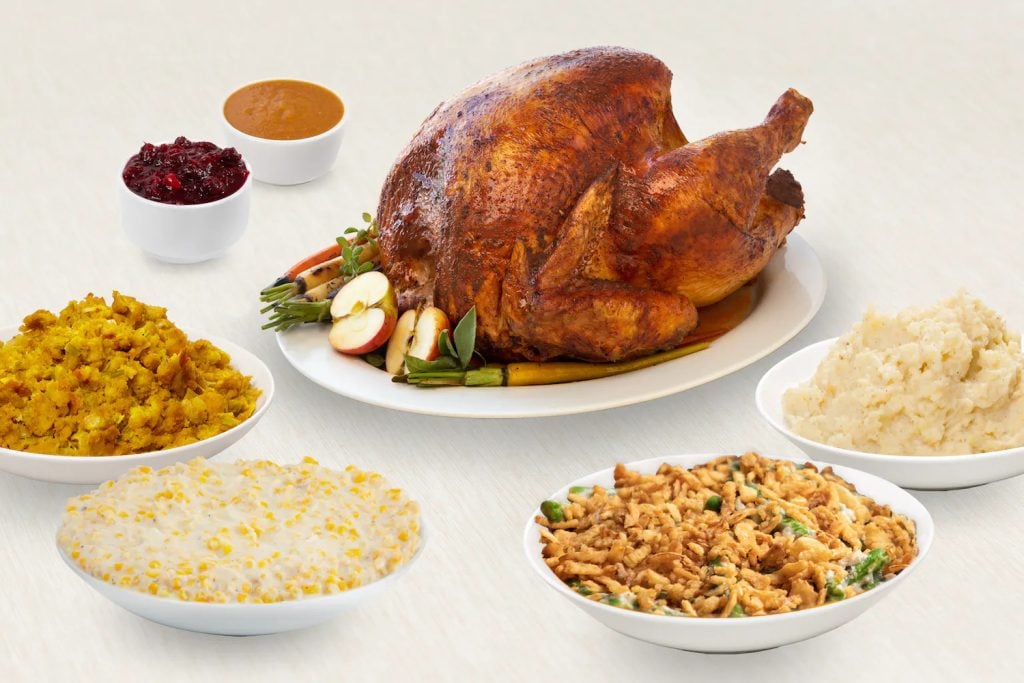 Gelson's
Regional supermarket chain Gelson's is offering a wide variety of gourmet Thanksgiving dinners to choose from including entree substitutions like glazed ham, prime rib, plant-based roasts, and more. Their traditional turkey dinner includes mashed potatoes, turkey gravy, cornbread stuffing, creamed corn, green bean casserole, cranberry sauce and butter flake dinner rolls, available in servings suitable for groups of two, eight, or 12 guests.
Time: Last day to order November 22; pickup available between November 19-24
Price: $60-280
Address: 730 Turquoise St, Pacific Beach and 2707 Via De La Valle, Del Mar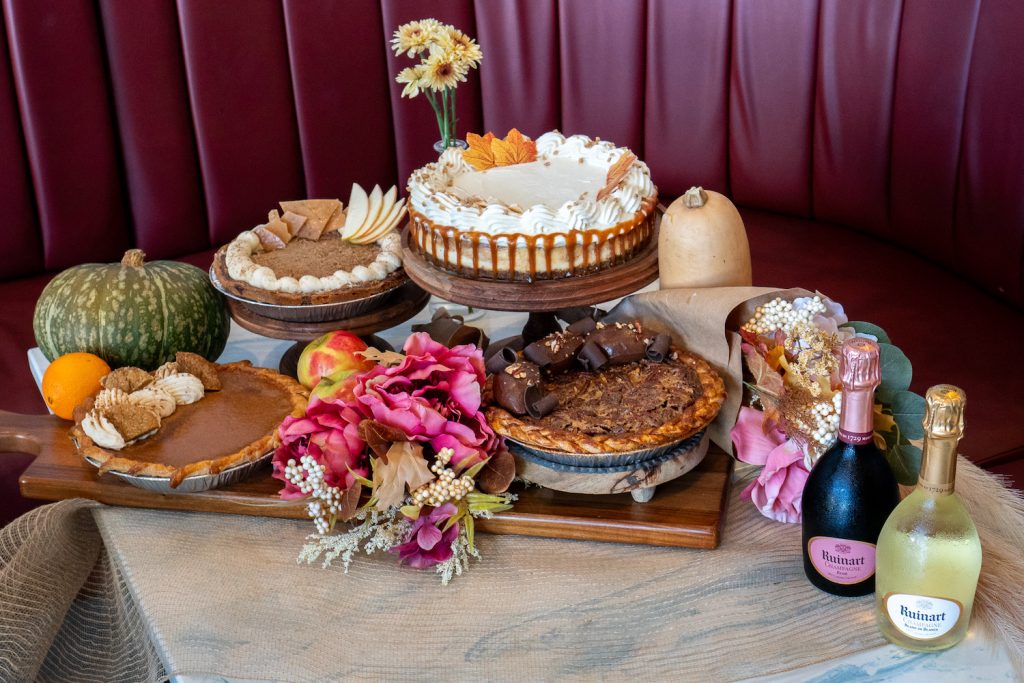 Little Frenchie
Michelin-recognized Coronado restaurant, Little Frenchie, is offering an assortment of Thanksgiving treats this year that you won't want to miss. Steal the show at your Thanksgiving gathering by ordering one of their delectable charcuterie and cheese boards paired with baked brie en croûte, or one of their apple crumble, pumpkin, bourbon pecan, or caramel ripple cheesecake pies. Pre-order before November 15 and say bonjour to the most mouthwatering additions to your upcoming Thanksgiving celebration.
Time: Pre-order until November 15
Price: Cheese & charcuterie $35-125; pies $45
Address: 1166 Orange Ave, Coronado
Ranch 45
This year, Ranch 45 is offering a customizable Thanksgiving dinner available for takeout. This holiday menu includes butternut squash soup, smoked turkey legs, herb-crusted prime rib, BBQ brisket, and classic turkey day sides, along with 9" pumpkin, pecan, pumpkin cheesecake, and apple crisp pies. Ranch 45's feast are made with Brandt Beef products, so you know you'll be eating well.
Time: Pre-orders must be placed by November 19 at 4 p.m.; pickup on Wednesday November 22
Price: A la carte
Address: 512 Via De La Valle #102, Solana Beach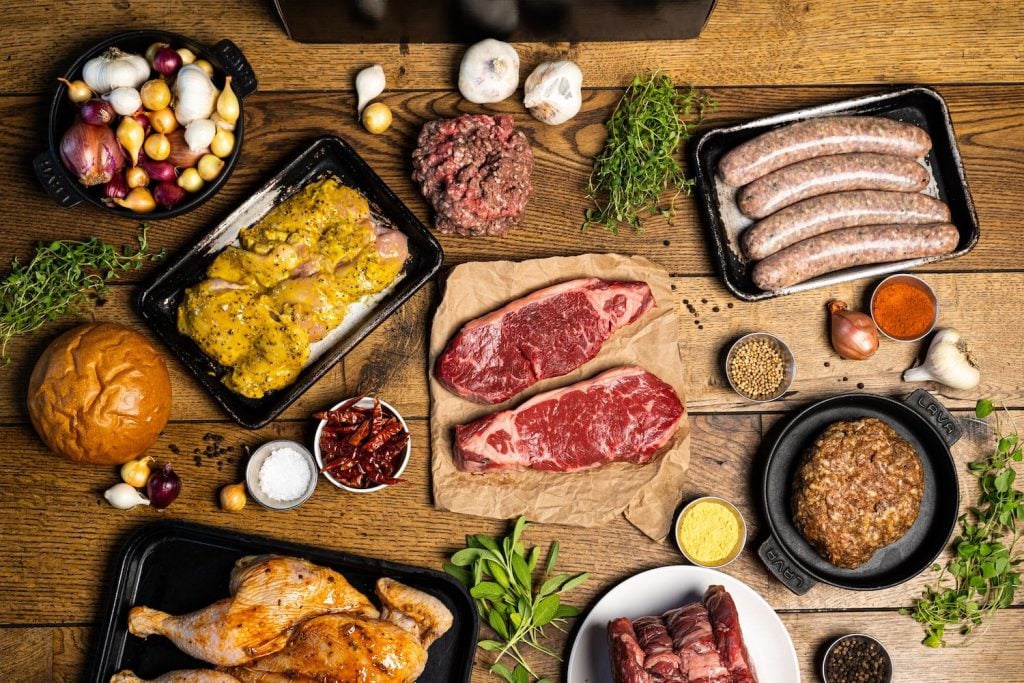 The Wise Ox
Join Brad Wise and the team at Wise Ox for a harvest feast that's bound to leave you in a totally-worth-it food coma. The spread features Diestel turkey sourced from the Sierra Nevada mountains, Australian Wagyu tri-tip and of course, flaky apple crumble pie or a rich pumpkin pie to finish off your meal.
Time: Pre-order available on their website ; pick up on November 21 or 22
Price: A la carte
Address: 2855 El Cajon Blvd #1, North Park and 7750 El Camino Real Suite P, Carlsbad
Juniper & Ivy
This Little Italy favorite is offering a take-home turkey feast arranged by chef Anthony Wells, comprised of local ingredients for 6-10 guests. The holiday feast includes a 22-pound bird (brined and trussed), mashed potatoes, gravy, chestnut stuffing, sweet potato casserole, cranberry sauce, Brussels sprouts, glazed carrots, house rolls, pumpkin and pecan pie. Spice up the party with one of Juniper & Ivy's beverage add-ons, like their holiday sommelier pairing, or batched cocktails like the Mayflower or Holidays are Hard creation.
Time: Pick-up November 22
Price: Thanksgiving at Home Dinner – $395
Address: 2228 Kettner Blvd, Little Italy