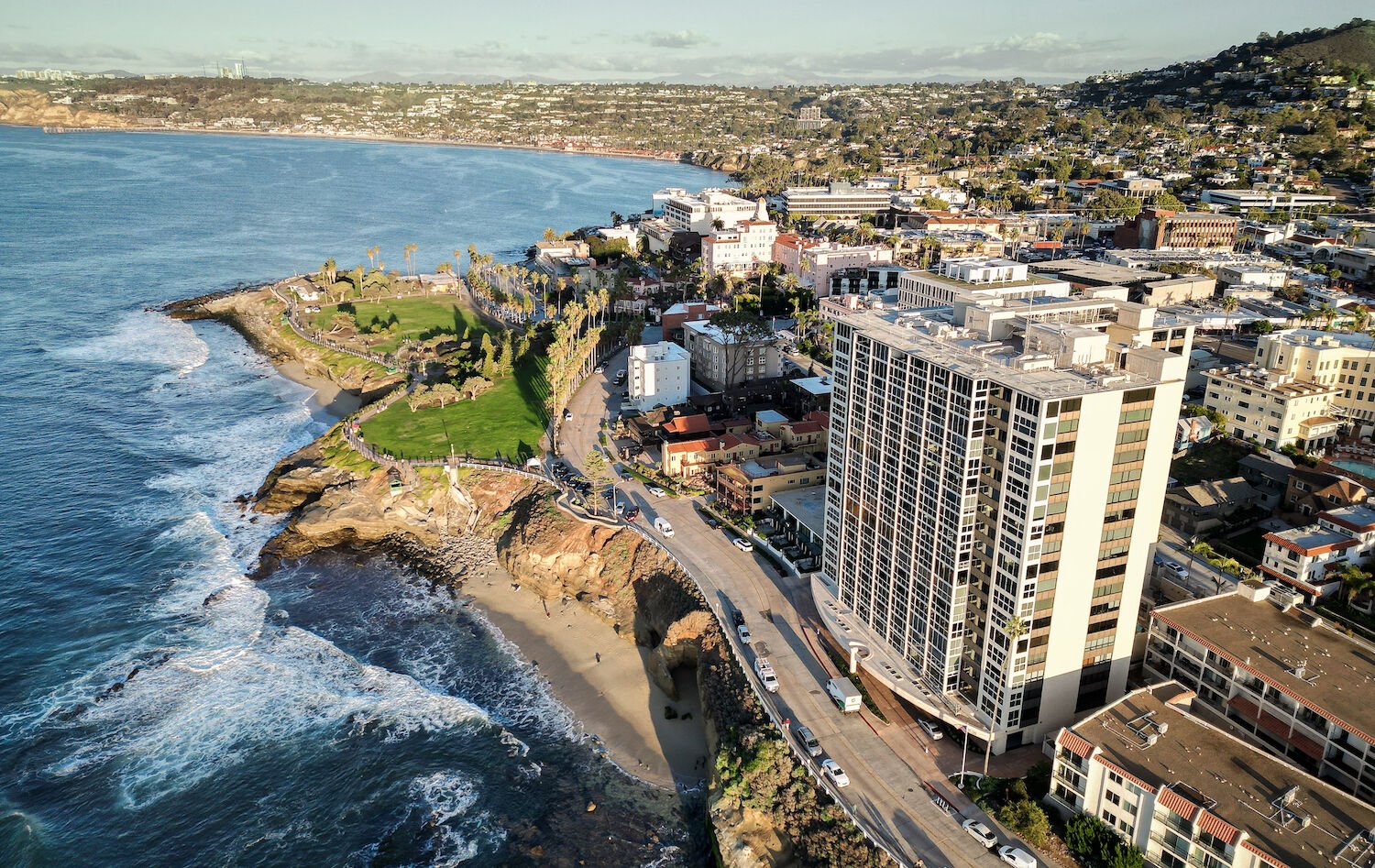 Photo Credit: Cole Novak
Having grown up in San Diego, I'm often asked where to go, what to see, and which restaurants are worth checking out when friends and family come to visit. Like most San Diegans, I have a hard time answering. Not because there isn't much to do, but because, when you live in a vacation city, you can forget that your everyday sky blues are someone's else's something news.
So, after 27 years of life in this beautiful city, I'm finally putting pen to paper and mapping out all the best things to do in San Diego, according to me, a local. Some things you may find in guide books (they're popular for a reason!) and others are hidden gems and secret haunts that only those who live here will know about.
Next time you come, maybe we'll bump into each other at James Coffee, or on our mats during a sculpt class at Yoga Box. Or perhaps we'll pass each other while enjoying the sunset at the beach in La Jolla. No matter when you come or what you're into, here are the best 20 things to do in San Diego:
---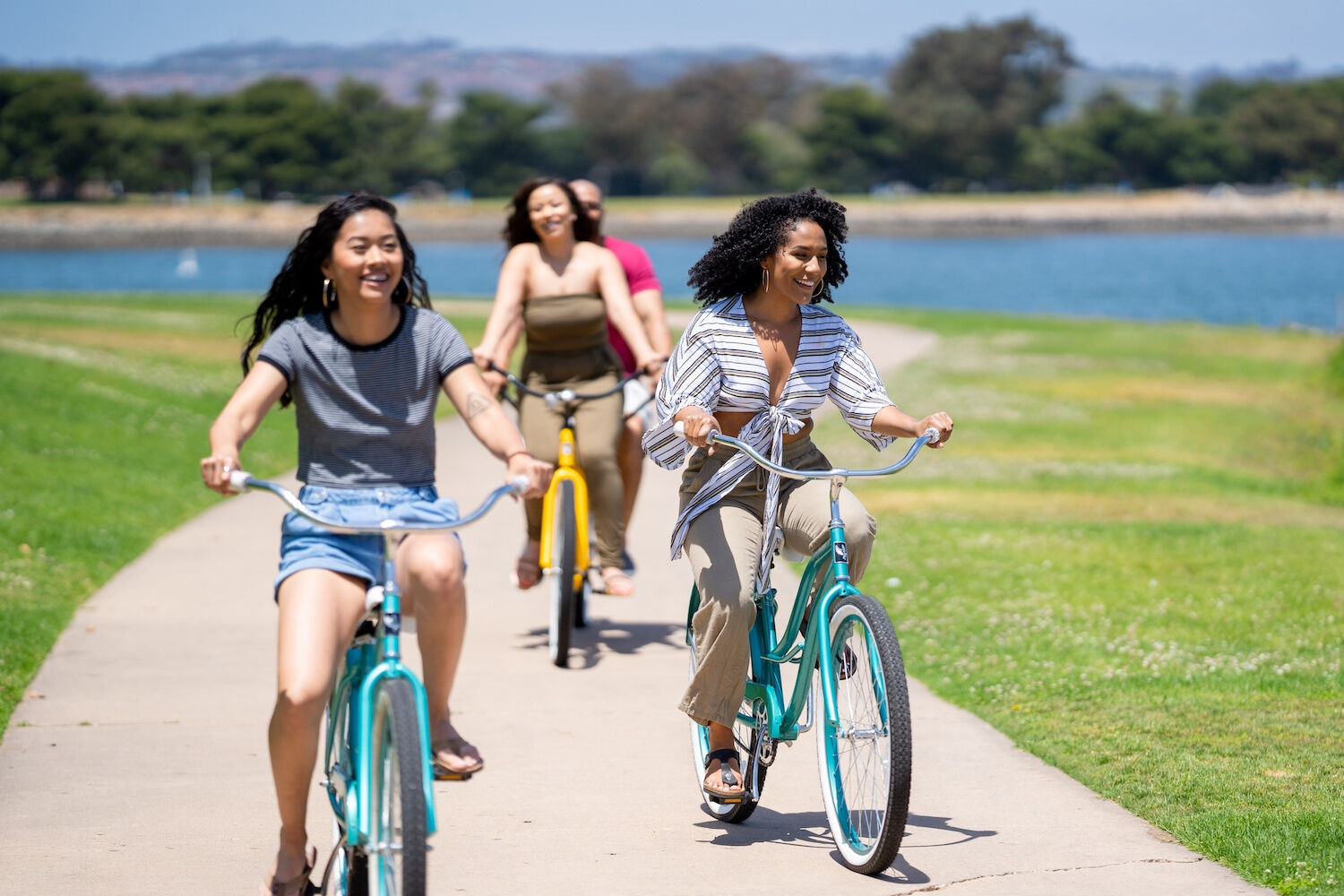 Courtesy of Humprey's Half Moon Inn
Things to Do in San Diego
Go for a Bike Ride
San Diego's public transit may not be the best, but in recent years the city has really pushed to make neighborhoods more bikeable. My inner sporty self rejoices! One of my favorite activities includes renting bikes from Stay Classy Bikes and pedaling from Golden Hill to the ferry landing and over to Coronado. It's not the easiest ride, but you'll see the cityscape while tightening up those quads.
If you're looking to spot more water on your trek, head to Mission Bay Beach Club. You can rent bikes by the hour to cruise around the bay, and the Instagram-worthy Superbloom Coffee & Juice next door makes for the perfect pre- or post-ride refresher and healthy meal. Grab an oat milk latte and take in the view for that quintessential SoCal experience.
Visit a Museum
When you think of San Diego museums, Balboa Park's array of cultural institutions are usually the first to come to mind. While you can hit multiple museums in one area there, it gives off more of a field trip feeling, and sometimes that's not what I'm in the mood for. My favorite museum is actually closer to the water down at the Embarcadero. The USS Midway Museum offers a fascinating look at San Diego's naval history.
Take yourself on a self-guided audio tour if you're into that, and after, it's only a quick walk to Portside Pier. Once you're there, try some fish tacos at The Brigantine or kick up your feet at the firepits with a glass of wine at Topsail upstairs. It's the perfect balance of education and entertainment.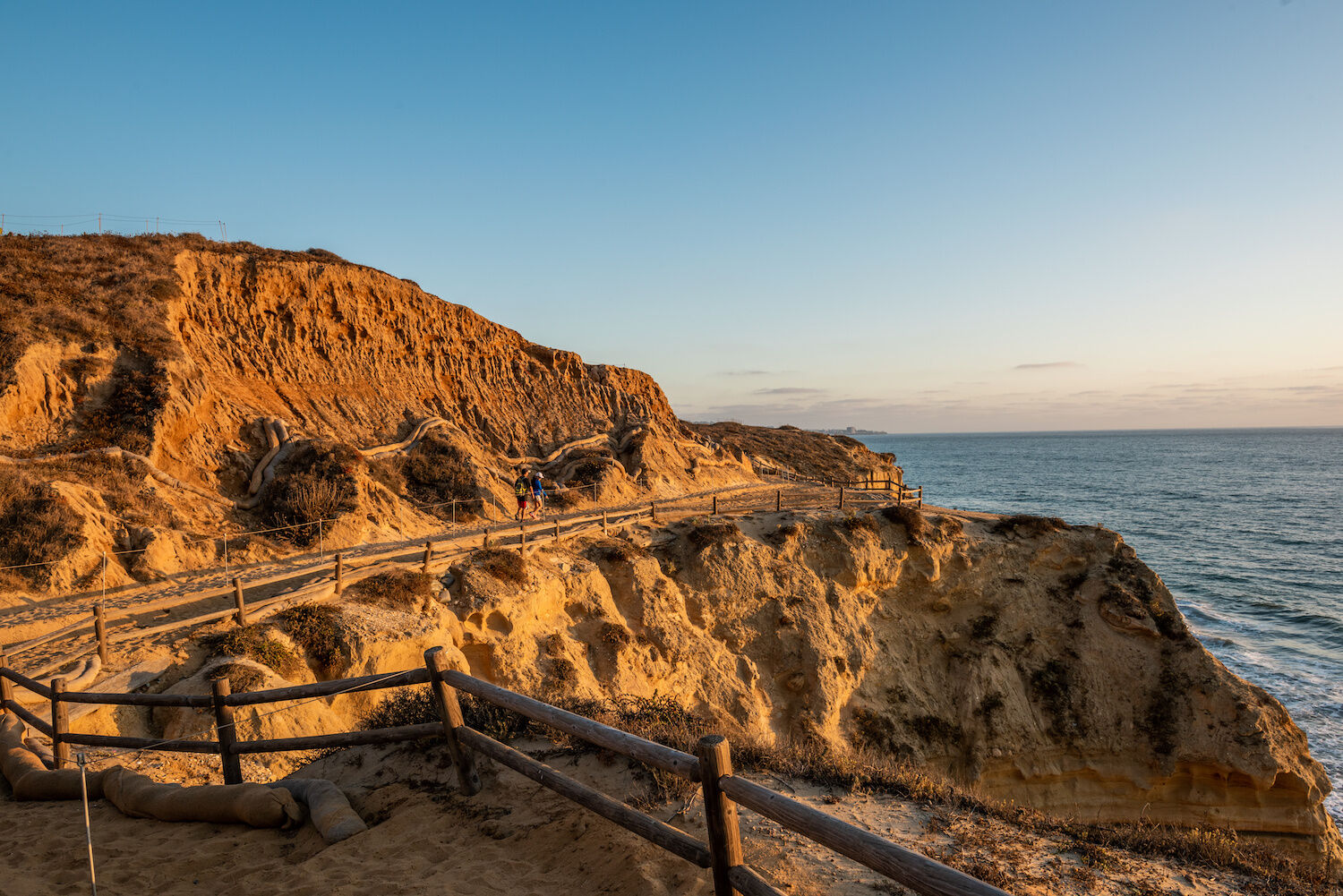 Go on a Hike
The truth is, pretty much any San Diego hike is going to offer breathtaking views and fun trails. Potato Chip Rock is popular for trekkers looking to snap a silly shot of themselves seemingly dangling from a rock, but I like to ditch the crowds and hit Eagle Rock instead. It's a bit further out of town, but you can still grab a photo with the—you guessed it—eagle-shaped rock and avoid the ridiculously long lines.
Additionally, while some may think they're only a touristy thing, Torrey Pines' trails are a true favorite among SD residents. We like panoramic ocean views, too. Try setting out while all us townies are in the office, since parking can be tough on weekends.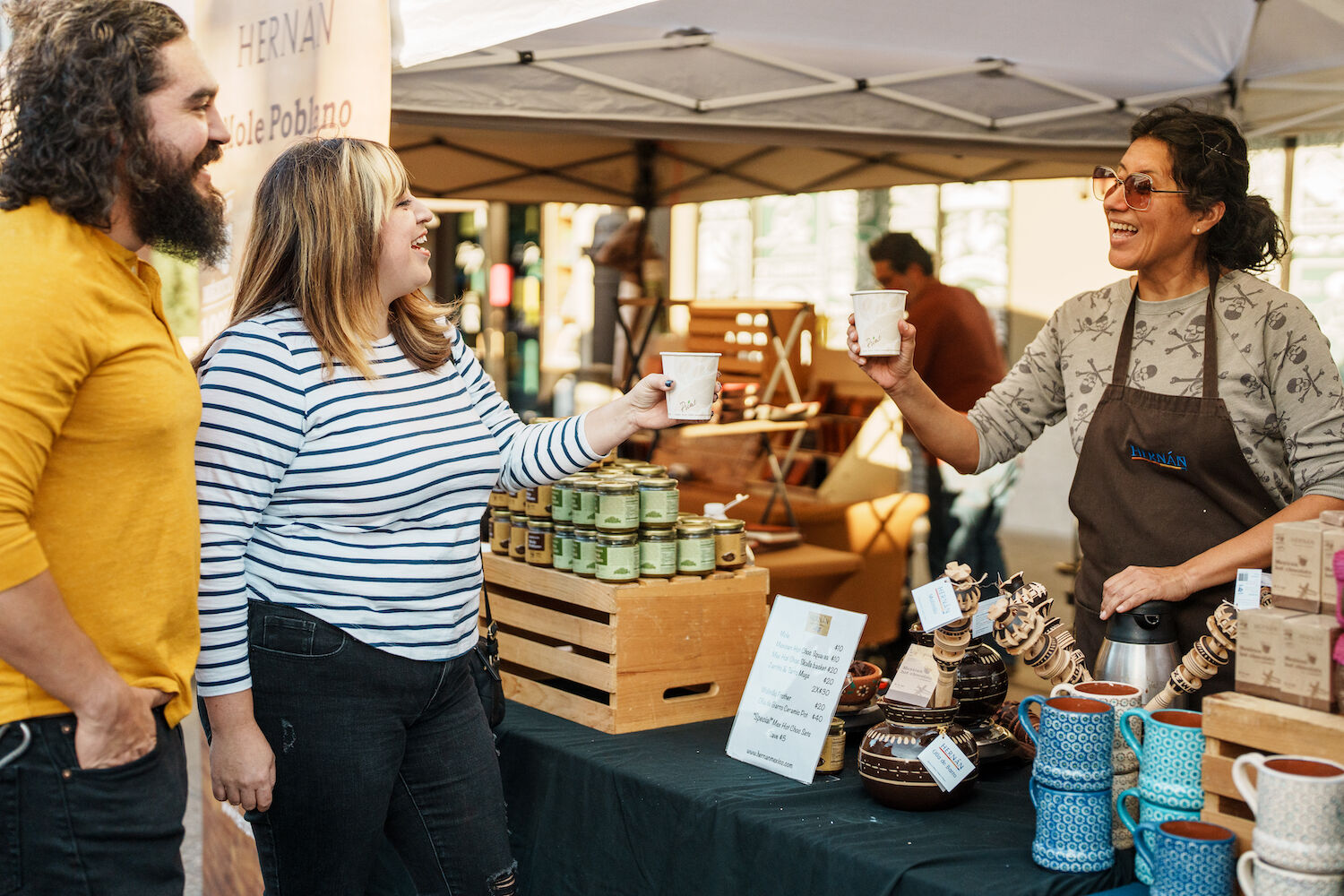 Explore a Farmer's Market
With 50 weekly farmer's markets around town, it's difficult to narrow down the best place to pick up ultra-fresh produce, snacks, sauces, and treats—but if I had to choose my No. 1, I'm going with Little Italy's biweekly market on Date Street. The event features more than 200 vendors, and in this case, bigger is definitely better.
My favorite thing to do on Saturday mornings is put my name in at rose-hued brunch spot Morning Glory (it takes at least an hour to get seated), then roam the market to check out all the delicious local offerings. You'll have plenty of time to wander. Once you've stocked up on regionally grown veggies and settled into your pink velvet booth, get the souffle pancakes and breakfast carbonara and thank me later.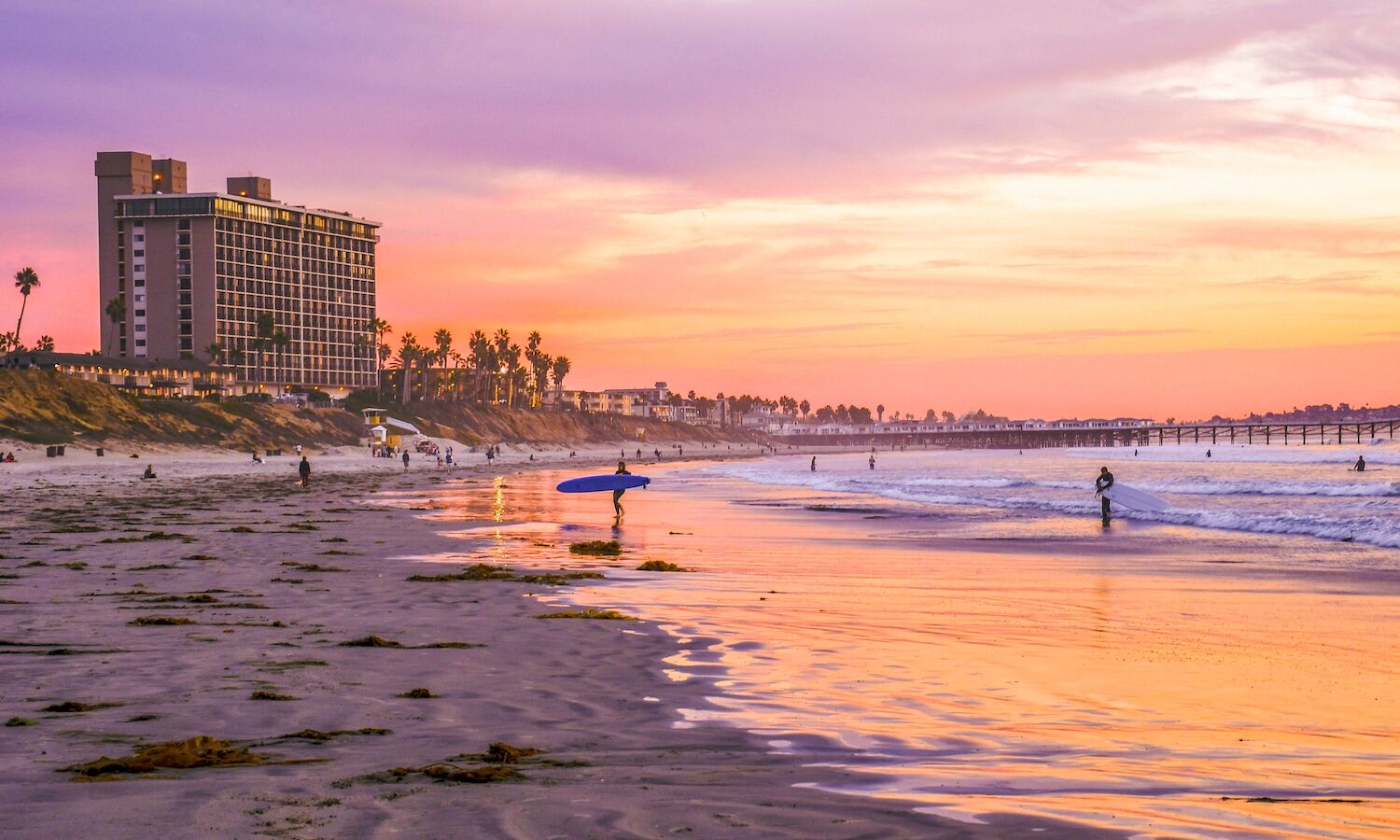 Relax at the Beach
Can you even say you went to San Diego if you don't visit the beach? While most tourist websites rave about The Cove in La Jolla, I say skip the smelly seals and head south towards Windansea. The rock formations provide the same stunning views without the crowds and animal odors.
If you find yourself in North County, take a stroll to Swami's. The long stairwell leads you to what feels like a private beach filled with locals, surfers, and tide-pool explorers. If you're lucky, you might spot a spindly brittle star—or even an octopus.
Go for a Boat Ride
When it comes to relaxing in the sand, I prefer the beach to the bay. But I'll say this for Point Loma's harbor: It's the ideal spot to spend the day boating. When I want to get a workout in, I love booking a pedal boat with Eco Boat Rentals.
But, if I'm being honest, I'm more apt to sit back and crack a seltzer on a relaxing cruise. Check out a sunset sailing excursion that takes off from Harbor Island. The two-hour sail offers views of Point Loma and our picturesque cityscape and you'll get a selection of cheeses, meats and crackers to munch on while catching those stunning pinks and oranges.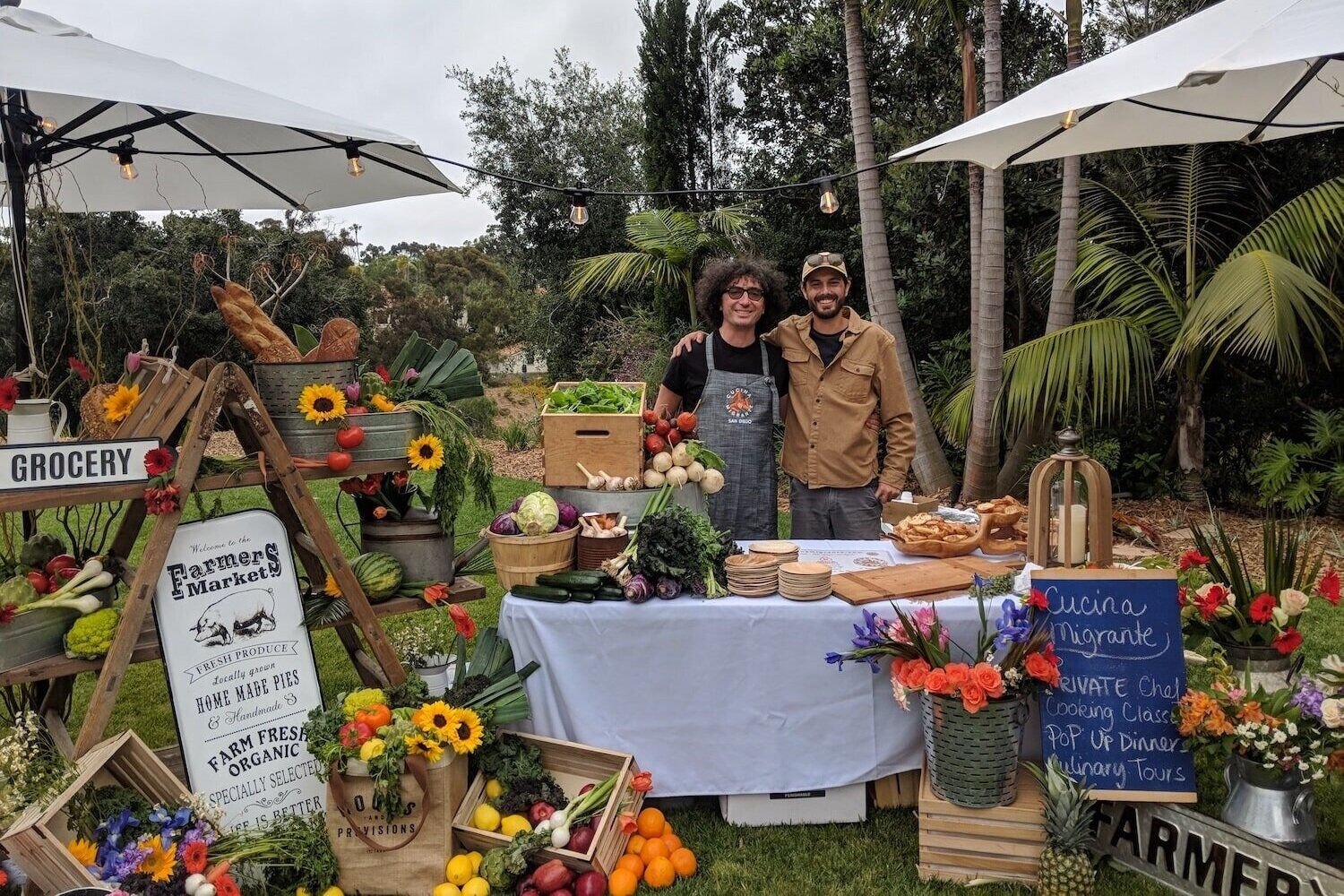 Courtesy of Cucina Migrante
Take a Cooking Class
Benvenuto a San Diego! It's not uncommon for jet-setters in Europe to sign up for a cooking class, but this activity doesn't get the hype it deserves in San Diego. You might assume I head to Little Italy for this one, but my favorite spot is actually across the 5 freeway in Golden Hill at Cucina Migrante, where you can sip wine in a cute little craftsman house while learning to roll out fresh pasta or cook plant-based Italiano.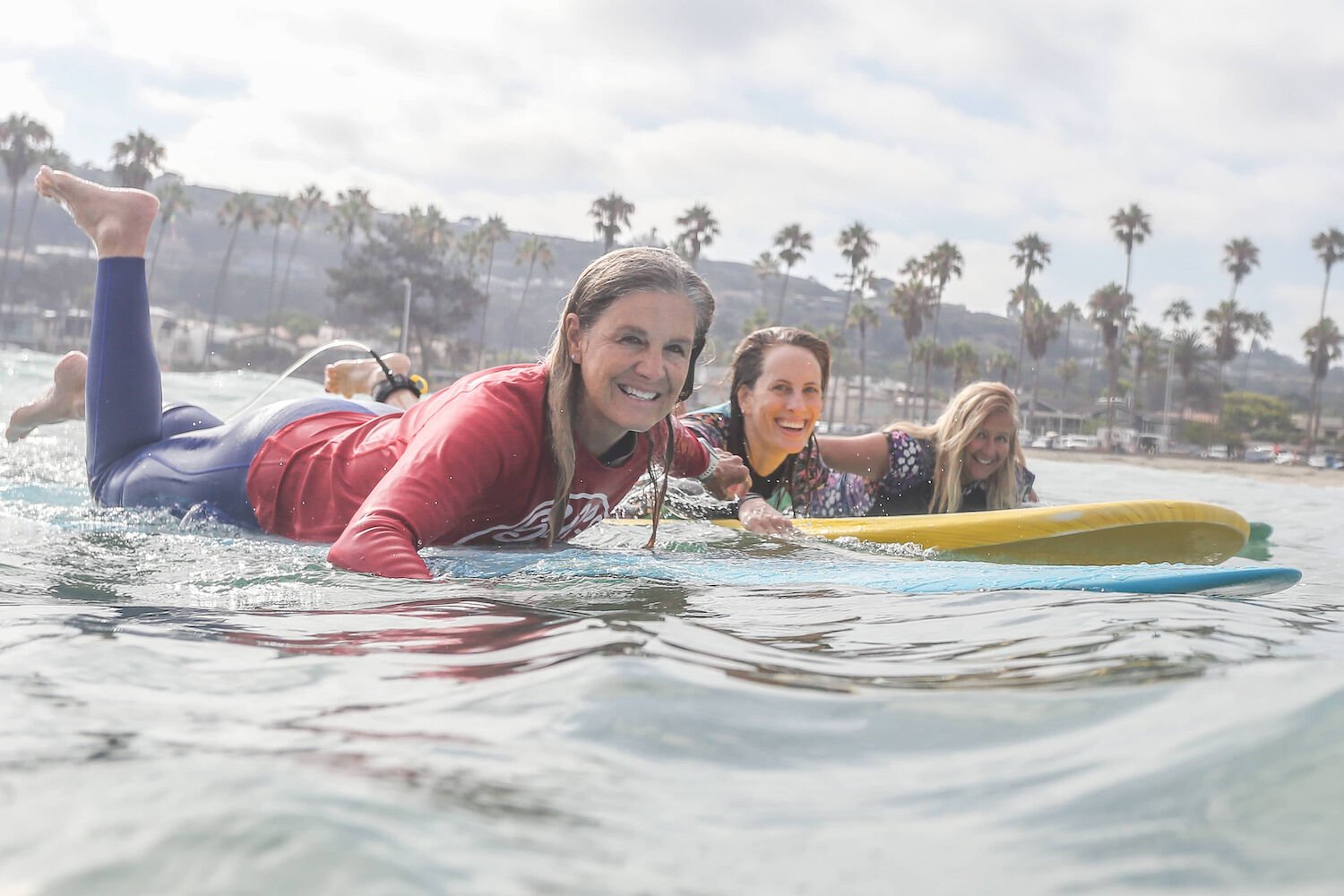 Courtesy of Surf Diva
Learn to Surf
From North County to the border, you can find great surf year-round in San Diego, but if you're attempting the sport for the first time, it's key to check out the right places and learn from the pros—no one wants to get taken out by a lost foam boarder.
My recommendation is to head to La Jolla Shores and check out Surf Diva for a lesson. The area's calm waters offer great starter waves, and the company's lifeguard-certified instructors will get you paddling, balancing, and unleashing your inner Kelly Slater in no time.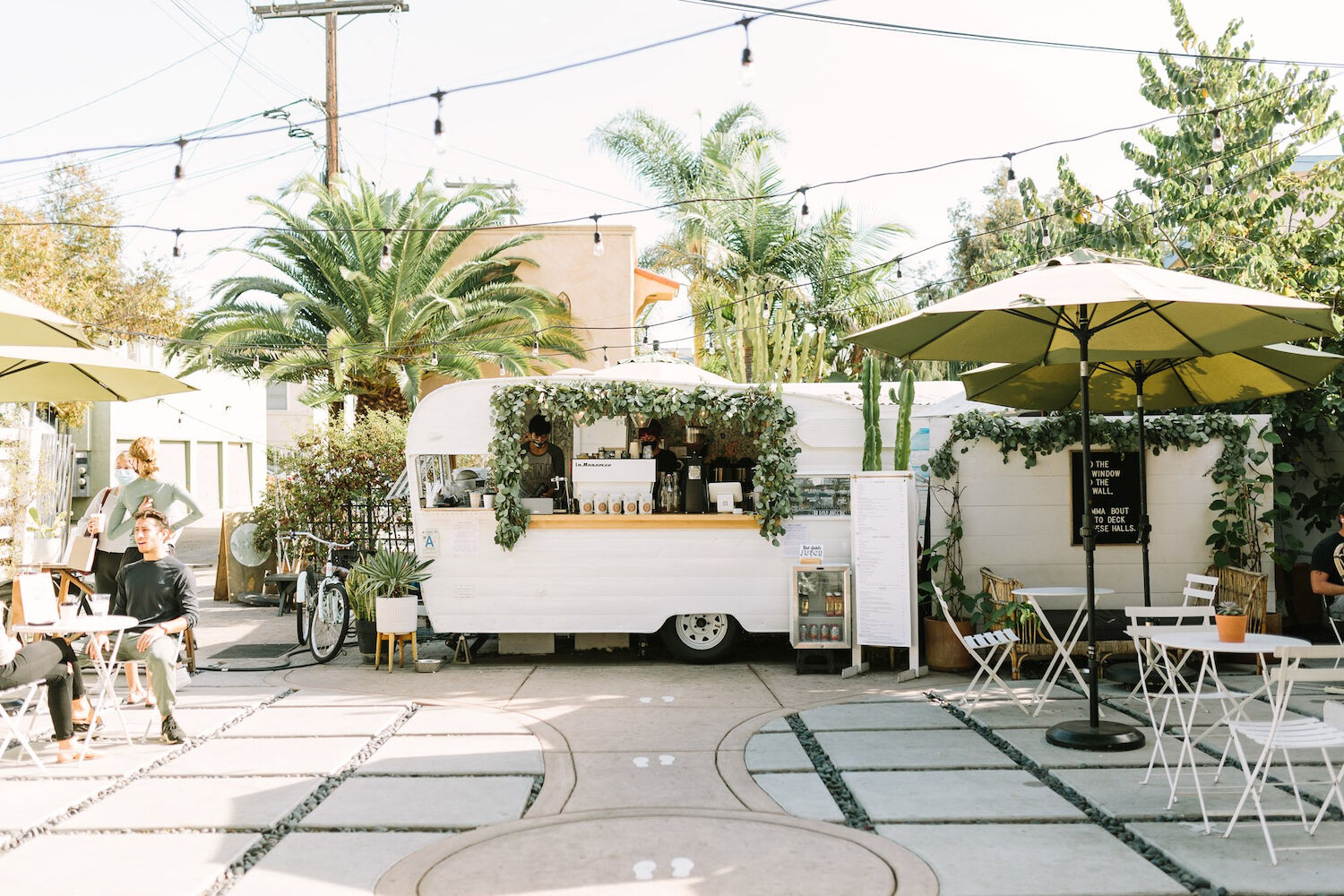 Courtesy of Communal Coffee
Where to Eat & Drink in San Diego
Grab Coffee from a Local Haunt
San Diego's coffee game is as strong as the espresso in my favorite lattes. On seemingly every corner perches a cute independent coffee shop, sometimes with a stack of board games or a musician strumming live acoustic tunes. Try my favorites: Lofty Coffee, James Coffee, and Communal Coffee. These aesthetically pleasing cafés set the mood for a cozy coffee date with tasty lattes, matcha, and cold brew.
Chow Down on Fish Tacos
It would be sacrilegious not to try a fish taco when visiting San Diego. While there's no shortage of options in the city, I have two cherished spots that rise above the rest. Mitch's Seafood in Point Loma exclusively serves fish caught by local fishermen. Their tacos are best enjoyed on the patio with a San Diego brew in hand.
My other favorite, The Fish Shop, lets you mix and match to create your version of the perfect taco: You pick the fish type and marinade from their long list of choices. I'm partial to the mahi mahi with Fish Shop seasoning, a sweet and spicy Cajun dry rub with a hint of brown sugar.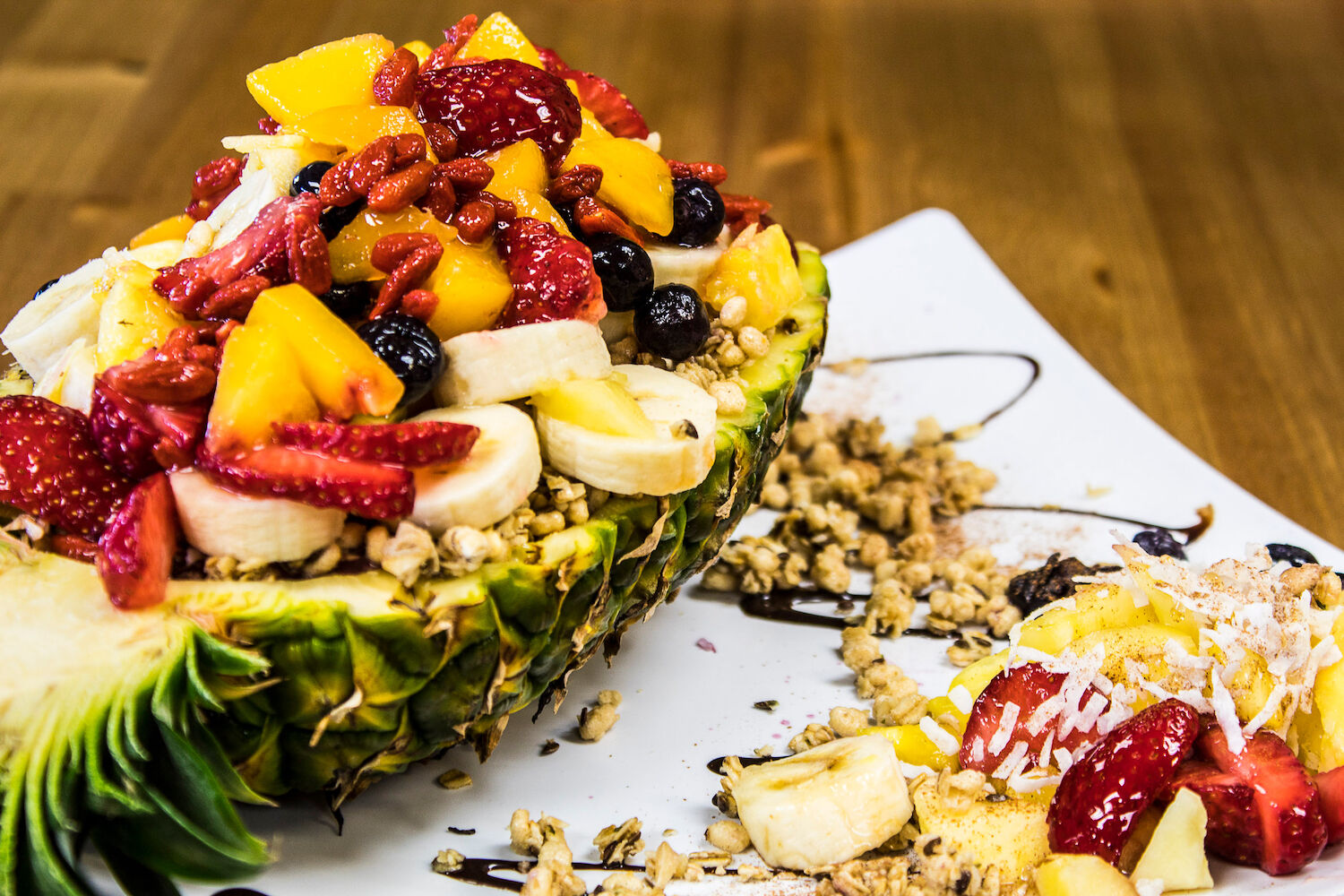 Courtesy of Rum Jungle
Eat a Refreshing Acai Bowl
San Diego might just serve up the best acai bowl outside of Hawaii. While bustling coffee shop Better Buzz is all over rec lists for a caffeine fix, its smoothie bowls are an unexpected gem—I like to hit a drive-through location when I need a sweet, healthy snack on-the-go.
When I've got time to linger, though, I drop by Rum Jungle in PB. Served inside a pineapple, their massive acai bowls put other beach snacks to shame. I'll take mine with extra granola and honey, please.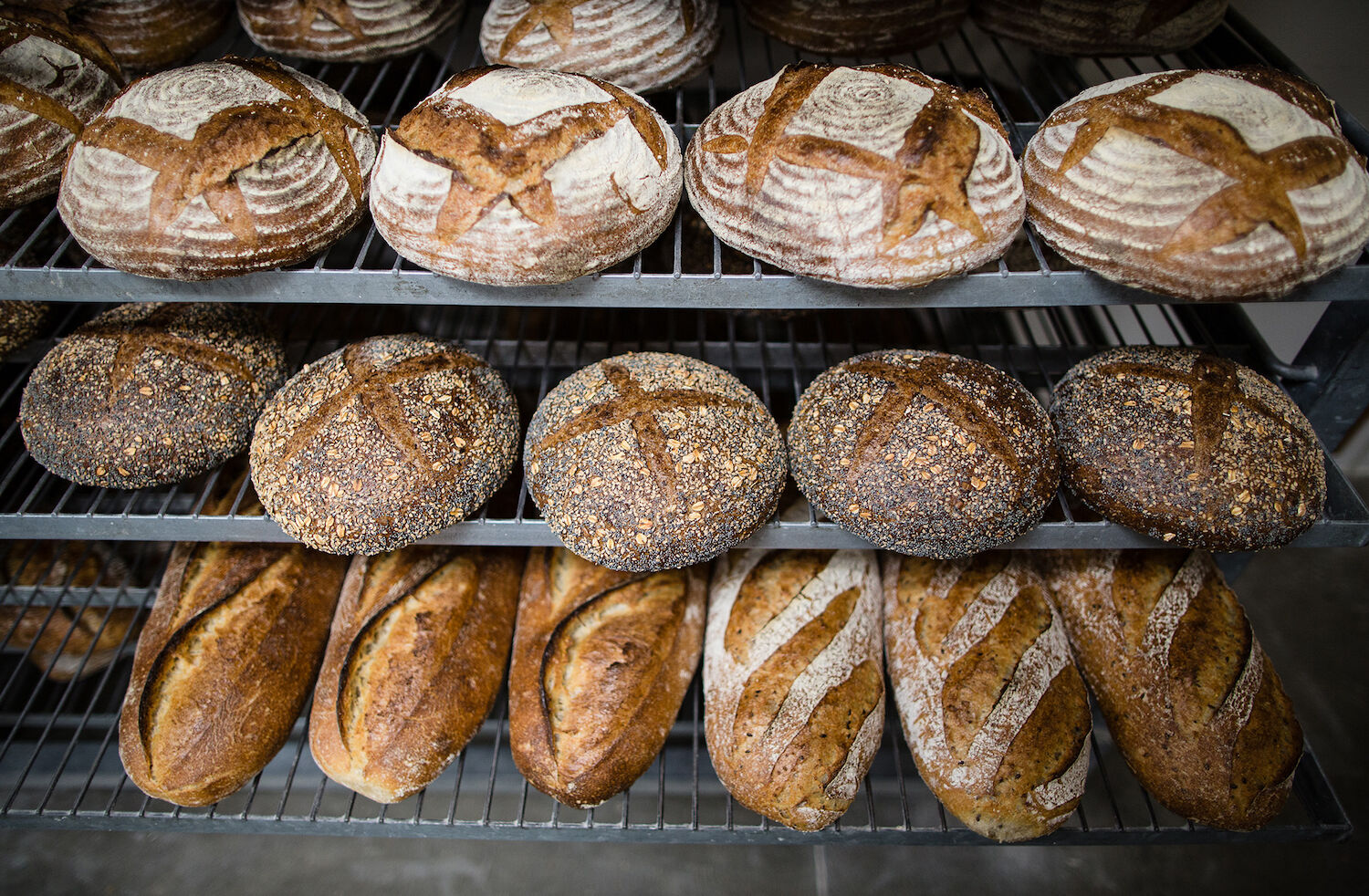 Courtesy of Prager Brothers Artisan Breads
Discover the Best Breads
Imagine this: It's a sunny morning in San Diego, and all you want is some fresh bread to make avocado toast. Or maybe you're jonesing for a dozen or so assorted pastries to share with your friends (or not).
Prager Brothers has me finishing sourdough loaves faster than I want to admit. I may have actually licked my fingers after devouring a cinnamon roll from Charlie's Best Bread's. And The Gluten Free Baking Co offers GF pastries so good I might voluntarily start eating gluten-free. No matter your vice, these three bakeries serve up some of the best of SD's breads.
Visit a Hole in the Wall Burger Joint
Want to start a good-natured debate in San Diego? Ask a handful of locals about the best burger in town. While many will wait in the long lines at Hodad's, I think Rocky's grills up San Diego's tastiest patty. The hole-in-the-wall pub in Crown Point gives off the same feel as your favorite college bar. You won't find ostrich meat, black bean patties, or even bacon and avocado here—you need only choose between a third- or half-pound beef patty and decide whether or not you want cheese. No frills, certainly, but that's what makes it great.
Try Cardiff Crack
It's called crack for a reason: This meat is addicting. Seaside Market in Cardiff takes tri-tip to the next level, infusing the beef with burgundy pepper (that's onion, garlic, and spices dialed up with red wine). If you're visiting on a holiday weekend, grab some early, as the true Cardiff Crack lovers stock up for barbecues and family functions. For me, it's game day food—I like to buy a Cardiff Crack sandwich from the Seaside Market Stand at Petco Park and dive in after first pitch.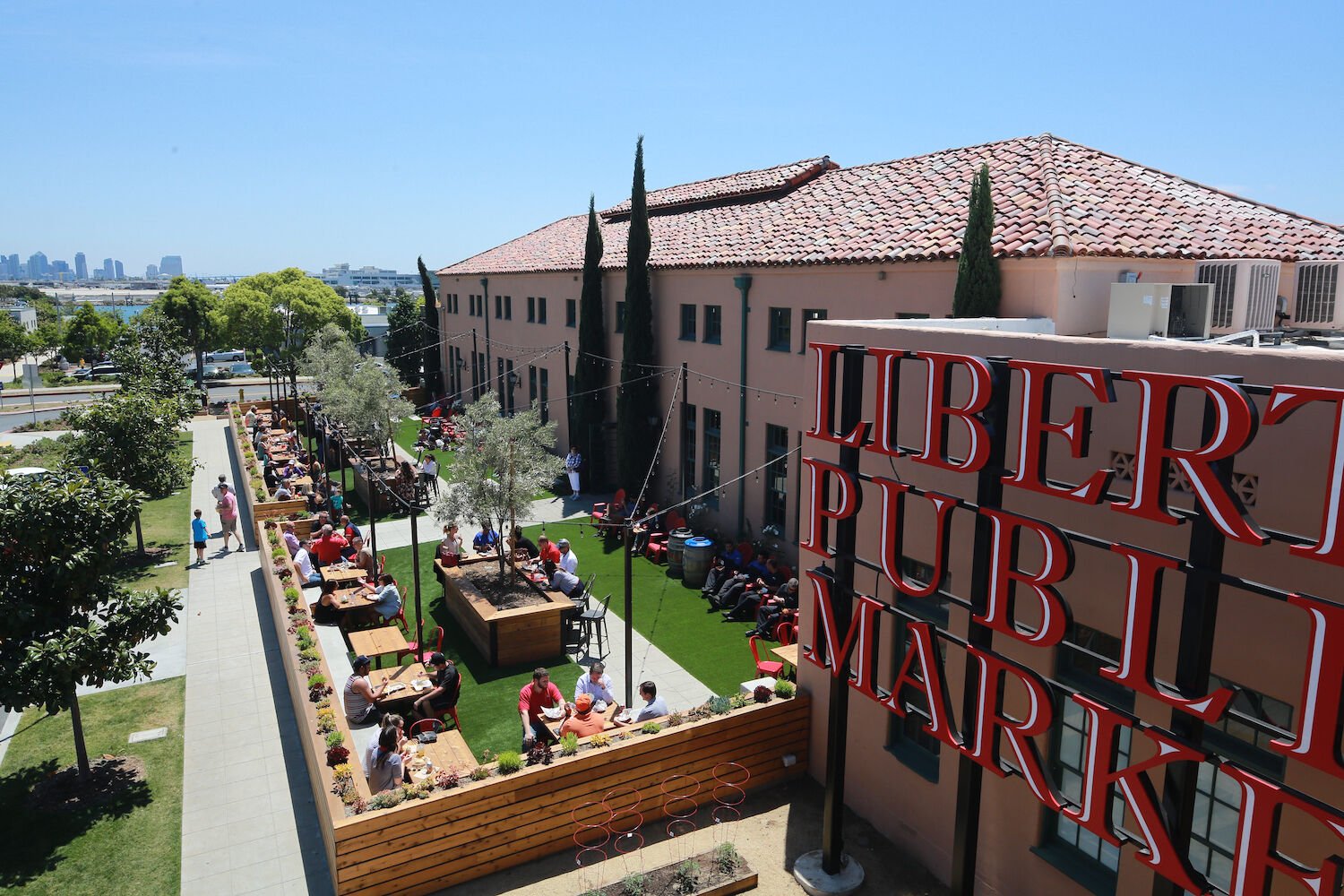 Courtesy of Liberty Station
Wander Through a Public Market
In a city of more than 5,000 restaurants, it can be tough to know where to begin. I like hitting up the local food halls and markets, which pack heaps of delicious eateries under a single roof. My favorite scene is the Liberty Station Public Market, a dizzying food court modeled after Pike Place in Seattle.
Bring friends (or come really hungry) to sample lobster mac and cheese from Wicked Maine Lobster, a bao bun from Bao Bar, and a roll from The Sushi Stand in one fell swoop. Carry your victuals to the picnic tables outside to catch a glimpse of the planes flying overhead.
Indulge in San Diego's Best Sandwiches
Didn't expect a sandwich to be a must-eat in San Diego, did you? Well, no visit to SD is indeed complete without grabbing a mouthwatering sub from Board and Brew. The local chain began in Del Mar and has since expanded across the city, so your odds of staying near a location are relatively high.
It's my favorite place to pick up a club and bag of chips to bring to the beach or park. What sets B&B apart from other sandwich joints is the unbelievable secret sauce. I'm not recommending that you drink it, but I wouldn't blame you if you were tempted.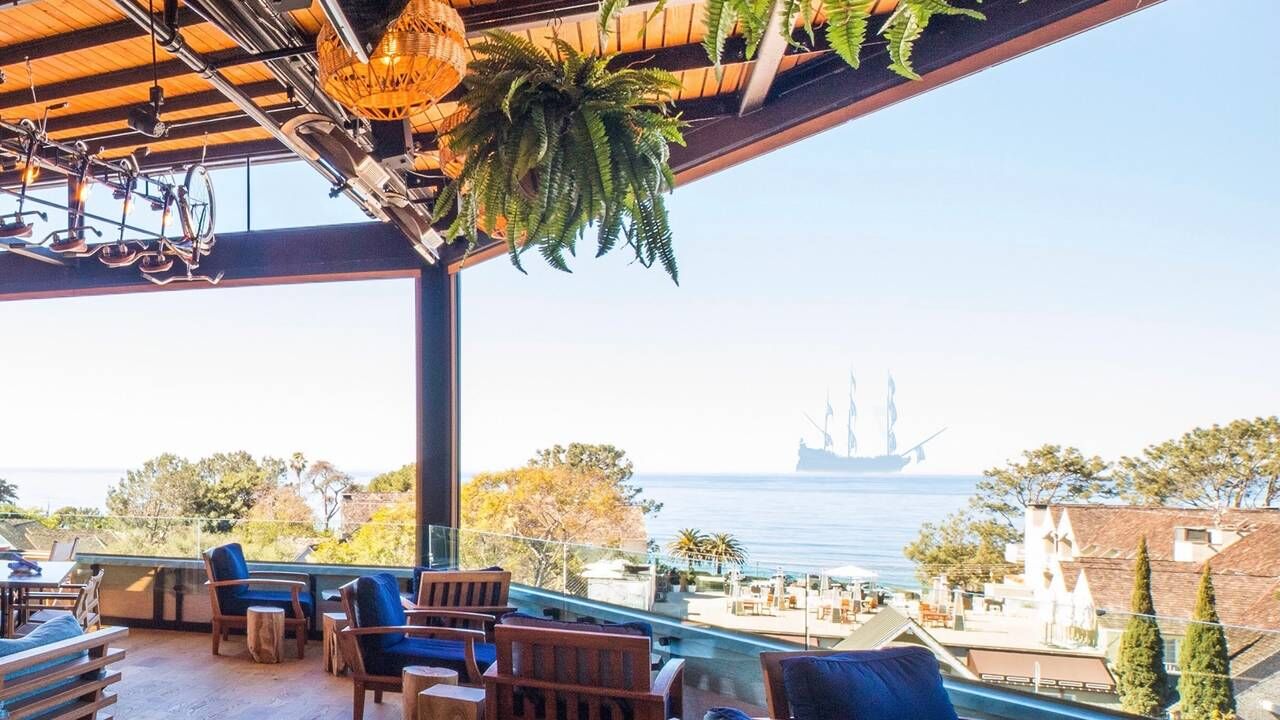 Courtesy of Monarch Ocean Pub
Get Drinks with a View
Living in San Diego, I'm spoiled with breathtaking sea views, but despite the city's beauty, finding a good bar overlooking the water can be tougher than you think. Prospect St. in La Jolla, however, offers a row of restaurants that all serve sessionable drinks and stellar ocean eye candy. I'm partial to the Prospect Margarita at Duke's—the spicy watermelon cocktail is made even sweeter by the gorgeous surrounds.
In Del Mar, Monarch offers a dragon fruit marg in an open-air, second-story pub. If you happen to find yourself there as the sun sinks beneath the waterline, raise your glass and join the restaurant-wide chant: "Cheers to me, cheers to you, and here's a toast to a hell of a view."
Sip on San Diego Favorites
San Diego is called America's capital of craft beer for a reason. My favorite of the city's 150-plus breweries is the Ballast Point in Little Italy. I love settling onto the patio or into a cabana and enjoying a flight while watching planes in flight.
Not a beer fan? No biggie—SD is home to a wealth of businesses brewing booch, cider, and other sips. Personally, I immediately feel cooler with a handful of assorted hard kombucha flavors in front of me at Juneshine's airy tasting room in Scripps Ranch.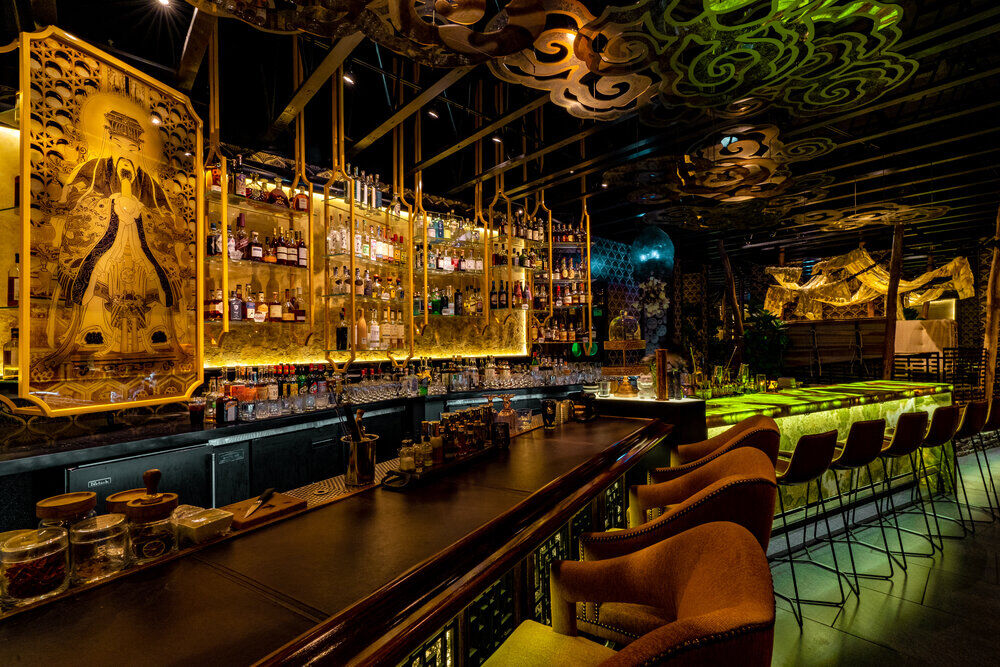 Courtesy of Realm of the 52 Remedies
Discover a Speakeasy
Prohibition may be long over, but the speakeasies in San Diego are here to stay. Either tucked away in larger establishments or hiding in plain sight behind unmarked entrances, these bars might be tough to find, but they're my favorite place to enjoy a cocktail on a night out.
A favorite among locals, Realm of the 52 Remedies is tucked away in Kearny Mesa—a neighborhood that isn't always listed in SD guides, since it's known for being more suburbia than tourist destination. However, the whimsical speakeasy-style bar attached to Common Theory Public House is definitely worth a trek with its stunning design, delicious cocktails, and small-bites.
Over in North Park, Part Time Lover is a hybrid between a record shop and a swanky cocktail lounge. My go-to happy-hour sip is one of their Japanese Highballs with sparkling water.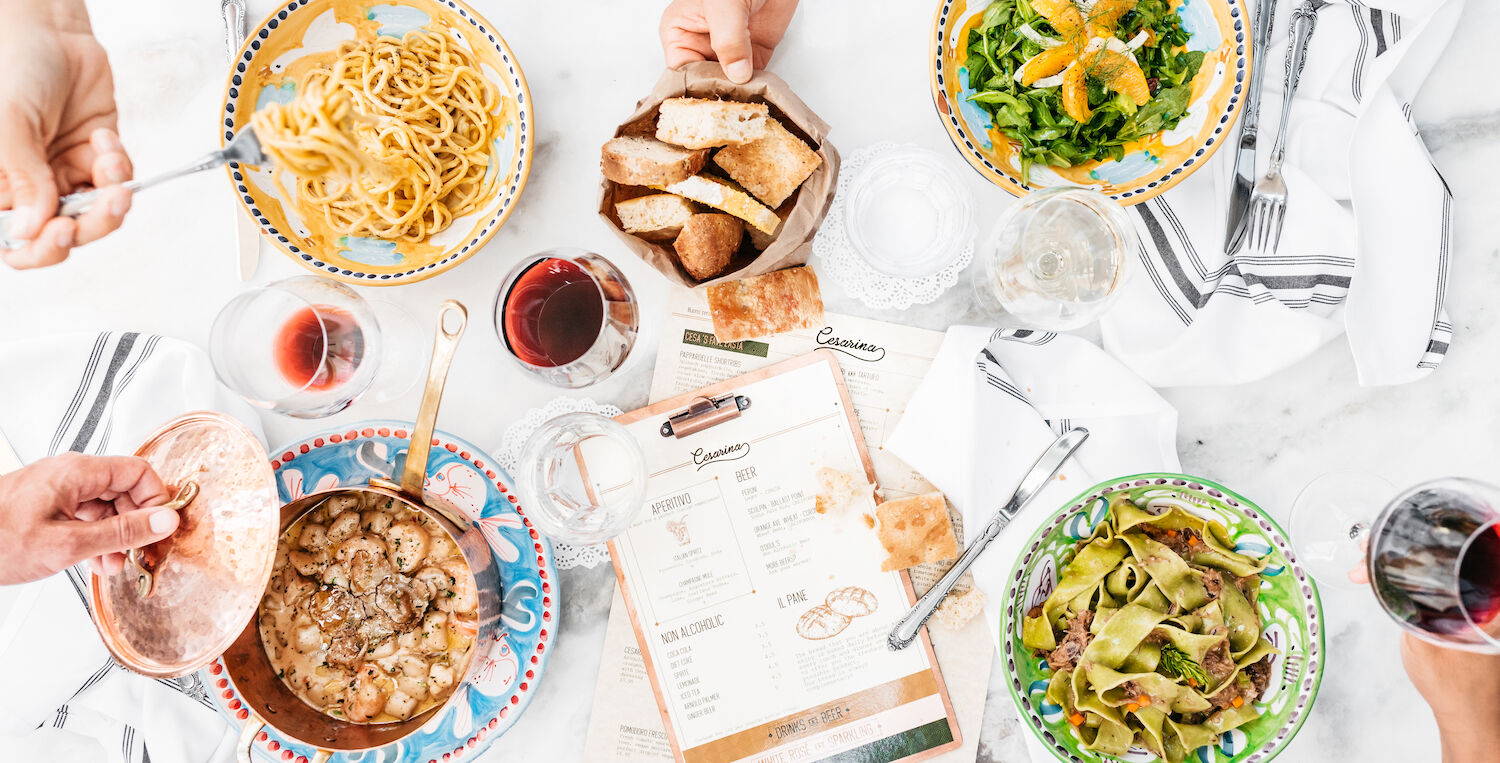 Courtesy of Cesarina
Dine for the 'Gram
While us locals spend plenty of time chowing down at hole-in-the-wall, strip-mall spots, we're not immune to eateries where the design matters as much as the food.
Down in Point Loma, Cesarina is the perfect place to relive any study-abroad memories of Italy. The dining room is stunning, with a coastal Italian feel. But the feature that made me stop and stare is the fresh pasta-making station in the kitchen. Visible to the entire restaurant, it allows you to watch as chefs transform flour and eggs into pappardelle and tonnarelli.
My other favorite photogenic dining experience takes me downtown to Seneca. The bayfront spot gives luxury yacht meets Italian trattoria. The sleek design and views from the 19th floor are almost as pretty as the plates of truffle arancini and cacio e pepe.