Hey, South Bay. The strip of San Diego County closest to the border offers an oft-overlooked wealth of restaurants, restaurants, activities, lodging, and shopping opportunities.
Home to around a quarter of the county's Hispanic population, the area's neighborhoods and cities celebrate Latin culture, and coastal towns like Imperial Beach provide the SoCal seaside experience with fewer crowds.
Here are some of the top places to eat, drink, shop, stay, and explore in San Diego's southernmost communities.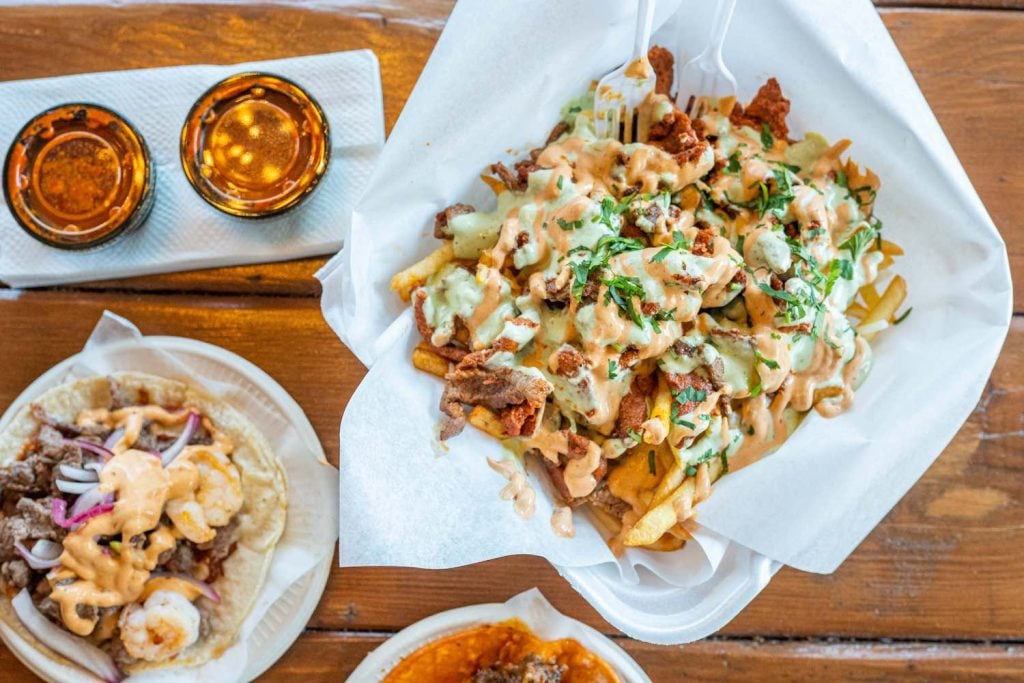 Eat & Drink
Market on 8th
Market on 8th is a popular National City food hall that offers indoor and outdoor seating and a wide variety of food and beverage vendors serving bites like poke, po'boys, and pizza. For even more fun, join in on weekly events such as trivia and live music.
41 East 8th Street, National City
Chula Vista Brewery
Black- and veteran-owned alehouse Chula Vista Brewery has won numerous awards at beer festivals and competitions. The brewery frequently hosts events, including comedy nights and DJ sets, at its Third Avenue and Eastlake locations.
294 3rd Avenue, Chula Vista
Romesco
Bonita bistro Romesco melds Mediterranean techniques with Mexican cuisine, creating dishes like fideo tacos with Spanish chorizo. Their multiple menus—offering tapas, bottomless brunch, and family-style dishes, among other options—pair perfectly with recurring musical entertainment and craft cocktails.
4346 Bonita Road, Bonita
Mixed Grounds Coffee
Vietnamese-owned coffee shop Mixed Grounds serves a side of art with every espresso, acting as a gallery and community gathering space. The café also hosts events, including food truck parties and musical performances.
41 East 8th Street, National City
SEA180 Coastal Tavern
Situated on the beach at Pier South Resort, SEA180 Coastal Tavern offers guests gorgeous vistas and a roundup of Latin-inspired dishes. Open for lunch and dinner all week and for breakfast on Fridays and Saturdays, the restaurant crafts grilled octopus, short rib tamales, and other bites.
800 Seacoast Drive, Imperial Beach
Trident Coffee
If you're looking for a break from a ride down Bayshore Bikeway, Trident Coffee's Imperial Beach outpost is the perfect pit stop. The veteran-owned-and-operated spot features eight cold brews on tap and a variety of gluten-free treats.
536 13th Street, Suite 6, Imperial Beach
Thr3e Punk Ales
Chula Vista brewery Thr3e Punk Ales launched in 2017, offering guests a large selection of core beers, collaborations, and seltzers. The taproom also serves as a recording studio for the brand's podcast, which considers Mexican culture through a Southern California lens.
259 3rd Ave, Chula Vista
Grind House Chula Vista
Seeking a morning work space? Head to Grind House Chula Vista for breakfast sandwiches and mood-boosting coffee drinks (hello, vanilla sweet cream cold brew). Once the job is done, stick around for a happy hour michelada.
260 1/2 3rd Avenue, Chula Vista
Niederfrank's
A National City staple, Niederfrank's ice cream shop has been scooping sweet stuff for the community since 1948. Whatever your favorite flavor is (options include cappuccino crunch, avocado-pistachio, salted caramel, and jamaica sorbet), be sure to order it in a housemade waffle cone.
726 A Avenue, National City
Oak & Anchor BBQ
Smoked-meat purveyors Oak & Anchor BBQ got their start in Chula Vista. The disabled veteran– and minority-owned small business is family-operated and can be found at farmer's markets and pop-ups around the county.
San Diego County
The Tin Fish
Located at the end of the Imperial Beach Pier, The Tin Fish has been slinging seafood for over 20 years. The eatery is beloved for their fish and chips, lobster rolls, and stunning views. If you're craving comfort food, order their coziest combo: a sourdough grilled cheese and a hot bowl of clam chowder.
910 Seacoast Drive, Imperial Beach
Mexipino Craft
Welcome to your new favorite fusion cuisine: Mexipino Craft. The family-owned Chula Vista restaurant blends Mexican and Philippine culture, offering massive ube pancakes and a namesake breakfast sandwich that loads a conchita with chicken tocino, spam, and chorizo.
1660 Broadway, Suite 14, Chula Vista
Agave Coffee & Cafe
Located in Chula Vista, Agave Coffee & Cafe is a great place to catch up with friends or get some remote work done. They offer coffee favorites and seasonal specials, while their breakfast and lunch menus include morning plates, wraps, and bowls, plus takeaway sandwich boxes for those on the go.
303 H Street, Chula Vista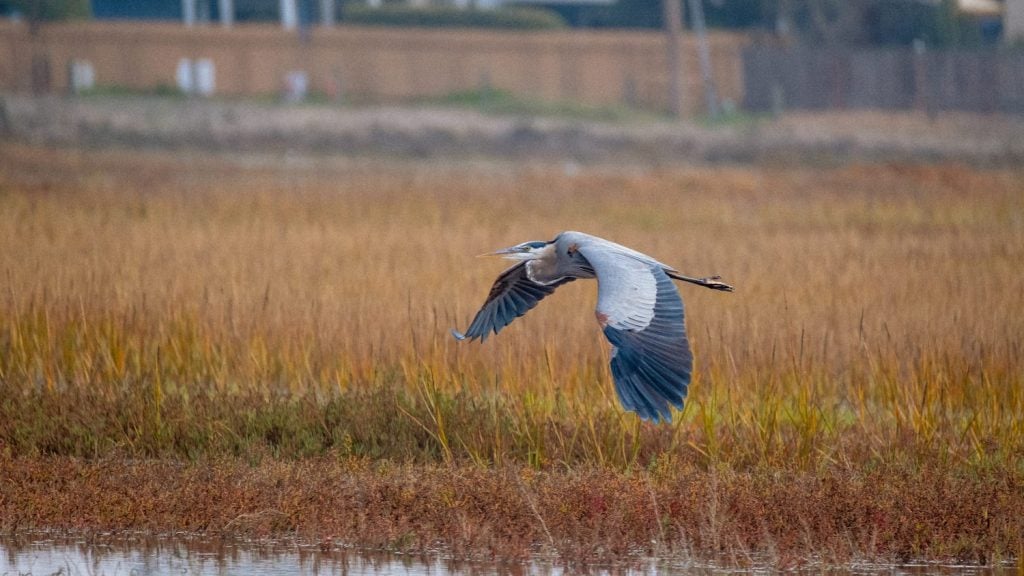 Explore
Sesame Place San Diego
Chula Vista's Sesame Place San Diego has rides, water slides, eats, and activities for families with young children. As a Certified Autism Center, the theme park is dedicated to providing accommodations and resources for children with special needs.
2052 Entertainment Circle, Chula Vista
North Island Credit Union Amphitheatre
Opened in 1998, the North Island Credit Union Amphitheatre is the first and largest venue of its kind in the San Diego area. With both seated and lawn options, the Chula Vista spot is a great place to jam out to a variety of musical acts from June to November. Past performers include The Cure, Post Malone, and The Chicks.
2050 Entertainment Circle, Chula Vista
Imperial Beach Pier
Enjoy a beautiful sunrise or colorful sunset at Imperial Beach Pier. Visitors are welcomed to the landmark by the iconic and Instagram-worthy art piece Surfhenge, while nearby bike paths, picnic tables, and fishing areas allow for all-day fun.
Seacoast Drive & Evergreen Avenue, Imperial Beach
The Living Coast Discovery Center
Founded in 1987, The Living Coast Discovery Center is a nonprofit zoo and aquarium located on the San Diego Bay National Wildlife Refuge. Open to the public from Wednesday through Sunday, the center hosts animal presentations and guided hikes, as well as exhibits like Turtle Lagoon and Raptor Row.
1000 Gunpowder Point Drive, Chula Vista
South Bay Drive-In
Soon to be San Diego's last remaining drive-in movie theater, the South Bay Drive-In boasts three screens and is open seven days a week. On Wednesdays, Saturdays, and Sundays, the space is also used for outdoor swap meets.
2170 Coronado Avenue, San Diego
Onstage Playhouse
South Bay's only live theater venue hosts comedy and improv nights and other events in addition to bringing plays and musicals (including annual holiday shows) to the community. While the theater has previously put on big-ticket productions like Tony nominee Xanadu, look here for lesser-known scripts highlighting underrepresented stories.
291 3rd Avenue, Chula Vista
Otay Valley Regional Park
The 200-acre Otay Valley Regional Park offers playing fields, picnic areas, and 8.3 miles of trails for hiking, biking, and horseback riding. To beat the beach crowds and still unwind by the waterside, spend an afternoon near one of the park's seven ponds.
2369 Beyer Boulevard, San Diego
Tijuana Estuary
Explore Southern California's largest coastal wetland, the Tijuana Estuary. The national reserve is home to an array of plants and animals across seven different habitats. While exploring the estuary's hiking and biking trails, keep an eye out for critters like ospreys, skinks, and gray foxes.
301 Caspian Way, Imperial Beach
Chula Vista Elite Athlete Training Center
Want to know the real breakfast of champions? Ask the folks here what they eat. The Chula Vista Elite Athlete Training Center's 155 acres cater to Olympic and Paralympic athletes from more than 20 sports, who come to the facility to train for their next chance at gold. The center also hosts events and offers tours to the public.
2800 Olympic Parkway, Chula Vista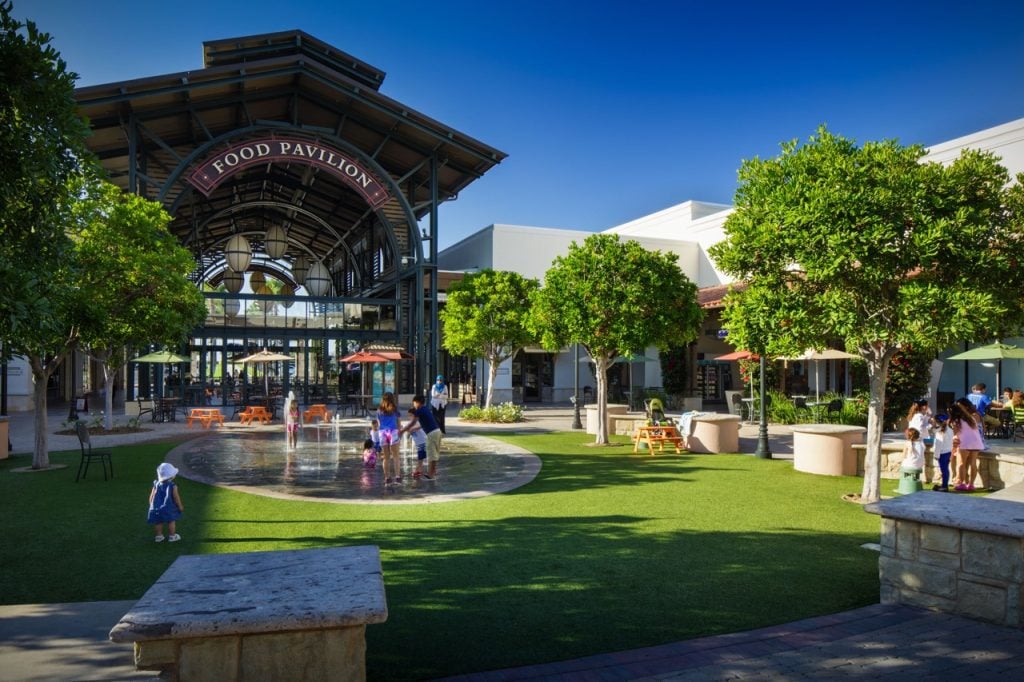 Shop
Las Americas Premium Outlets
Located on the California-Mexico border, the Las Americas Premium Outlets is San Diego County's biggest outlet center. Enjoy retail therapy on a budget with more than 100 stores (such as Banana Republic, Adidas, and J. Crew) offering discounted name-brand goodies.
4211 Camino De La Plaza, San Ysidro
Otay Ranch Town Center
Otay Ranch Town Center is an outdoor mall in Chula Vista with more than 100 stores and dining options, including locally owned outposts like Road Runner Sports and Fanboy Gaming. In addition, the shopping center houses a dog park and hosts a farmers market on Tuesdays.
2015 Birch Road, Chula Vista
Wordsmith Bookstore
Wordsmith's categorization as a bookstore belies the sheer variety of its inventory. Perched in the Market on 8th food hall, the boutique vends culinary goods, plants, and clothing in addition to nonfiction titles and cookbooks.
41 East 8th Street, Suite 101, National City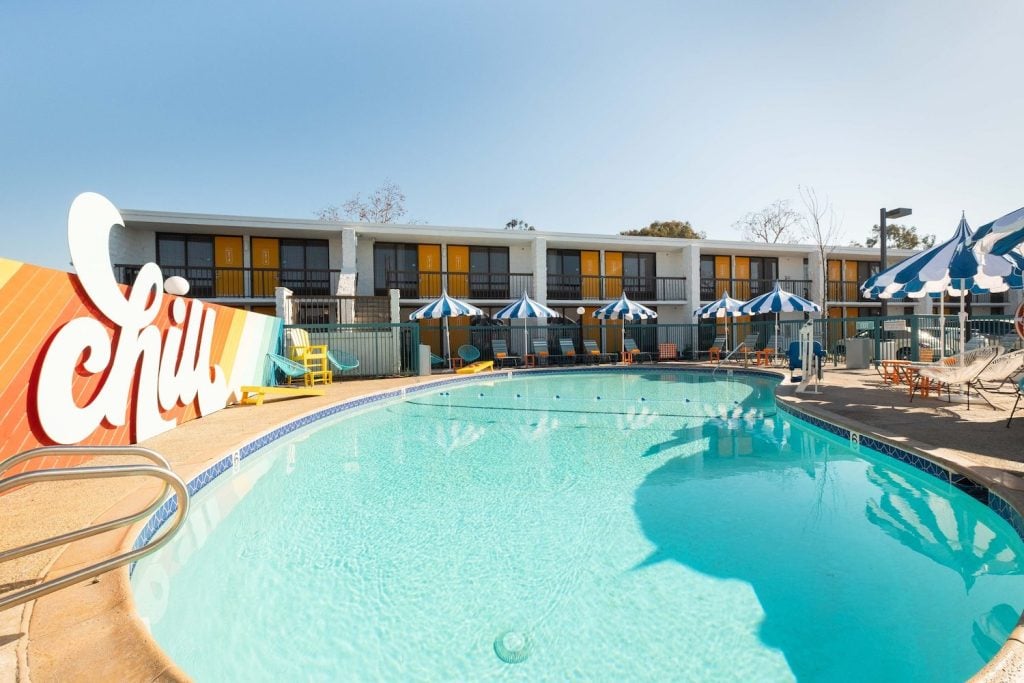 Stay
The Rambler Motel
Multihued wall murals, a retro arcade, a friendly coffee shop—this laidback lodging in Chula Vista has a host of cute, photo-worthy amenities for budget-friendly prices (rooms start at less than $100 a night). Guests can also enjoy a picturesque pool and complimentary bike use.
225 Bay Boulevard, Chula Vista
Pier South Resort, Autograph Collection
Whether you're on a cross-country escape or a cozy staycation, this Marriot property offers an ideal beach getaway. Located within walking distance of the Imperial Beach Pier, the hotel boasts ocean views, relaxing spa treatments, and al fresco dining.
800 Seacoast Drive, Imperial Beach
Sand Castle Inn & Suites
An affordable option for families thanks to suite-style rooms equipped with kitchens and multiple beds, Sand Castle Inn & Suites sits mere feet from the beach. While it's no-frills, the hotel provides a clean, comfy vantage point from which to explore San Diego County.
785 Seacoast Drive, Imperial Beach