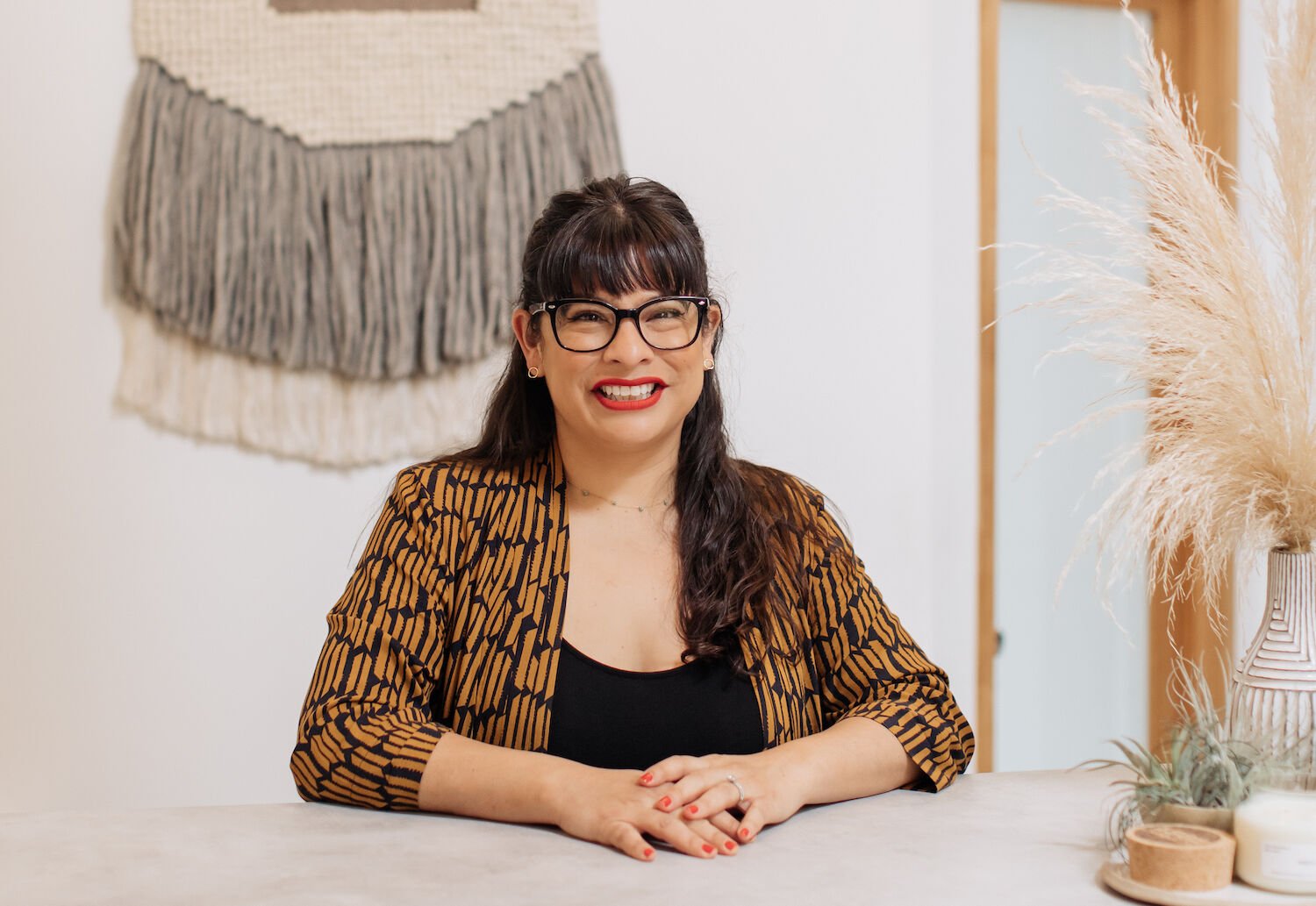 Born in Tijuana, Mexico and raised in Chula Vista, California, Angelica Sele (née Barragan) has always been inspired by the artistry of beauty and skincare, but lacked a connection to the established beauty standards and marketing prevalent at the time, especially as a young Latina.
Her first foray into the beauty industry was by way of Sephora, where she spent six years in San Diego ultimately working her way up to a managerial position. She moved on to fulfill her dream of entrepreneurship, motivated by the independence it would bring and the opportunity she envisioned for a more personalized, inclusive product shopping experience for people of all ethnicities.
She earned her esthetician license in 2011 and, with the support of her family, purchased the tools of the trade (wax pot and magnifying lamp). Angelica B Beauty was founded the following year, in the back of a small salon in North Park, where her waxing technique and facials quickly grew a devoted following. Just four years later, she moved Angelica B Beauty into a new, larger space which eventually grew to encompass four service rooms, a lobby and an office. Plus, a retail boutique, which was one of the first in San Diego to offer clean products, to assuage a burgeoning community of clients.
Today, Angelica B Beauty is located in South Park and has expanded its services to include clinical facials, lash lifts and tanning, with the goal to support all women in the pursuit of feeling their best, empowered selves.
When she's not in the studio, Angelica enjoys making memories with her husband and two children, and developing and mentoring future estheticians.
Check out her episode with Not a Parenting Podcast here and her Q&A below.
There is no real balance with career and family, but what would you say helps you do your best to achieve it?
Family support and reminding myself that I am doing the best I can do. When I first became a mom that was a huge shift for me. I was so used to finishing every checklist I had ever encountered to the best of my ability. When I became a mom I felt like I could complete nothing, and even if I did it wasn't as detailed as before. I had to set new expectations for myself. More realistic ones.
What kind of parent would you call yourself?
I am involved for sure. But I still allow myself to have a life to myself. That comes with a lot of judgment, but I have learned to just make my kids and myself happy. I am a new "type" of mom and I hope to normalize this type for other moms.
When people ask "what do you do for a living," what is your response?
I have a skincare boutique. I feel like I really never know what to say when people ask. So this is my simple answer.
What gives you the motivation to be at the top of your game?
My daughter. A lot of my job is to empower women and to change this culture and I do it all for my daughter and our daughters. And also, to be honest, I do it for myself. Just to see how far I have come. It wasn't easy and it did take a long time, but I know I was made to deliver this message.
What is your favorite part about your home?
The calmness that it creates for me. Work can sometimes get a little crazy. My home is my sanctuary and it's where I find balance. Just getting home to my kids makes everything feel better.
What does self-care mean to you? How do you try to take care of your body?
I work out a few times a week and try to listen to what I need. If it's alone time, sleep, girlfriend time, sex… I try and allow myself that time. Being in tune with your body and yourself is just so important.
Does spirituality play a role in your life? If yes, please elaborate.
In a way I see my therapy as spirituality. It's always trying to be better and to understand yourself. I think this has become crucial to me because I want to be better for my children. I want to have tools to offer them, if they ever need it. And also just for me to be able to do all the things I do.
Episodes are available on Spotify, iTunes, and iHeartRadio, subscribe now and never miss an episode.
Be the first to know when new episodes drop!
Presented by Organifi
Get 20% off all Organifi products with code NAPP!