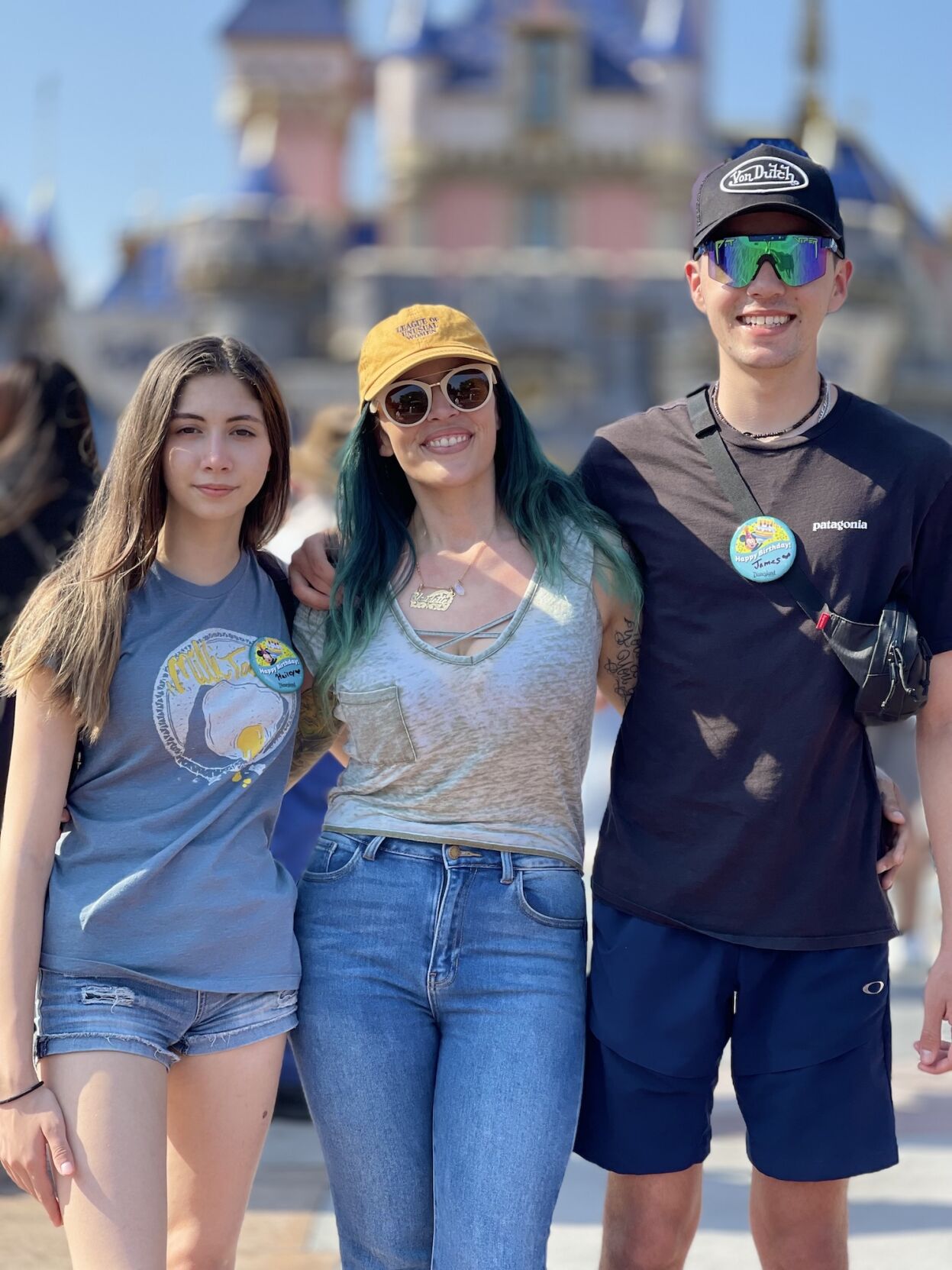 Claudette Zepeda
Claudette Zepeda is a powerhouse matriarch and culinary creative currently serving as a food and beverage consultant. This San Diego-based chef is known for her fearless culinary style and bold approach to regional Mexican cuisine.
In her role as Consulting Chef of VAGA located in San Diego's North County, Zepeda oversees its creative vision, authoring a love letter to her hometown with a menu that celebrates local flavors and influences. Most recently, Zepeda garnered national acclaim for her time as the executive chef and partner behind El Jardín, a regional Mexican restaurant in the area.
During her tenure, El Jardín received a glowing review from the New York Times, inclusion on Esquire's 2018 Best New Restaurants, and recognition from Michelin on their 2019 Bib Gourmand list. Zepeda was named both Eater San Diego and San Diego Union Tribune's Chef of the Year in 2018, and was a James Beard Best Chef West semifinalist in 2019.
Prior to El Jardín, Zepeda was chef de cuisine at Javier Plascencia's celebrated Bracero, and competed on Top Chef Season 15 and Top Chef Mexico Season 2.
In 2019, Zepeda founded Viva La Vida, LLC., establishing micro businesses with single mothers throughout Mexico's seven regions to import their heirloom ingredients previously unavailable in the U.S. Through Viva La Vida, Zepeda helps Mexican women support their families without sacrificing their safety.
Named for a famous Frida Kahlo quote, the company celebrates the colorful life Mexicans lead, with plans to grow into a multi-unit concept dedicated to helping women break from generational poverty. You can catch her on the upcoming Iron Chef: Quest for an Iron Legend premiering on Netflix June 15. Zepeda is a single mother to two teenagers named James and Hailey who keep her grounded and motivated.
What have you learned about balancing family and career?
I will never be perfect, but having a family informs every decision for my career. Without my kids I'd probably be dancing (painfully so) on the subway poles for cash in NYC. Instead of fighting the fact that my family meant I was rooted in San Diego for the next 18 years, I leaned in and let those roots be my anchor throughout some of the hardest points of my life.
The biggest lesson I learned early on? Men in business (generally speaking) have zero empathy or care about single mothers' career trajectories, because they wrote them off immediately. When my boss found out I was pregnant at 18 with James he said, "well, what can't she do now?" And mind you, I was cleaning the business office at night, working door security at a nightclub and [had] a day job as an assistant for the security company. So I kept it all up until I was showing and the nightclub got scary.
What is your parenting status? Tell us more about your children.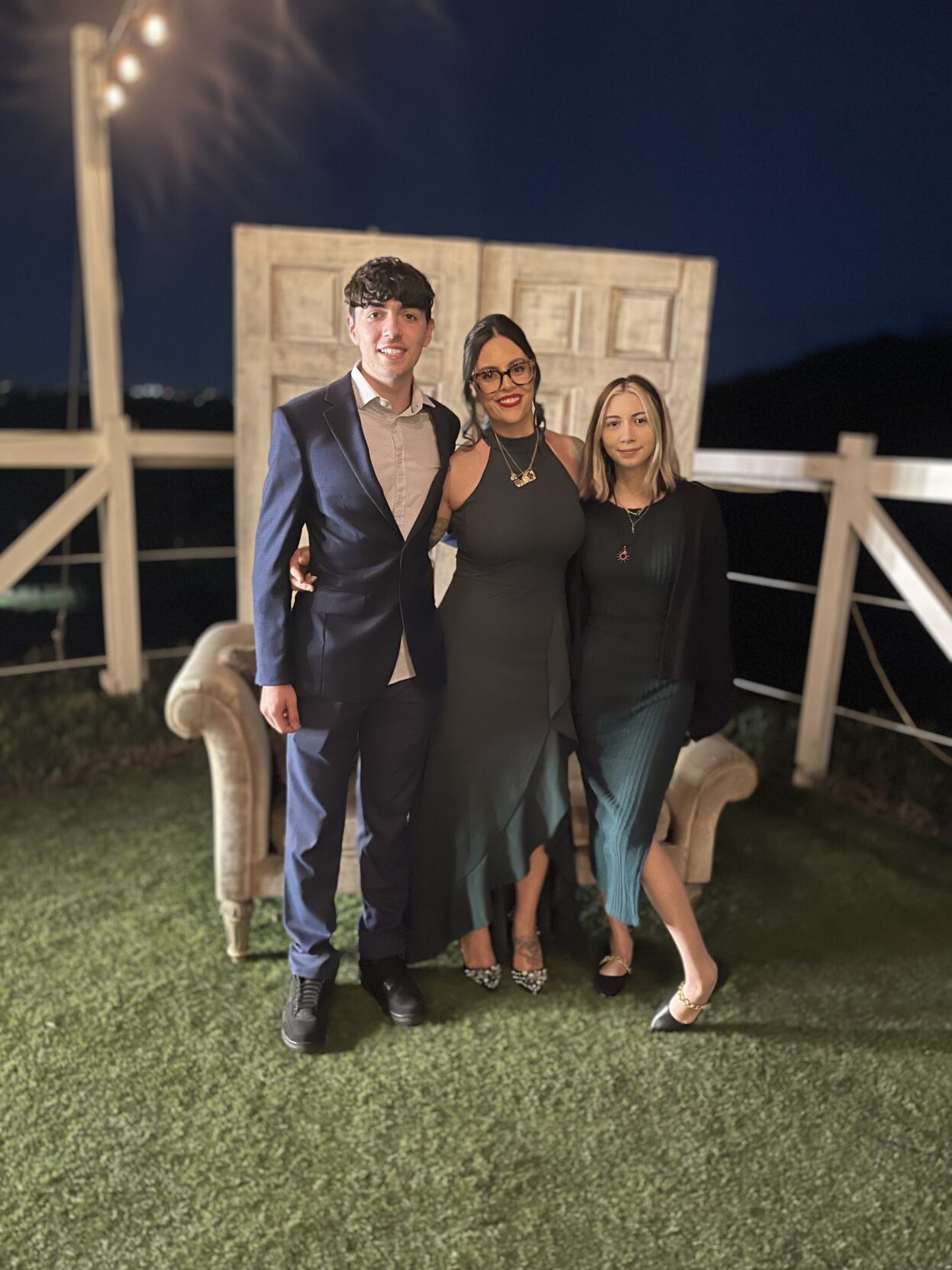 Claudette Zepeda
Single mother to James, 18, and Hailey, 16. We operate as a cohesive unit in our home; everyone pulls their weight in order for the sum of all parts to be greater. James is the ever pragmatic 18-going-on-80. He will pull into the house and say things like, "God, the weeds are getting out of control!" He fills my car with gas and gets upset when I go somewhere with a dirty car. Hailey is my intuitive, empath, brilliant teacher; she's currently reading The Master and his Emissary which talks about left and right hemisphere cognition and how it's formed the Western world.
We're extreme homebodies; both of them need to know specifics about everything that happens in our world. No surprises are tolerated, like I'll never hear the end of it and I used to get annoyed, but then I thought of all the times my feelings weren't taken into consideration and I was pushed to see and go to places I didn't feel safe in. So I honor their feelings, and if they say no, it's a full sentence. Most days end with us watching one of the Marvel Universe movies for the thousandth time. James and I geek out over wings on the Traeger, and Hailey and I geek out over nature and crystals. My soulmates, the only two people that I can cry and ask for a break [with], and they start lifting me up and carrying some of the load.
When people ask, 'What do you do for a living?', what is your response?
I'm a cook. More and more, that's a loaded question since I don't have a home base where people can see me like they used to. And I'm the quintessential Mexican host who knows what you ate the last time and what your favorite dishes are.
What gives you the motivation to be at the top of your game?
When I was coming up, there were no food heroes in the media who looked like me or my family, or told the stories of our history. I know that seeing yourself in someone you look up to helps make the journey a less lonely one. I want to be that for my kids, young moms, kids from the wrong side of the tracks that society hasn't been kind to [such as] BIPOC kids [and] LGBTQ+, because our culture has historically been incredibly cruel to them.
When everyone tells you that you'll never do anything with your life, it's easy to believe them. But I want them to know that they can do anything with a good work ethic and a good attitude. I'm still fighting that within myself; but I think of all the opportunities I leave on the table, where I can help someone else believe in themselves.
How does "home" play a role in how you manage your career and kids? What is your favorite part about your house? 
That's a loaded question that requires inkblot images and a couch. By the time James was nine, we had lived in 11 places. Stability was the most important part of my childhood that was completely missing that I focused on establishing for my kids. Our home is sacred. In the last 10 years that we've lived on the Ranssion, I can tell you exactly who has walked in. I'm extremely cautious of who I invite in and whose energy and intentions are taking up our space.
So in order to have the quiet after the chaos that can be my job at times, my home is quiet and my sanctuary. She's an old gal and falling apart in many areas but she gives me so much peace. We have half an acre of red clay in an unincorporated area of Chula Vista, and all we could grow are stinging nettles. My kids begged me for turf, and finally last winter I got a lead on a guy who could Holly Hobbie some of it (à la Mexicana), so now at any point of a sunny day, one or all three of us will lay in the middle of the turf face down and have the dogs run around. And it is the most peace my soul has gotten in the last 37/38 years on this rock.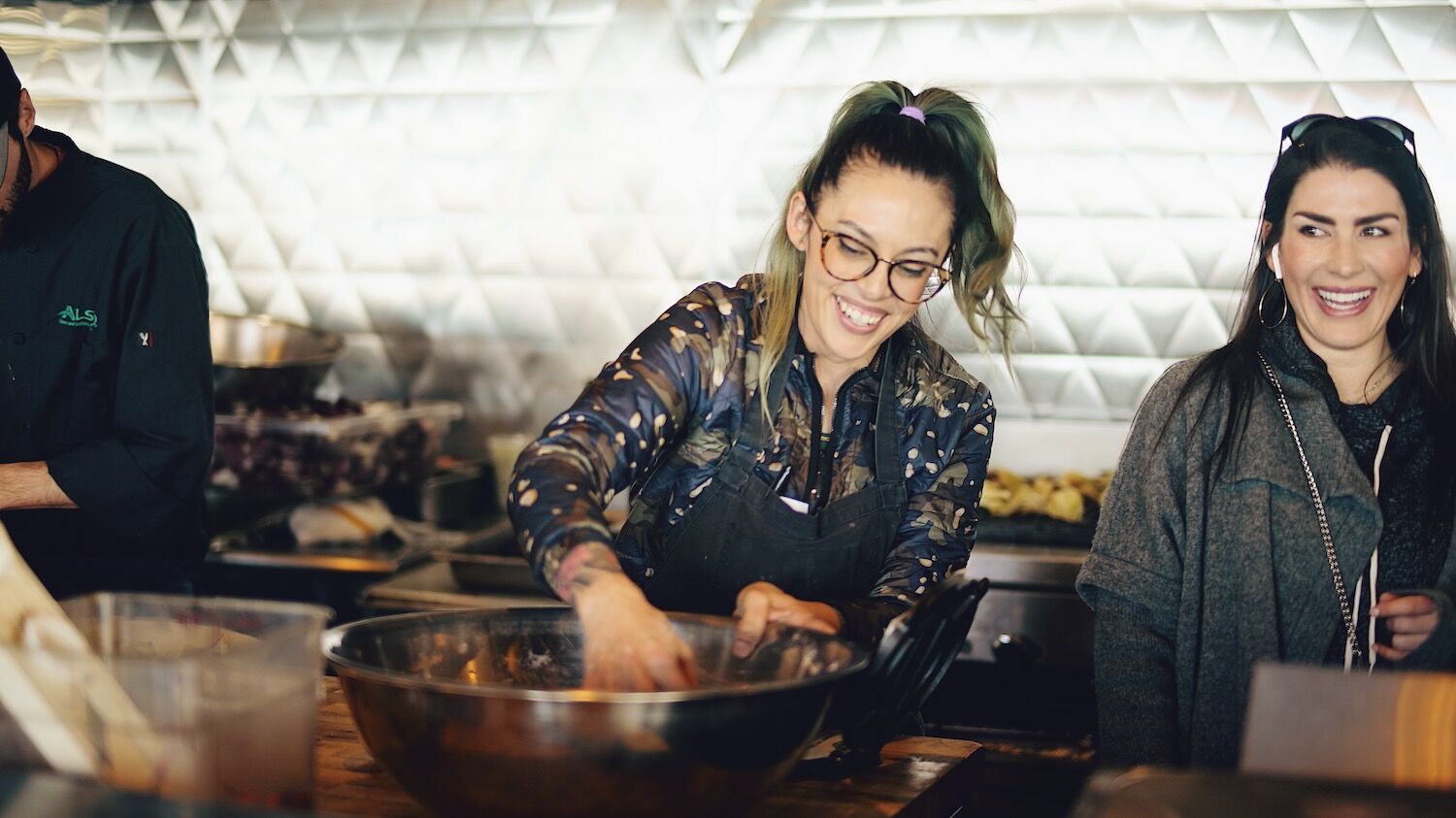 Claudette Zepeda
How does 

"partnership" play a role in how you manage your career and kids? 

My career's life blood is collaborating. My kids and I are the three musketeers—all for one and one for all. If I tried to muscle through everything the way older generations did, I'd go crazy(-er). Adults tend to underestimate kids. I found that telling my kids what was going on and letting them figure out what feelings resonated within them helped create our bond. I can feel when they're uncomfortable without them saying a word, and they can with me too.

When I have to leave for work trips, I rely on their help to keep up with household stuff or an errand—or simply have each other's backs. In a lot of ways, how I've evolved as a mother is parallel to how I've evolved as a leader. Men will say women are difficult when in reality they couldn't manipulate her, or she protected her family at all costs. At the same time in my career and within my team, I'll ask for help now or I'll say 'no.' Partnership is a two-way street.
What does "self-care" mean to you? How do you try to take care of your body?
It used to mean listening to the end of a song when I got home from work as loud as possible. But now it means doing something for myself that makes my soul's purpose get butterflies. Being a big kid and laughing as much as possible is my favorite self care. Watching Hot Ones with James has been my favorite self-care lately. Buying myself something without guilt; I listen to my body and what it's telling me I need. Vitamins and tea have been a newly adopted discipline. Lots of water, serums, [and] snail glue on my face to keep the "Is that your sister?" operation going strong.
How has being a career-driven parent impacted your mental health? What avenues have you used to cope?
I feel like I'm constantly failing and my mind is the loneliest place in the world. Because while I keep my kids in-the-know of a lot, I do protect them from some. I was recently told something I submitted that was extremely visceral and personal wasn't, "strong enough." And feelings of inadequacy and less than crept up, while I had to be proud of Hailey for busting her butt to get straight A's and turning straight F's around.
Most of the time my head is on tethered rope and life's hitting me in a balanced way: left, right, left, right—but then all of a sudden, the big kid in the playground hits it once, and you see that rope spin like hell around the poll and the tension at the end just shakes the ball. That's what being a high-performing workaholic mother feels like: writing and purging all of it out. Lots of hippie shit, ancestral methods, meditation, writing negative thoughts on paper and throwing them into fire. I sage and copal my spaces often. Understanding the stars and planets and the ocean has helped my soul's white noise. Knowing, "this too shall pass," and that we're on a tiny rock hurdling through space helps keep perspective in check.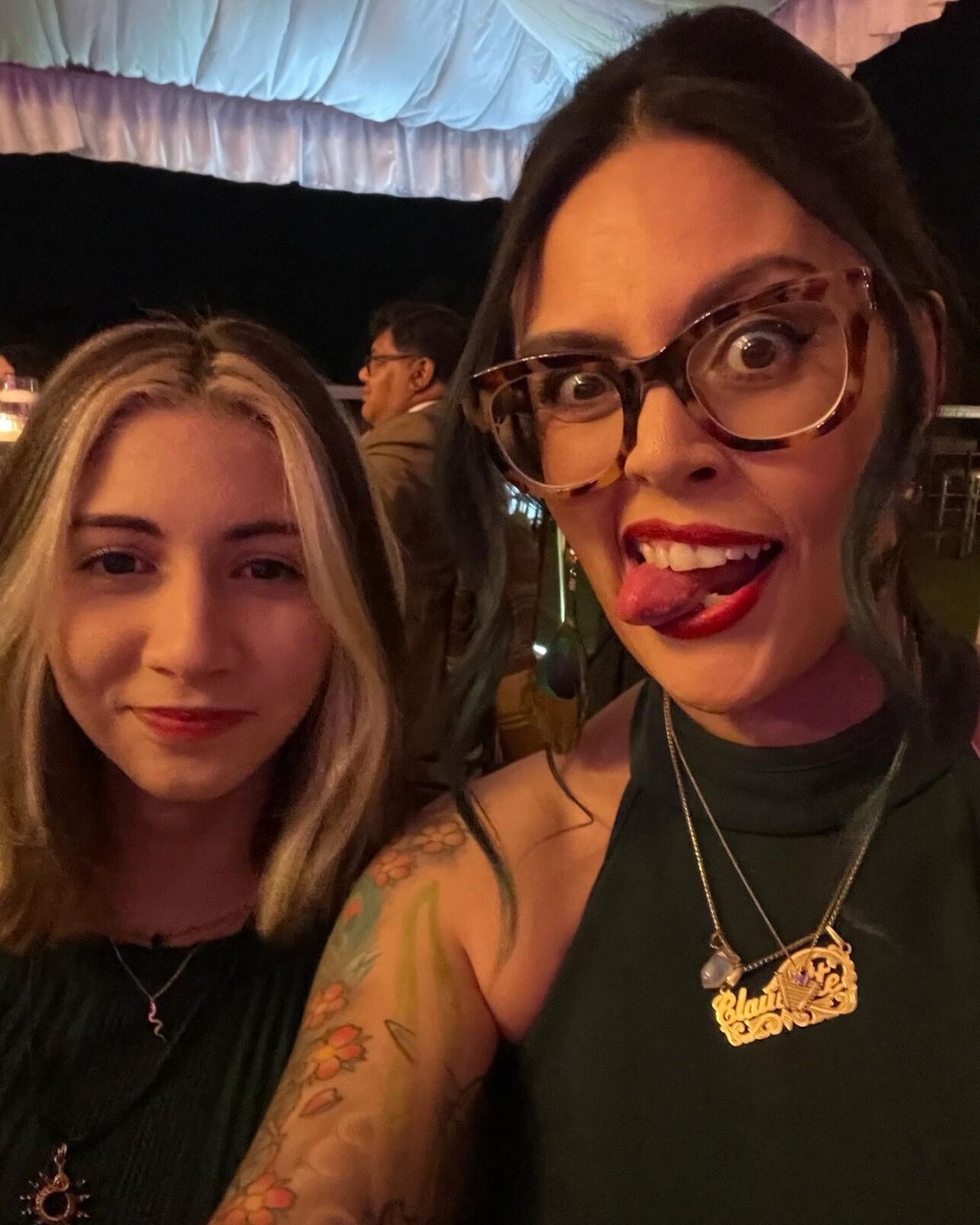 Claudette Zepeda
Does spirituality play a role in your life? If yes, please elaborate.
So much! Ancestral feminine power is passed down from generation to generation. I was a seed in my grandmother's womb when she was pregnant with my mother. If you think of that imprint and how powerful that makes women, you understand why men fear our potential. When I started to crave being in nature and remembering the joy I had as a feral kid barefoot, I started to come into my own spirituality. As a soul who's never felt I've belonged anywhere it was comforting to make the connection with nature, she's just being herself, not trying to impress anyone and still taking my breath away. I joke now that I want a PhD in humanity because food is the gateway drug to understanding people and all I want to do is have people feel seen and create a safe space for them. This hasn't always been a privilege I've had.
Episodes are available on Spotify, iTunes, and iHeartRadio, subscribe now and never miss an episode.
Be the first to know when new episodes drop!
Presented by Organifi
Get 20% off all Organifi products with code NAPP!